I love breakfast but it's never easy to eat out for breakfast when you're trying to be healthy. I have to say – Panera really impressed me with this one – they have healthy choices, a
whole site for their nutrition
AND a secret menu?!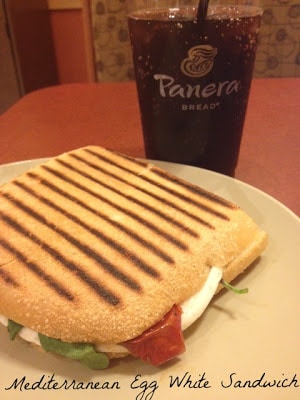 I don't often go out for breakfast now that I'm on Weight Watchers – but I was out and about for a meeting so I stopped in to work for a bit and have a bite. I resisted the Baked Egg Souffles – which was NOT easy and the Cinnamon Crunch Bagel – again – not easy!
I went for the Mediterranean Egg White Sandwich (11 WW+) – it was filled with roasted tomatoes, spinach, egg white, vermont white cheddar and pesto. It was delicious – juicy, filling, warm and hearty. I was really surprised at how much I liked it!
For comparison:
Mediterranean Egg White Sandwich – 11 points
Sausage & Gouda Souffle – 15 points
Cinnamon Crunch Bagel – 11 points (I'd want butter or cream cheese in addition)
Power Breakfast Egg Bowl with Steak – 7 points (whaaaaaa????)
So – I made a pretty good choice – but wish I'd known about that secret menu! Dammit!
Looks good – right?