First Watch
is back at it again – new menu items and a great giveaway for the Food Hussy fans!
They have
three new menu items
– first up – I'll share the one we didn't try. The Superfood Kale Salad – wow – that just sounds REALLY healthy! The Superfood Kale Salad has baby kale and mixed greens topped with housemade maple-roasted carrots, warm grilled chicken breast, dried cranberries, slivered almonds and shredded Parmesan cheese tossed in their refreshing maple-lemon vinaigrette. ($8.99) Sounds good and oh so healthy.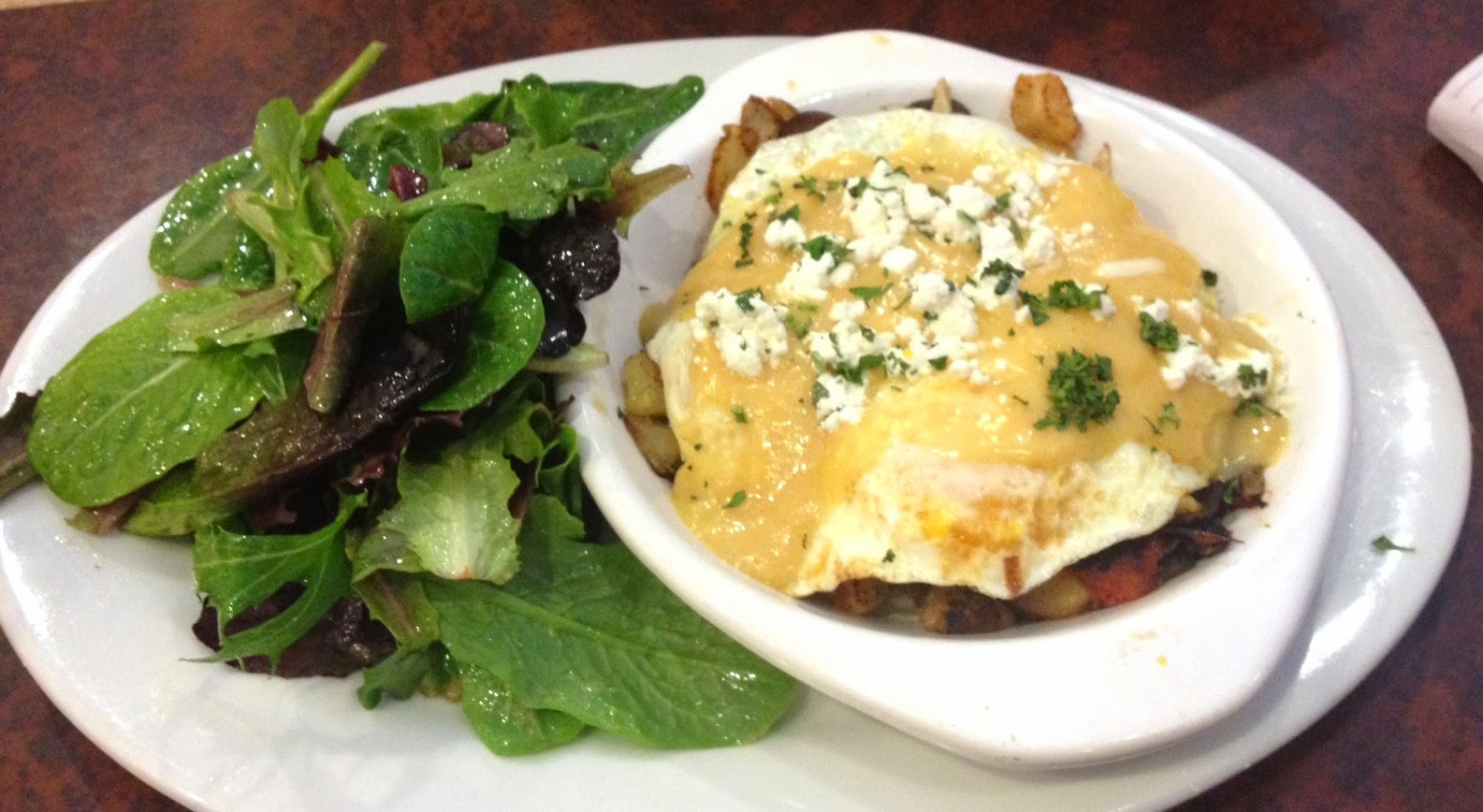 My friend Lauren and I flipped a coin for the other two new dishes – she won and picked first – she chose the Resolution Hash. This was two eggs (any style – she chose over-easy) on a hash of freshly seasoned potatoes, turkey sausage, house-roasted crimini mushrooms, onions and tomatoes topped with hollandaise sauce and herbed goat cheese. It's served with fresh greens in a lemon vinaigrette for $9.29.
Lauren is becoming quite the critic since she accompanies me quite often – she said that she really enjoyed this. She said there's a lot going on but it all goes together nicely.
If you'd like to make some hash of your own – check out my friend Clark's Hashcapades cookbook!
By default I had the Frittata Rustica which is a classic Italian-style omelet with kale, house-roasted crimini mushrooms, onions and tomatoes topped with mozzarella and Parmesan cheese. Served with fresh greens in a lemon vinaigrette and a ciabatta crisp for $8.99.
I really liked this one – the omelet had a lot going on. I definitely got my roughage for the day! That said – I actually liked the kale. The tomatoes were full of flavor and added a welcome juiciness to the omelet that would have been highly lacking without them. I'm a sucker for toast with my eggs so the ciabatta was great. I am not a big fan of their lemon vinaigrette and wish they had other options – but it was fine.
Why Should You Go?
Well our service was better this time – which isn't surprising since they knew I was a blogger. That said – the food was all great and we both really enjoyed their new dishes. They're unique and full of superfoods – wooohoo for superfoods!
Now you can enter to win breakfast/brunch/lunch for 2 at First Watch! I have TWO gift cards to giveaway. Thanks to First Watch for the gift cards!
Disclosure: First Watch provided my meal and the gift cards for the giveaway but the opinions are my own.