I don't get to travel for work very often – so when I do – I make the food portion count! I went to Chicago a couple of weeks ago for work and knew we would have one night on our own – so I set off to find the best dining experience I could!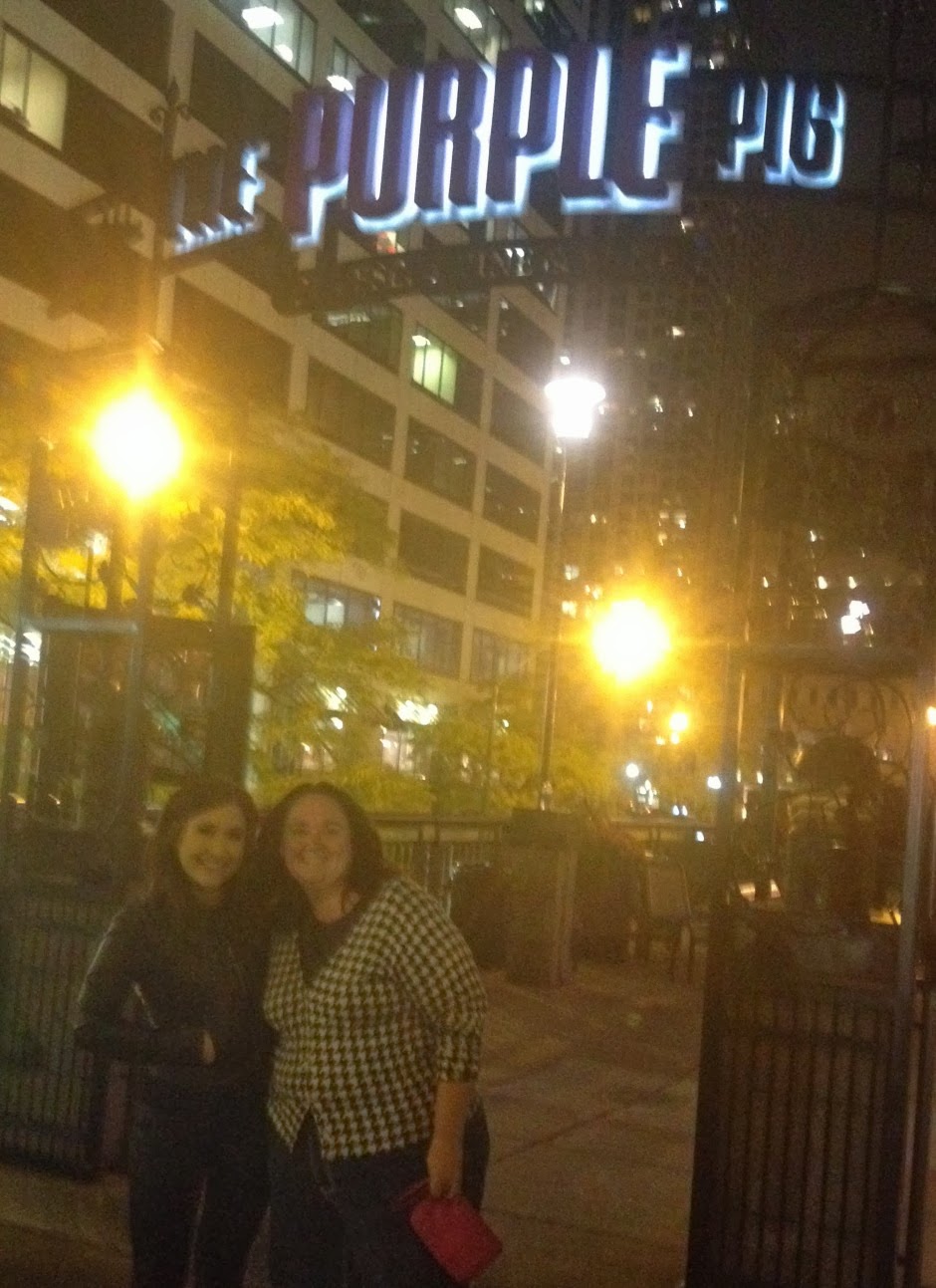 A quick check of Urbanspoon Chicago shows that The Purple Pig is the most talked about restaurant right now – so it was on my hit list! It's right downtown and was only a few minutes from our hotel.
The Purple Pig is a collaboration of chefs from Mia Francesca, Spiaggia and Heaven on Seven and features housemade charcuterie (prepared meats), cheeses and classic Mediterranean fare. How can you go wrong?
We started off with Whipped Feta with Cucumbers. This was AMAZING! Whitney and I were practically licking the bowl (I wish I were kidding.) The bread was a little over crisp and burnt on the edges – but I didn't care – it was just a feta-delivery-tool. I'm really not a huge fan of feta but this was simply spectacular. We had a 2nd delivery of bread to finish this off.
My coworkers were into the vino but I'm not a fan so I was trying some of their beer selection. Good stuff – I liked the DuPont better – at least once I added my lemon to it.
This place was PACKED!! They do not take reservations – so it's sort of a game of getting there either early or late to avoid a two-hour wait. But trust me – it's worth it – no matter which way you go.
Next up was the charcuterie and cheeses. And I really don't remember what we got – it was dimly lit (thus the horrible use of flash photography – my apologies) and a bit noisy (we were next to the bar) – but it was all damn good. I think the meat was one of the prosciuttos (which I LOVE) and for the cheeses we got a cheddar, a goat and something else. I can confidently say – the plates were EMPTY. So delicious – sometimes it's the simple things that are truly the best. (Plus – add a little jam on top to make it even better.)
The thing we loved is that it's somewhat of a tapas menu. There is so much to choose from and it's all sharable – so share we did. We made it a bit of a round-robin with each of us choosing an item and going around about 3x! Whitney wanted to try the Seabass with Chickpeas so we got that too. We started with a couple of items and then just kept noshing and ordering and drinking – repeat.
Two of our items looked like this – one was Eggplant Parmesan Balls and the other was the Chorizo Stuffed Olives. Both were great – I don't like eggplant but didn't mind these. The olives were nice little bites as well.
Matt is a meat & potatoes guy – he does not eat vegetables. So he chose the Milk Braised Pork Shoulder with Mashed Potatoes. This literally fell apart when you looked at it! No knife required. Delicious! The gravy was awesome too.
Instead of dessert – we decided to end the night with a Meatball Slider with Parmesan & Arugula. We sliced this into three pieces and gave one final toast to the Purple Pig.
Why Should You Go? It's a great night of dining! There is something for EVERYONE. The atmosphere is hip & you definitely feel like you're special when you're there. The staff was amazing – they just kept coming back and taking care of us amidst all the customers! The food – impeccable. It wasn't all zomg amazing but it was all tasty. My two favorites were the whipped feta & the charcuterie. If you're in Chicago (living or visiting) – you gotta go!
Disclosure: Purple Pig provided this meal for myself & my coworkers – but the opinions are my own. Thanks so much to the PP – I had no idea they were going to surprise us like that!!!