Anne, my Dayton correspondent, was invited to a grand opening of Another Broken Egg at Austin Landing and wrote up a guest post for me.
The opening of a new restaurant is exciting but I get extra excited when the restaurant specializes in
breakfast/brunch/lunch offerings!
Oh, and I did I mention that it's also the first location in Ohio?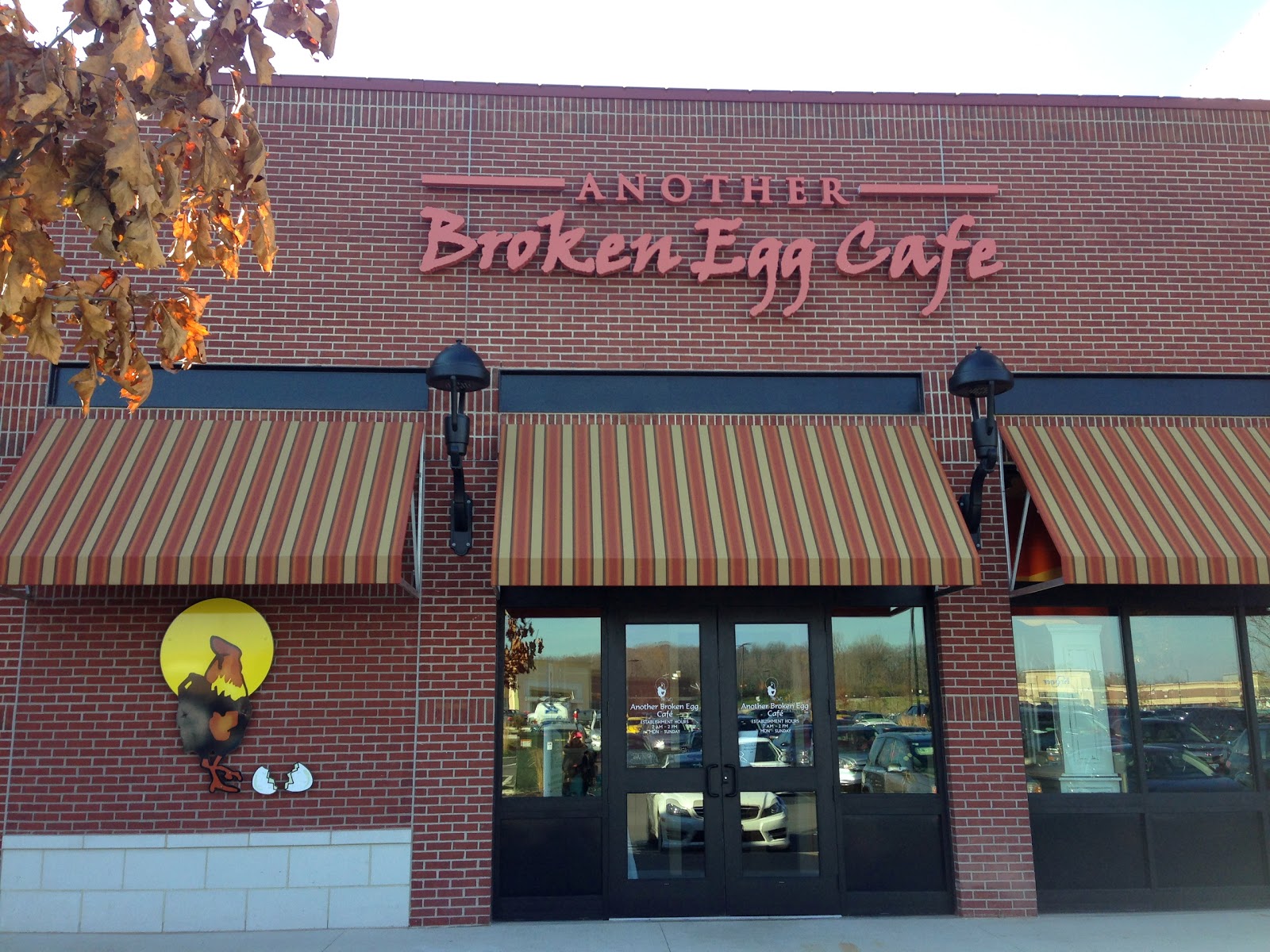 Prior to dining, I heard rave reviews about Another Broken Egg
which was established in 1996 in
Mandeville, Louisiana. Most of the locations are in the southern states so my friends had dined at locations in Destin, FL and Charlotte, NC. This made me slightly more eager to try it out!
I was impressed with the interior decor and felt immediately welcomed as soon as we stepped inside. The bright colored walls and exposed brick created a cozy dining environment. I was also shocked to see a full bar with big screen TVs broadcasting ESPN College GameDay. With this (minor) detail, you wouldn't need to come up with any excuses to get the guys to brunch/lunch during football season!
Once sat, the server was cheery and immediately offer us a Bloody Mary, Mimosa or appetizer.
Appetizer?
I couldn't help but get excited about this section of the menu. I typically arrive to brunch STARVING so the fact that I could order a small appetizer to tidy me over was pleasing. We opted for mimosas and ordered the homemade Banana Nut Muffin. The mimosas were ordinary but the muffin was amazing. It was served HOT right out of the oven.
As we reviewed the menu we decided that one of us would order breakfast and one of us would order lunch so that we covered more ground.
Steve opted for Huevos Rancheros which is his "go-to" menu item (if offered). This arrived in a cast iron skillet filled with c
rispy flour tortillas, black beans, mild green chilies, onions & two over medium eggs, with Cheddar-Jack & cilantro, salsa & sour cream sides served with country potatoes. He thought that the country potatoes were better than most other places – they were seasoned to perfection and were just the right amount of crispy. No soggy ones. The huevos rancheros portion size was huge! He added chorizo which he thought was a MUST. I would say that this speciality brunch option could EASILY be split between two people. It's very filling and very good!
I didn't have to look at the lunch options long before I decided on the Veggie Burger with a side of grits. I'm not a vegetarian but when a homemade veggie patty is on a menu, I can't pass it up. I love the consistency and freshness, it's totally different than any in-store veggie burger. The veggie patty was topped with
roasted onions, garlic cloves, avocado, tomato & chipotle ranch on a toasted ciabatta roll. I will say that I couldn't figure out why it was topped with whole garlic cloves? I quickly moved those to the side…garlic breathe, yikes! The patty was absolutely delicious and was made with mostly black beans, onion, and oats. The toppings complimented the patty extremely well. I might have liked some spinach or lettuce so that there was more a "crunch". All of the ingredients were soft so it was a pretty "mushy". The grits would have had potential except they were cold. So I didn't really get to enjoy them as much as I thought I would. If the place hadn't just opened, I would have complained but I was trying to cut them a break.
Why Should You Go?
All in all, Another Broken Egg will be revisited. There are definitely a points of differentiation that make it more desirable than First Watch or some of the other token breakfast joints in the area. T
he full bar is extremely unique as there are no restaurants in the Dayton/Springboro area that
just serve breakfast/brunch/lunch and offer a full bar. The menu includes appetizers which is also a perk and the variety of offerings is impressive.
Have you ever visited Another Broken Egg? If so, what'd you think?