So I've been knocking burgers off the
Best Burger list
all summer and one place on the list is
Arnold's
– the oldest bar in Cincinnati – and I was all set for a burger – so off we went!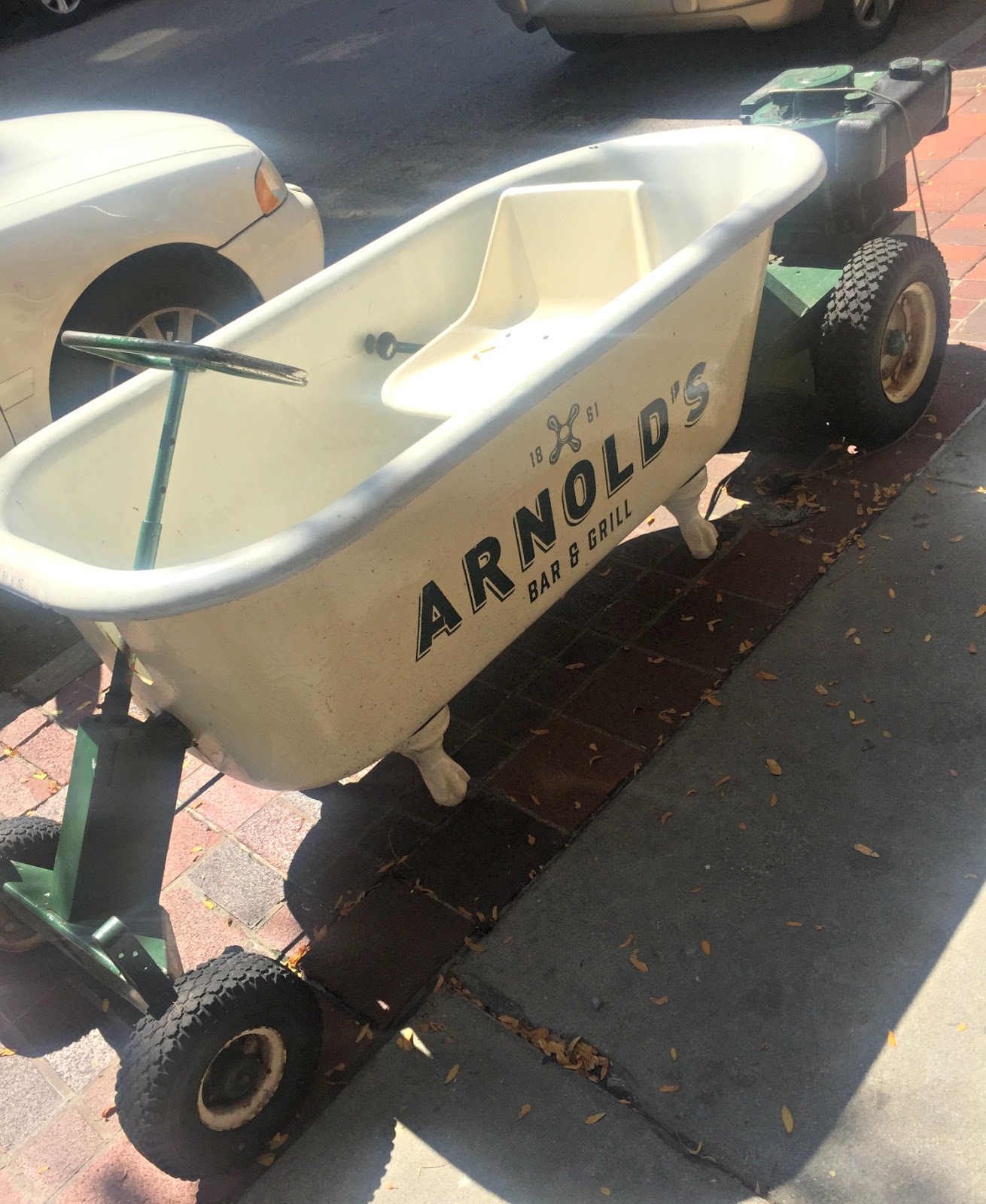 Arnold's is very eclectic – with the art and unique pieces all around. I'd love to go tooling around downtown on this guy!
Inside is very dark and from the 1800's – but it was a beautiful day so we headed straight outside to the patio. I've only been to Arnold's once and that's where I was – so back we went. This apartment is so interesting to me – I'd totally have my windows open and just sit and watch people – but then again – it's gotta get noisy. 🙂
The walls are covered with art work – I love these vintage servers.
It was Susie's birthday and she decided to have birthday Deviled Eggs! The server even brought them out with a candle just for her to make a wish on!
Very Deviled Eggs
Deep Fried / Ranch Breaded / Buffalo Stuffed 8
These deviled eggs were really intriguing – I mean – deep fried – ranch breaded – buffalo stuffed!!??!! Is there anything else they could throw in there? I'm glad I tried them because it's very creative. I didn't love them – I felt like it all muddled together a bit. Nothing stood out – I was expecting a zing from the buffalo – but it was all sort of one note. Interesting – glad I tried – but probably wouldn't get a again.
Marty's Waffles and Chicken Buffalo-Drizzled Fried Chicken Breast / Marty's Waffle / Syrup / Fries 11
Birthday girl went ALL OUT and got the chicken & waffles – she really liked them. I'm not big on the combo but I have to say that waffle was calling my name just a bit.
Grilled Cheese and Tomato Mozzarella / Swiss / Cheddar / Provolone / Hoagie Roll / Tomato Soup 9


Dawn is more basic in her food choices and chose Grilled Cheese & Tomato Soup – which you really can't go wrong with. There was a lot of cheese as you can see – but also a lot of bread. She said it was good.


And then there was me – honestly I went for the burger – but I had sort of burgered myself out. I have been eating so many that I had to take a break. All that means is – I have to go back!


Meatball Hero Our Famous Meatballs / Provolone / Toni's Tomato Sauce / House-pickled Banana Peppers 10


I was trying to decide between their Greek pasta and the Meatball Hero but the server sold me on the hero – she said that's what they're famous for – so I went for it.


It was pretty good – the meatballs were fine (nothing too exciting) and the sauce and cheese were great. It was pretty much impossible to pick up and eat though – which is fine – I knife & forked it.


All in all I liked it – but I'm ready to try the burger.


One thing I loved were the fries! Those batter-dipped fries are always so crispy and I loved them!
And one thing – not to be missed – are the doors to the patio. We exited through them and had to photograph them. Susie said – We can't miss the naked doors!!! And we didn't! Hello Arnold!
Why Should You Go? Well – it's the oldest bar in the city – so it's definitely someplace you have to visit. The food is pretty good – I'm sure there's something there that will be my favorite – I just haven't found it yet.