Larry and I were on the quest for someplace new to eat and decided to try and drive around Clifton. La Poste is on my list but we weren't dressed for it – so we ended up at…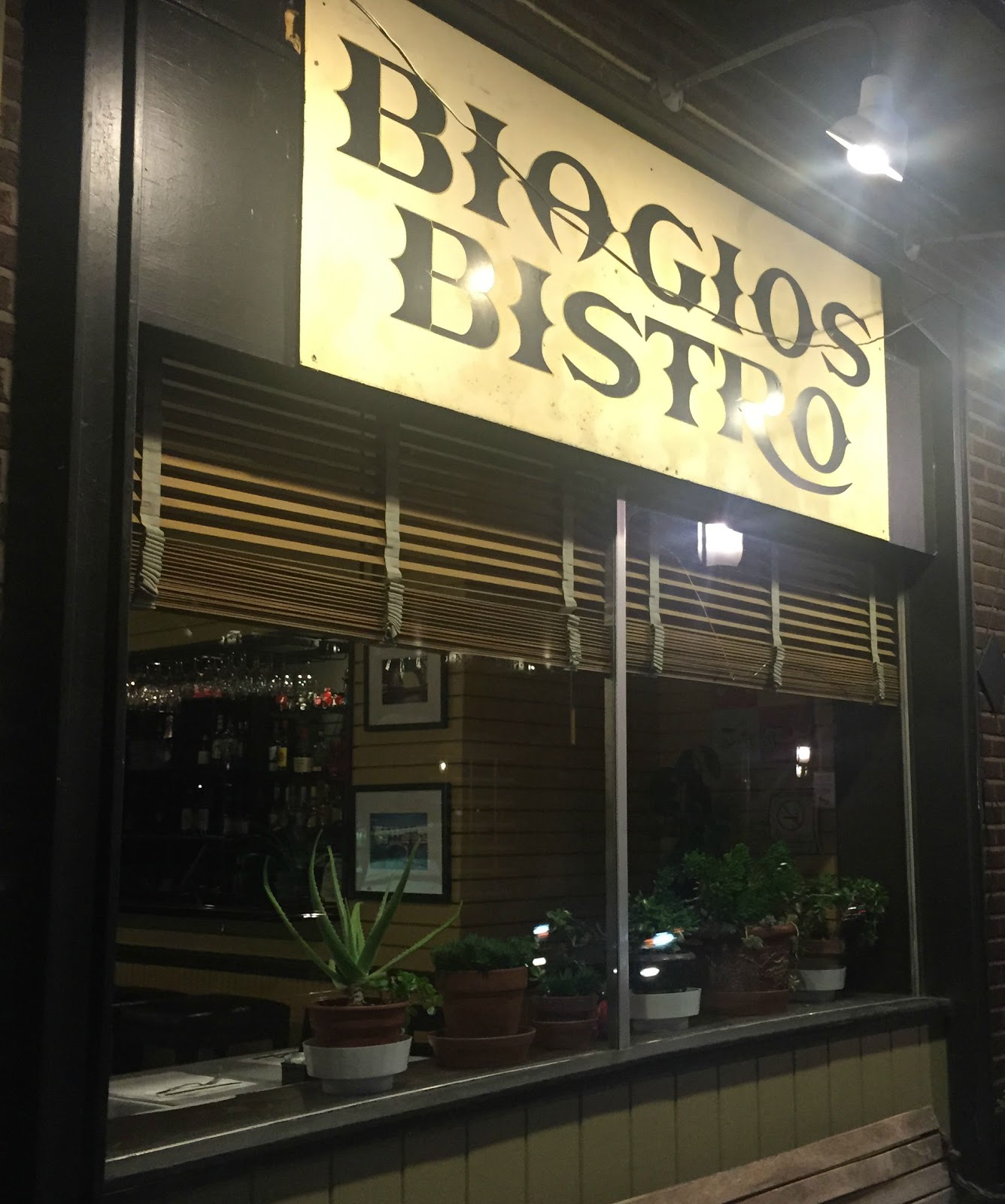 Biagio's Bistro! I've long seen this sign but never made it in. It's between the movie theater and the Skyline Chili.
Once we were seated, we quickly realized the big, loud guy behind the hot plate was Biagio. He had a big booming personality and it's a definite plus to have him front and center in front of the patrons rather than behind walls in a kitchen. He's a hoot. He was playing up to everyone there and was a lot of fun.
Our meal started with fresh white bread – oh Larry was so happy – how can you get any better than white bread? Well – soft butter – but I'll take what I can get.
| | |
| --- | --- |
| House Salad – | Romaine lettuce, onions, tomatoes, black and green olives with our Lemon Garlic House dressing. |
I got a house salad with my meal – it was interesting – not my favorite by any means (I mean duh – I would have had to have ranch for that). I went with the house dressing because well – I wanted to see what the House would make! It was very lemony. I liked the olives on the salad. All in all – fine.
Tomato Basil
(house specialty) –
3.75
Creamed tomatoes, fresh basil, and a touch cream.
Larry got the Tomato Basil soup – this was REALLY good. He let me have a bit – which turned into 5 or 10. Definitely would get this again – yummy yum yum! Creamy, tomatoey, basil-rrific! It smelled like the plant on my front step. (basil – duh)
Larry got an IPA that they had on hand while I got Champagne. I wasn't celebrating anything – I just figure – if I'm gittin' booze – I might as well git something I know I'll like!
Larry ordered a specialty for the night – and I have no idea what the exact name was. There was a couple of filet medallions and the biggest pile of vegetable risotto I've ever seen in my life! I can't say enough good things about this dish. Just color me super jealous.
The risotto was so good. I really haven't had good luck with risotto. The first time I had it was probably 15 years ago at a friend's house. It was super cheesy and I fell in love with it. But every time since then has been a major let down. This was finally on par. There was a ton of cheese but then also nice bites of spinach, carrots and nuts of some kind (walnuts?). The other thing is – the portion size would have fed a football team. We both ate a decent amount but didn't even put a dent in it! I think a smaller portion would have been fine. It's such a rich dish that after a while – it's almost too much to keep going.
The filet medallions were also spot on. They were cooked perfectly to medium rare and the brown gravy was salty and beefy and yummy. Loved it!
Chicken Scaloppini
17.50
Sauteed chicken breast in a white wine butter sauce, with garlic, mushrooms, green onions and capers served over a bed of our homemade fettuccini.
I got the Chicken Scaloppini. The server thought I said Chicken Alfredo and brought that to me first. I sort of wish I'd kept the Alfredo. We had even chatted about the Scaloppini – she remembered and admitted her mistake and brought me out the correct dish in a short time.
This dish was fine. The chicken was pounded thin and juicy – the butter sauce was buttery and there were ample veggies on top of homemade pasta. That said – there wasn't any zing to the dish. And maybe there isn't meant to be. I liked it – I just didn't love it. And I kept thinking about the ginormous plate of Alfredo I turned away. #dammit
Why Should You Go?
Well the portion sizes are huge. College kids – take note. Eat there and you'll have yummy leftovers for days!!! Plus you'll get a show with the chef! I liked it. It is very old school but that has a certain charm to me. Because of how much I liked Larry's meal (always happens that way) I'd like to go back and give it another shot.
Have you been? What's good?