Once every month or so I take my favorite (and only) project manager out to lunch so we can talk about how things are going and also just get away from the office. Lucky for me – she had to pick up a cake for her boyfriend's birthday – so we decided to go to the
Bonbonerie Cafe
in O'Bryonville.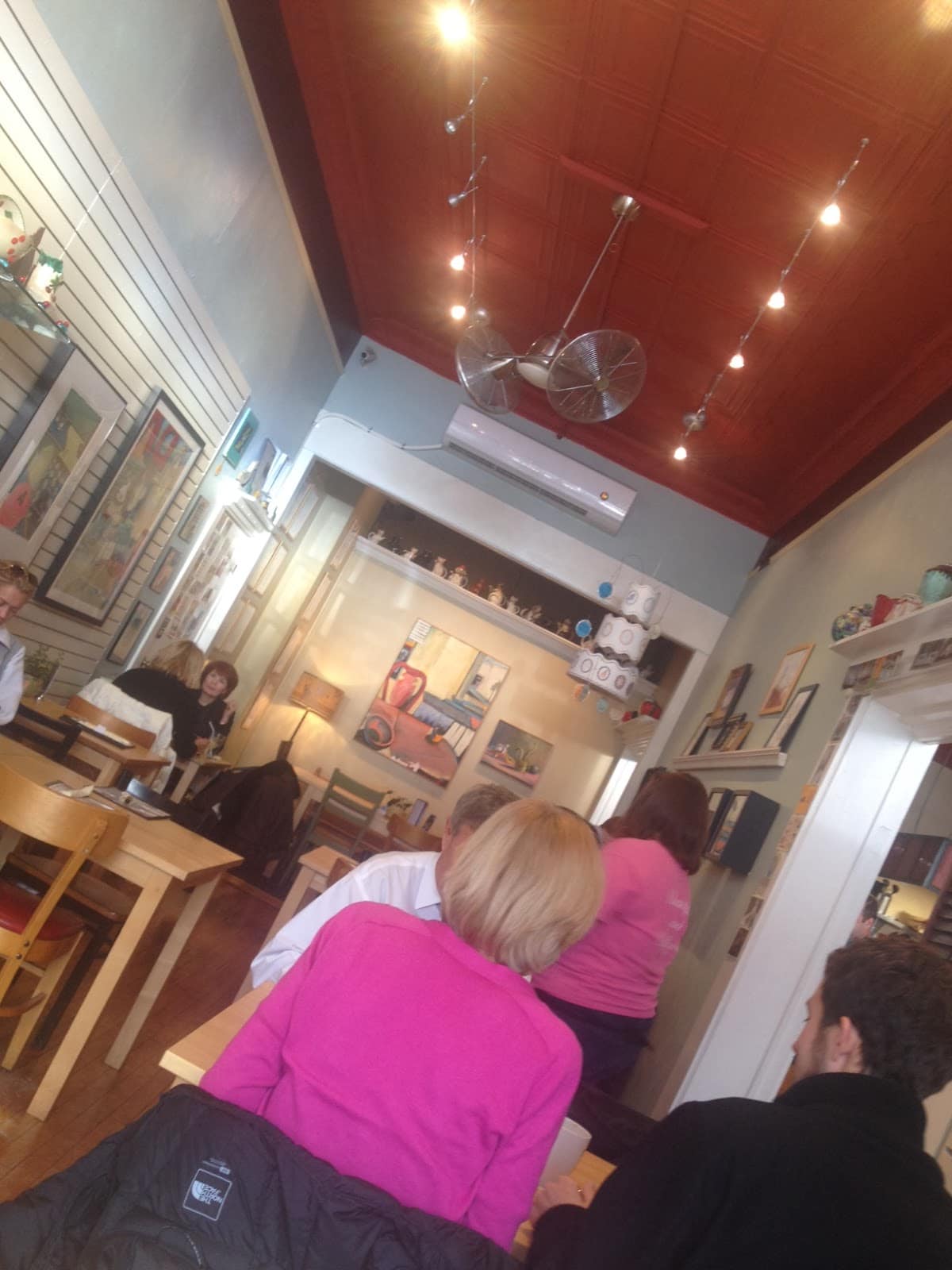 The cafe entrance is on the backside – there's a small parking lot. Bonbonerie is known for their bakery but the cafe is great too! They do a lot of tea services as well.
It's very quaint with a lot of animal art around the cafe – even a wall of cat tea pots (one of which I own as well).
Anne got the Chicken Salad Plate ($9.95) which had two big scoops of chicken salad with almonds, celery and green onions tossed in a light curry dressing. The plate also has field greens with house Balsamic and fresh baguette slices.
Anne offered me a taste and I wasn't too excited – I'm a purist with chicken salad – I don't like anything weird in mine – but I have to say – IT WAS DELICIOUS!
I went for Jocelyn's Quiche du Jour – I'm a big fan of quiche from my Mom making amazing breakfasts for years. This was asparagus and cheese – yum! I went for a side of soup – I think it was a red pepper lentil or something like that. Another table was leaving and said how fantastic it was so I tried it. She was not kidding – it was delicious! I really enjoyed this lunch!
And while Anne was picking up the birthday cake – I explored their bakery store – and there was so much to choose from! How would I choose?
Oh wait – that's how.
Why Should You Go?
The Bonbonerie is much more than just the home of the Opera Cream Cake! The cafe is wonderful for lunch and has a lot of nice options. And then – that cupcake – wow. I actually am not THAT fond of the cake portion but wow – that opera cream – heavenly. I could eat that with a spoon!!! If you haven't been – you should add it to your wishlist!