Now and again we have clients or vendors in town and I love it – it means fancy drinks and dinners on someone else's tab. Hey – I'm being brutally honest here – I just ain't got the bank for all that!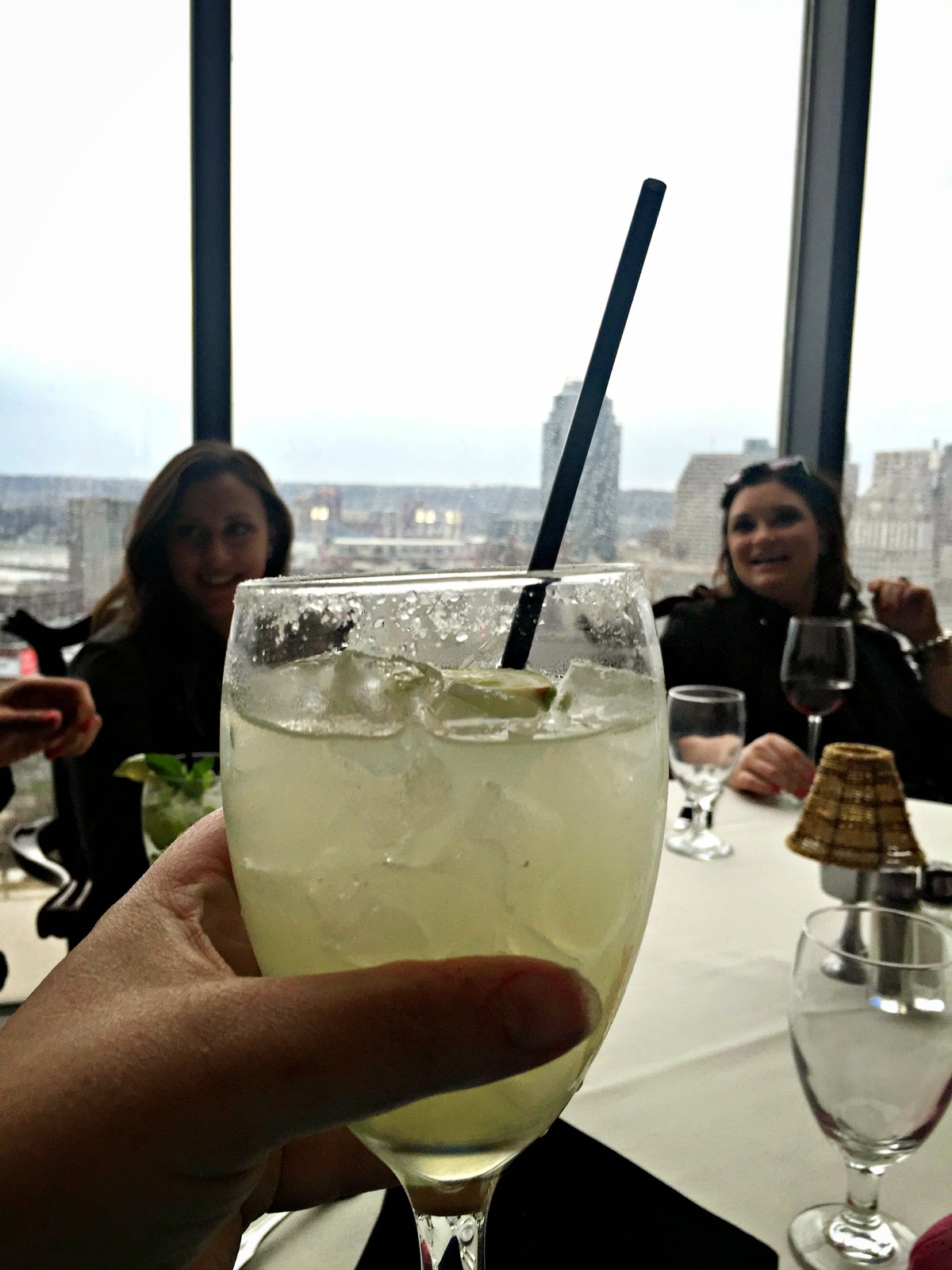 First we headed to the Celestial in Mt Adams – I'd been once before for my birthday – but this was just for drinky drinks and snacks. I was happy to oblige by ordering a margarita – my go-to drink. The view is great too – even on a cloudy day.
Smoked Artichoke $10 – Half artichoke with a roasted garlic and chili aioli
The team ordered snacks and started with this smoked artichoke. I like artichoke hears but I wasn't a big fan of this. It was just a little hard – of course – I'm not even sure I was eating it right. That said – I was the ONLY one that didn't like it – everybody else said it was delicious. So if you like artichoke – go for it.
Crab Cake $14 – Cucumber and roasted chili aioli with a chilled couscous salad
I grabbed a quick bite of this and it was great – I'm not a couscous fan but the crab cake was full of crab and little fillers – always a good sign to me.
These bacon wrapped prawns aren't on the website but they were damn good. Salty, crispy, rich – delish.
After drinks – we were on the hunt for dinner. My boss and I both live more north in the city and our out-of-town guests were staying in Covington. Where do we go? Well – boss man decided that Hyde Park would be a good spot – a little closer for us and not too far for them. So – off we go!
He chose Alfio's – which I hadn't been to – in the former Red spot in Hyde Park Square. As usual – parking is a bear – if you want to park close – but it was a nice night – so we headed down a block or two and easily found street parking.
Empanada Trio 11 – Authentic Argentine fried pastries stuffed with spiced beef, spinach with cheese, and prosciutto with
roasted red peppers and mozzarella
Our server stopped by to get drink orders and mentioned the word – empanadas. Well – that's pretty much all it took for the entire table to start drooling. They were all great –
We also had an extra special empanada added for the night – it was our favorite – but right now I can't remember if it had pulled pork or short rib inside. Either way – goodness.
Bruschetta 9 – Italian bread topped with mascarpone, artichoke asiago, fresh chives and parmesan cheese
The bruschetta was okay – I only had a bite – when there are empanadas – I see no need for anything else.
Scallops 27 –
Pan seared scallops over truffle mashed potatoes and carmelized brussel sprouts with bacon topped with
Italian barbecue sauce
The next few were other people's entrees – so no opinions here – just photos of pretty food.
Veal Skirt Steak 26 – Braised veal skirt steak with goat cheese mashed potatotes, grilled asparagus, topped with Italian
barbecue sauce
Pistachio Crusted Salmon 25 – Oven baked pistachio crusted salmon topped with balsamic reduction served over butternut squash
mashed potatoes and sautéed green beans
Chicken with Pancetta Risotto 21 – Creamy risotto with sautéed chicken breast, pancetta, zucchini, onions and fresh tomatoes with gruyere
cheese
I was offered – and accepted – a bite of this. It was like really rich mac & cheese with shredded chicken. That's the non-gourmet description of this very gourmet dish.
Short Rib Ravioli 24 – Braised veal short rib ravioli with a creamy truffle mushroom marsala sauce
I ordered the Short Rib Ravioli – mainly because I can't not order something with short rib. I have to say – this was just okay for me. I really really DETEST truffle oil and this had a lot of it. I'm now know that I don't like anything truffle-related. The ravioli was fine – the short rib was great – I just had a hard time getting over that stink of truffle. It's just over-powering.
Why Should You Go? For The Celestial – it's all about the view. The food & drinks are fine – but you go for the view. With Alfio's – there's a wide variety and overall – it was good. I always say – if there's one thing I want to go back for – it's good – and I would go back for the empanadas.