A few weeks back I got takeout from Dilly Cafe in Mariemont and it was so good I wanted to try the whole experience and dine at the cafe.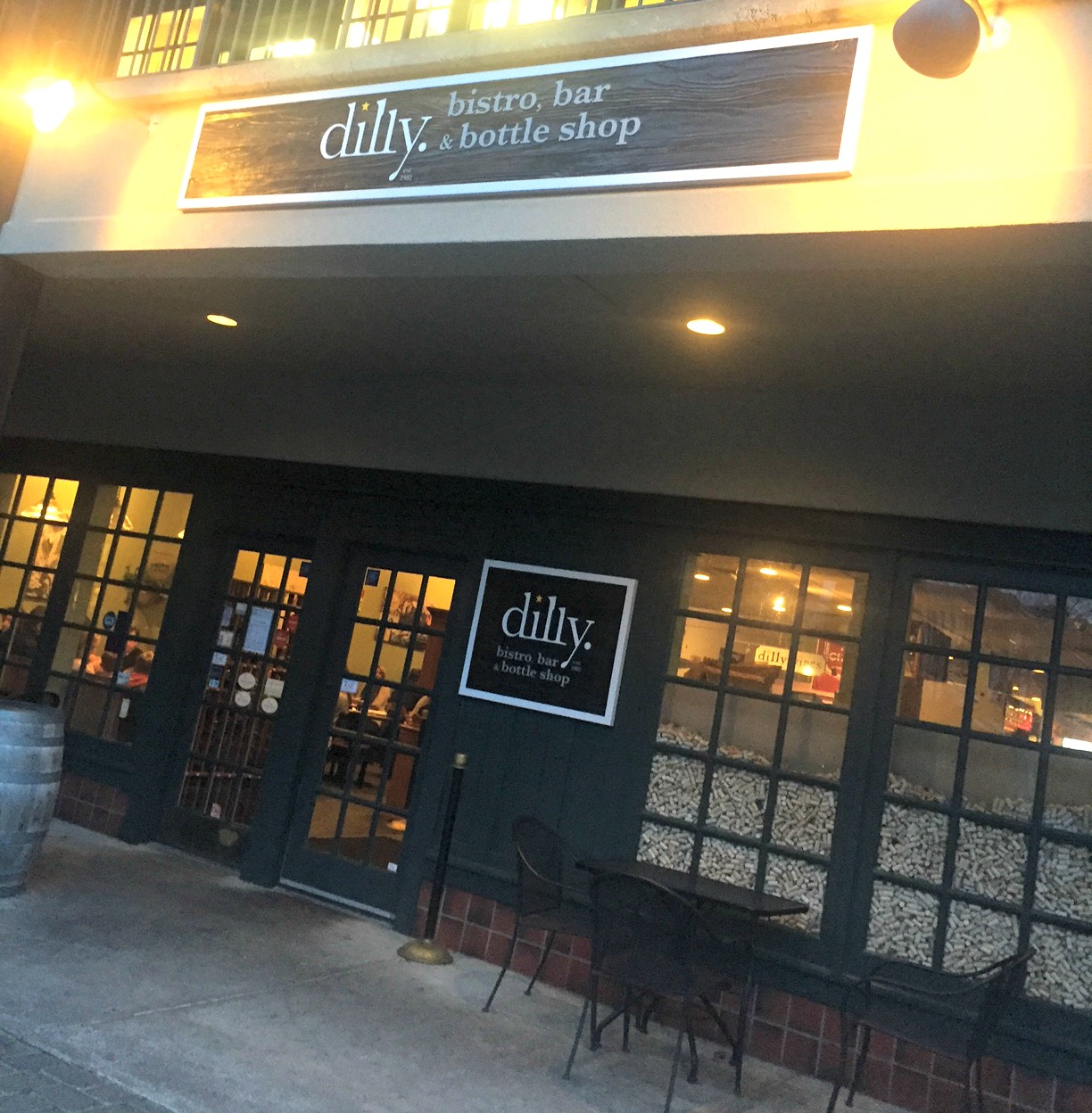 My friend Kelly and I met up for dinner on a Friday night. It's a cute spot in the square of Mariemont. There are a few spots in the front near the store (they sell wine & beer) but there's a big lot in the back.
I would highly recommend reservations on busy nights like Friday/Saturday – there wasn't a wait when we got there but about 10 minutes later it was packed! They also have live music that isn't too distracting on weekends. The menu is shown here – they've got a good variety of apps, sandwiches and entrees.
I have decided I'm done with beer so I asked for a cider – the first one they brought had ginger (yuck) so I swapped out for an apple cider. Pretty good stuff.
Kelly got a Seared Ahi Sandwich ($12) – sesame crusted tuna on a ciabatta with herbed cheese, marinated cucumber, arugula and cilantro vinaigrette with a side of sweet potato fries.
She really enjoyed the sandwich and I thought it looked great – I wouldn't think to have a seared tuna sandwich.
I got the Grilled 15 oz Ribeye ($26) which is a huge hunk of Ohio raised cow served with whipped potatoes, roasted Brussels sprouts with house-made maple bacon and tangy steak sauce. The ribeye was pretty good. I think I need to branch out – steak always sounds so good but I make a mean steak at home – I need to go for things I don't usually make at home. But if you like steak – it was a good one.
Larry was getting home from work late and asked me to bring him something and on their lunch menu – they had a BLT ($8) so I asked for that to go. I forgot to mention the egg-allergy so the first one came with mayo. I grabbed someone (not our waiter – he had disappeared) who I think was a manager – I profusely apologized and admitted it was completely my fault but could I get another sandwich. The manager not only obliged but was so pleasant and sweet and did it in record time. It was a very positive customer service experience – especially knowing it was my own fault.
Then the sandwich – it smelled soooooo good. It took every fiber of my being not to beg him to go back and bring me the one slathered with mayo! Then I had to drive home with this beautifully smelling sandwich of gold. Finally Larry got home and ate it – and he's STILL talking about it. So – if you want a great BLT – you now know where to go.
Why Should You Go?
It's a fun place and that BLT is worth its weight in gold!