Earlier this year, I was recruited by the folks at
Hashcapades
to find a restaurant in Cincinnati that serves hash. Now this is not as easy as it seems – especially when your husband is allergic to eggs! But they are running
50 Cities, 50 Hashes
and I had to meet the challenge!
Now you might be asking – what's a Hashcapade? Well according to
Hashcapades cookbook
author Clark Haass, it's the art of a perfect hash adventure whether in your home or in a restaurant.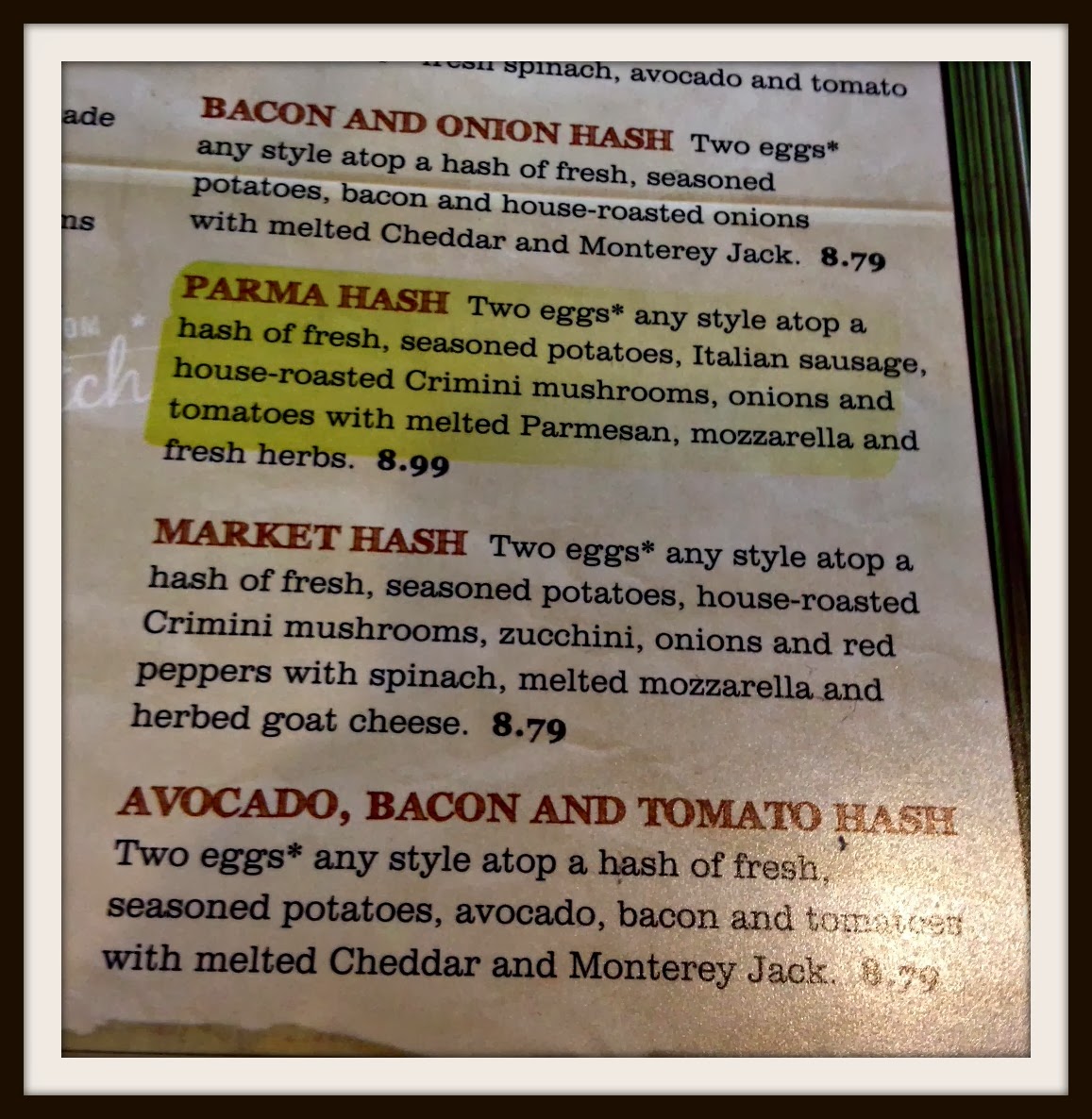 I've been trying to find a restaurant that serves hash but most have it for breakfast and a lot of times there's nothing egg-free on the menu. That said – I was at lunch with my coworkers at
First Watch
in Covington and noticed quite a few hash options on the menu! VICTORY!
I decided to branch out a bit and try the Parma Hash ($8.99) with two eggs, hash of fresh, seasoned potatoes, Italian sausage, house-roasted Crimini mushrooms, onions and tomatoes with melted Parmesan, mozzarella and fresh herbs. Two eggs perfectly cooked over easy – amazing – so simple and so delicious!
I cut it all up and let the gooey egg yolk run through and flavor all of my hash and it was delicious! This was a definite win for hash!
I have to say – I had a hard time choosing which one to order – they really have a great selection – that Avocado, Bacon and Tomato nearly won out – but I liked this one. I'm looking forward to trying out some of Clark's recipes! And don't forget to check out my Cleveland Hashcapade as well!
Why Should You Go? Well – my hash was great. The eggs were cooked perfectly and the combination was delicious. Everybody was happy with their food as well. I also got a cup of creamy chicken & wild rice soup but it was really awful. It had this really odd flavor and I only took two bites. Service was not a strong suit either. Luckily the hash was good.

Disclosure: I was provided a gift card and cookbook by the folks at Hashcapades but the opinions are my own.