I'm so excited to have my good friend Anne guest blogging for me today. She lives in Dayton and was nice enough to help me out when
Dewey's Pizza
contacted me about their new location in Austin Landing.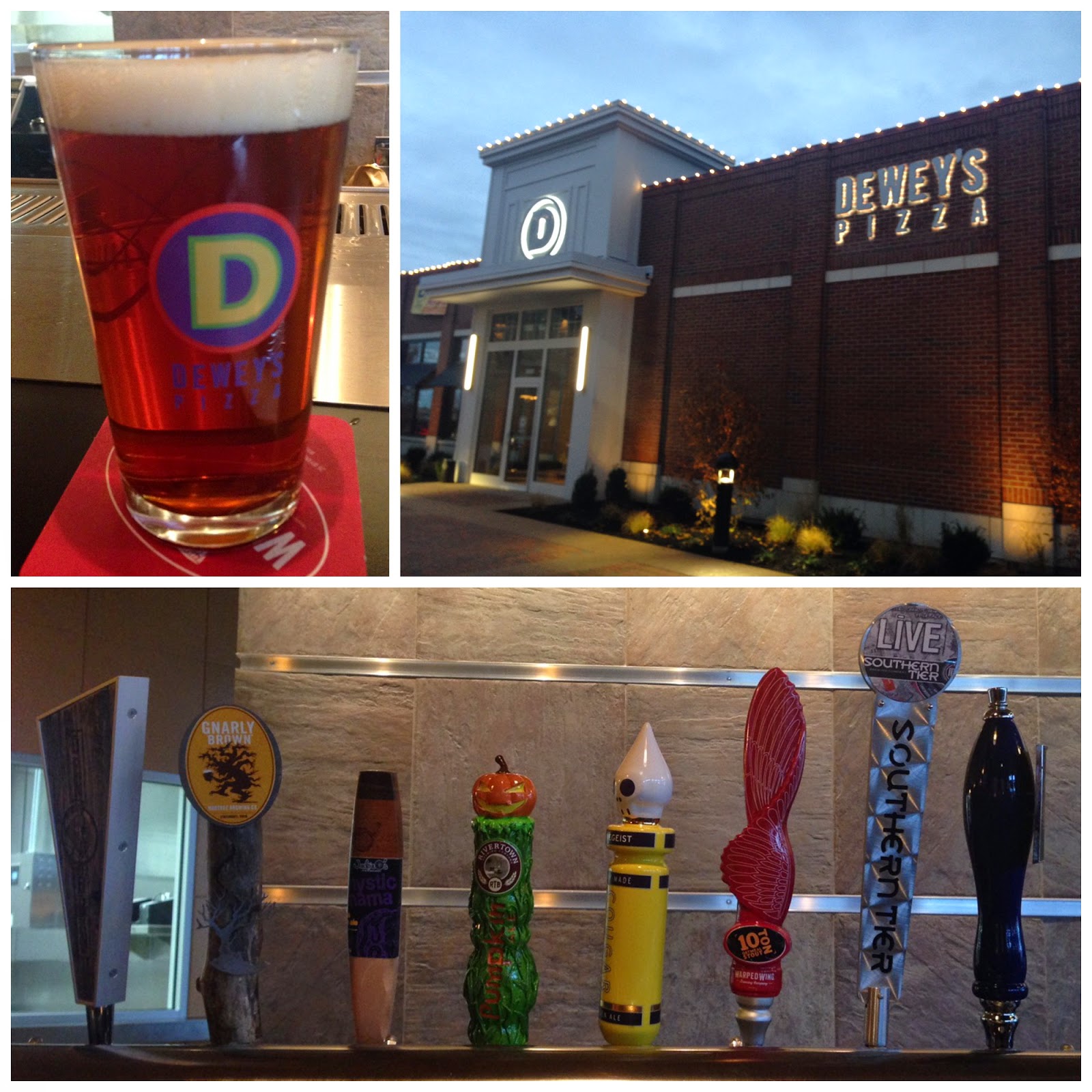 It was so exciting to be able to dine at the brand new
Dewey's Pizza at Austin Landing
during Friends & Family Night! The restaurant was only open to Friends & Family which made it feel extra intimate and exclusive. Upon arrival, we were greeted by cheerful hostesses and were seated promptly at the bar. It was a full house with friends and family eager to taste the menu items and full kitchen with new employees who were being trained by seasoned Dewey's staff members.
While we dined at the bar, we had the pleasure of speaking with the Regional Manager of Dewey's Pizza. He explained to us that we would be able to order any beverages, salads and pizzas we'd like on the house! This was an extremely generous offering so we thanked him and easily pinpointed what items we'd like to try then placed our order! First we needed an adult beverage after a long day, so we ordered a
Rivertown Pumpkin Ale
and
Rhinegeist Cougar
both beers are produced locally!
Now on to the food, we stared with side
salads
. We ordered the Peppercorn Ranch Salad as well as the seasonal feature, The Harvest Salad. The Peppercorn Ranch salad was a hit! The salad consisted of romaine lettuce with diced tomatoes, shaved parmesan, red onions and bacon tossed in peppercorn ranch dressing. It had just the right amount of dressing which is really important. It was not overdressed and all of the flavors blended perfectly together.
The Harvest Salad is the seasonal salad. Dewey's seasonal salads are rotated throughout the year so I had to try it since it's a limited time offer! I ordered The Harvest Salad with the homemade Apple Cider Vinaigrette on the side. The salad was a blend of field greens, figs, applewood smoked bacon, roasted pumpkin seeds and Boursin cheese. It was filled with the flavors of fall! All of the toppings complimented each other and the dressing was so yummy. I saved what was left of the dressing for crust dipping during the main course.
After we got through the salads, the
pizzas
arrived, perfect timing! Both pizzas were ordered "well-done" to ensure an extra crispy crust. This is a personal preference but it's one of my favorite best kept menu secrets. Pizzas are typically not as "brown" if ordered normally so if you like them a bit more crispy, don't forget to say ,"well done". (
What a great tip!
) Additionally, what I love about Dewey's is that they do an amazing job splitting pizza toppings so that you get to order a "2-for-1" pizza. We ordered both pies half and half and they turned out great! Dewey's does an extra meticulous job of making during the pizzas a split to perfection and neither side of the pizza bled over to the other.
The 11″ was half and half:
Green Lantern – Red Sauce, Light Mozzarella Cheese, Minced Garlic, Mushrooms, Goat Cheese, Artichokes, Pesto
Socrates Revenge – Olive Oil, Minced Garlic, Mozzarella-Fontina Blend, Spinach, Black Olives, Green Olives, Feta Cheese, Red Onions, Tomatoes
My only complaint about this combination was that the Socrates Revenge was a little too cheesy for my liking. The mozzarella-fontina blend overpowered the other toppings and weighed it down.
The 13″ was half and half:
Meatball – Red Sauce, Fresh Basil, Mozzarella Cheese, Italian Meatballs, Oregano, and Parmesan Cheese
Ryan's Inferno – Olive Oil, Mozzarella Cheese, Buffalo Chicken, Gorgonzola Cheese, Red Onion with Ranch Dressing and Celery after the Bake
This pizza was perfect and each half was delicious however; the Meatball pie came out on top. The meatballs were the perfect size and added authentic italian flavor to the cheese and red sauce.
After dinner, the Regional Manager took me behind the scenes to the kitchen where I got to witness pizza making in action! The floor was covered in flour which was pretty cool and much to my surprise, the kitchen was very comfortable in temperature especially since the ovens were in full force baking pies! The staff demonstrated to me how they toss pizza dough and how they rotate the pies in the oven while their baking to ensure their evenly cooked to perfection.
Key takeaways:
Ohio brewed beer, Dewey's Seasonal Beer by Mt. Carmel – called it "Dew Brew", delicious salads, 1/2 and 1/2 pizzas, quick service, personable staff, great homemade salad dressings.
Can't dine in?
Order half baked pizzas to finish baking at home OR carry out their pizza dough to create your own homemade pie!
And now – probably one of the better giveaways I've had – $25 to Dewey's Pizza!!! How can you not get excited about Free Pizza?!