First Watch has their summer specials on display right now and I always know I'm in for something new and unique. I headed to the downtown location across from the Aronoff with a coworker to try them out!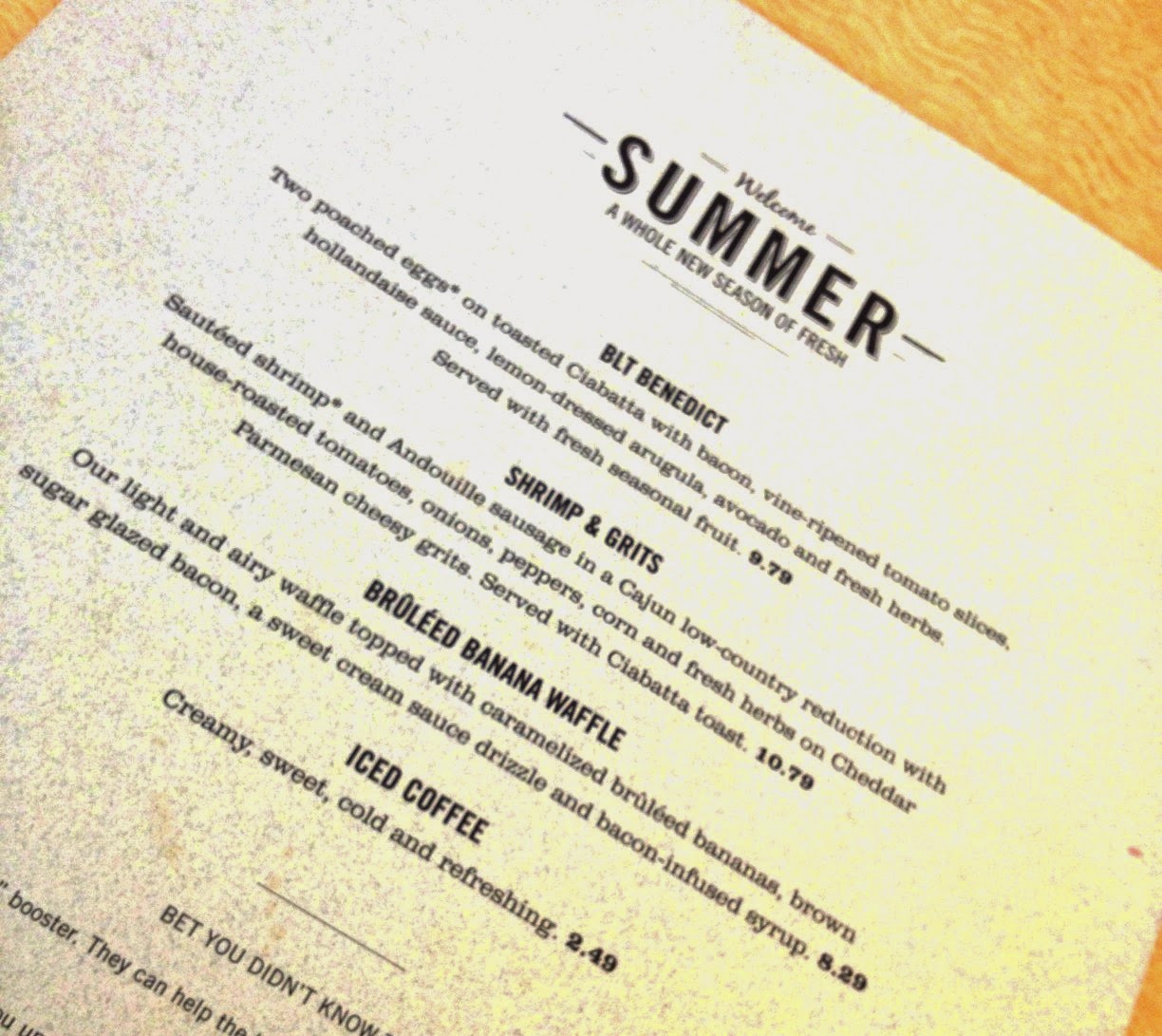 The specials for summer are:
BLT Benedict – two poached eggs on toasted Ciabatta with bacon, tomato slices, hollandaise sauce, lemon dressed arugula, avocado and fresh herbs. Served with seasonal fruit. ($9.79)
Bruleed Banana Waffle – light and airy waffle topped with caramelized bruleed bananas, brown sugar glazed bacon, sweet cream sauce drizzle and bacon-infused syrup ($8.29)
and…
Shrimp & Grits – Sauteed shrimp & Andouille sausage in a Cajun low-country reduction with house-roasted tomatoes, onions, peppers, corn and fresh herbs on Cheddar Parmesan cheesy grits. Served with Ciabatta toast. ($10.79)
I nearly got the BLT Benedict and probably should have. I'm not a big fan of grits but I had some really good grits at The Glendalia so I thought I would give it a try.
The Shrimp & sausage portion of the meal was pretty good – it had a slow-cooked flavor and I liked it a lot. There was a decent amount of shrimp as well. I would like it better if the sausage were in larger pieces. The toast was really great – salty and garlicky – YUM! I didn't like the grits at all. They are advertised as cheesy and weren't at all. Overall I liked it okay – but I wouldn't get it again. If you're more about grits and not the cheese – then you would probably like them.
Kelleen went for the Cobb Salad from their regular menu – which has a spring mix topped with bacon, turkey, egg, tomato, avocado and bleu cheese crumbles and a slice of Ciabatta toast. The salad looked delicious and she really enjoyed it.
I don't like bananas but that bruleed waffle almost got me – I'm sure both the other specials are great. The Shrimp & Grits was okay – just not the kind of grits that I like. I'm giving away brunch for two – just let me know which special you want to try and you can tell me what you liked!
Around The Web
'); script.type = 'text/javascript'; script.src = 'http://widget.crowdignite.com/widgets/31877?v=2&_ci_wid=_CI_widget_'+_CI.counter; script.async = true; ref.parentNode.insertBefore(script, ref); })();