I really like when restaurants mix it up with specials that are actually SPECIAL! Rusty Bucket has a special every day of the week + a weekly fresh feature and every one I have tried has been awesome! (
I'm still thinking about the Braised Pork Tacos
)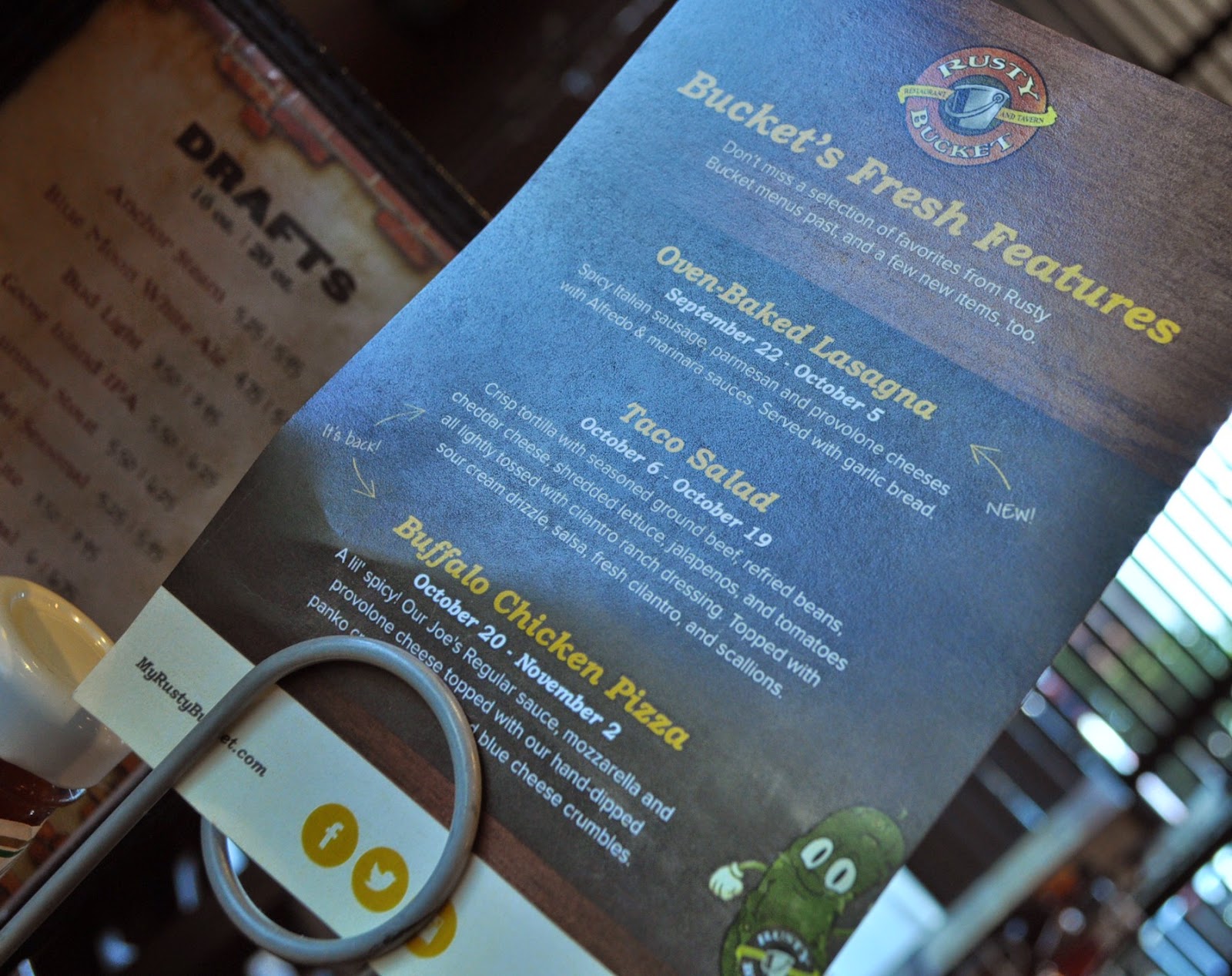 Right now their
Fresh Features
are pretty great. I went last week and tried their Oven Baked Lasagna. But you still have time to try their Taco Salad this week or their Buffalo Chicken Pizza next week!
I have a feeling that pizza is going to be pretty awesome – my friends SWEAR by their Buffalo Chicken Sandwich.
Lauren and I decided to share a couple of entrees – so we had the lasagna and they were kind enough to split it for us and give us both garlic bread! The garlic bread was delicious – crispy on the outside, buttery and soft on the inside. The lasagna was just as good – just like lasagna should be – bright red marinara, lots of melty mozzarella and yummy sausage on the inside!
I have to say – half the portion was probably enough of a lunch for me! But we had a whole other entree so yeah – we ate that too (#fullbelly).
Lauren chose the Big Sicilian which has onions, peppers, pepperoni, sausage, cappicola, mozzarella and provolone. She really liked the pizza – better than the lasagna (I liked the lasagna better). The crust was super thin and the toppings were plentiful.
Why Should You Go?
I've liked everything I've gotten – the tacos were still my favorite – but my girlfriends swear by their Buffalo Chicken. No matter which way we go – we all come out full and happy. Plus I'm giving away a $25 gift card (scroll down!).
Disclosure: Rusty Bucket provided the gift cards for this post but all opinions are my own.