Tickets and SWAG featured in this post were provided by Ikea.
I recently was invited to
Ikea
for a couple of events and wanted to share them with you! First up – was a Crayfish Celebration. Now I've never had Crayfish so I was in for an EXPERIENCE!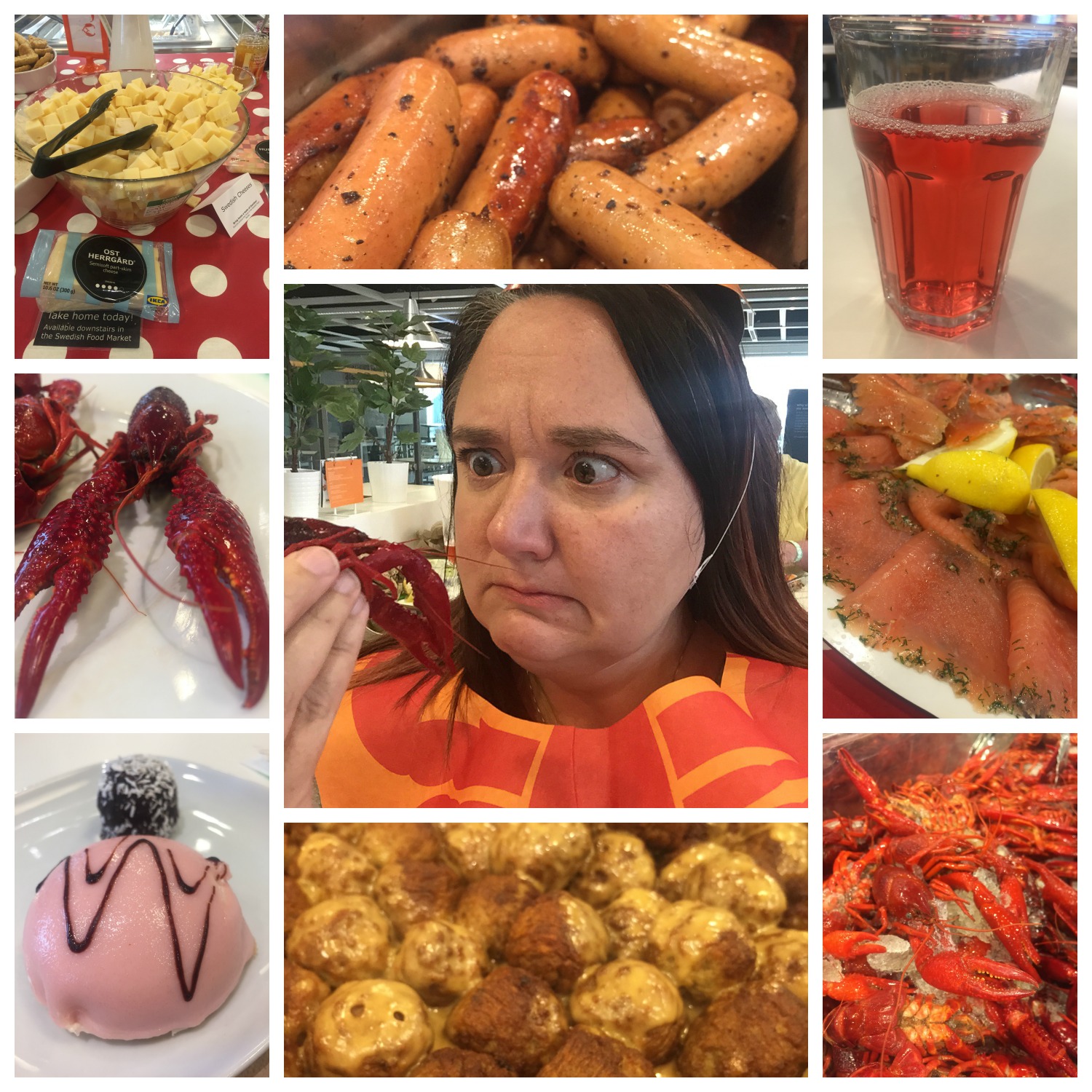 Ikea had an all-you-can-eat Crayfish bar for just $14.99 and they had so much food to choose from! Besides the beady-eyed little creatures – we had the traditional Ikea stuff like smoked salmon, wieners and MEATBALLS! They also had some of their other specialties like dessert items and juice drinks all on the buffet.
The spread was really great – we got bibs, hats and decorations for the Crayfish party – which was pretty funny looking but I wore them with pride.
Now while eating the Crayfish for my first time – there's a whole process to this eating a crayfish. There were multiple steps and an instruction sheet! I was following the instructions and got to step #7 – where it told me to stick my FINGER in the body and scoop out the BUTTER. That's not butter and I didn't scoop.
Really – I found the whole thing disgusting. The amount of meat was so not worth all the work! The teenie tiny amount of meat did sort of taste like crab – but it also tasted like sand. Did not love. But for those of you that do love them – you can buy them in the freezer department by the checkout. 🙂
Then I came back for a food tour from the Ikea staff – there's so much food down there and it boggles me – so I wanted them to show me around and explain it all.
But first – they fed me – meatballs and potatoes! They have regular meatballs, chicken meatballs and veggie meatballs! I loved the regular & the chicken – the veggie were interesting – but if you're a vegetarian – worth a try!
I was amazed by the crazy stuff they had – like:
Santa Soda – but the thing is – it's not sweet – so imagine Coca-Cola without the sugar
Roe (yes – fish eggs) in a toothpaste tube!
Meat – big slabs of meat
and Non-alcoholic carbonated Cider drinks
These were just a few of the crazy things I found on my tour – and the staff was so much fun! They showed me all over and let me try some things – which is always fun. But you think we're done? NO! There's more!
Cinnamon Rolls!!! Oh I love the Cinnamon Rolls at Ikea – I love them so much – they get their own picture. Man I love them. And Larry can't eat them (eggs) so I get them all for myself!!!! Muwhahahaha!
And what I didn't know was you can buy extra icing for just 50 cents!!!! What the what?? Yes! Seriously – if you've been to Ikea and haven't gotten the rolls – you're koo-koo-ka-choo.
Then there's a wall of candy. Seriously – a WALL of candy. So much candy – so little time. It's the pick-a-mix style – you just take what you want and weigh it.
More of what I got to try! Their frozen yogurt – and then they topped it with this awesome blueberry sauce (that you can buy) – so good! The cookies on the bottom are like Oreos but better. More candy! Glogg – which is like apple cider but better. Marzipan – so you can make weird little animals on top of cookies and cakes (that's what Martha does) and a Gingerbread tree that slips together to become 3D! So many sweets!!!
Then there was this. It's called Octosalt. #thedevilcandy
All in all it was a great day and I got to take home a fun goody bag with glogg, snacks and recipes!
Here I am with the wonderful Ikea staff – Thanks so much to Kitalena (on the right) for setting this all up for me! I had a blast and can't wait to go back!
So be sure you keep up-to-date on the Ikea email list for their fun events like the Crayfish Festival and be sure to try all that crazy food stuff. Their food area is outside the checkout downstairs and they have their own register – so after you get crazy furniture – take a spin through – or just hop in for those cinnamon rolls and cookies and salmon and meatballs and glogg and candy and OCTOSALT!