I'm still getting to know all the restaurants in this neck of the woods but I'd driven by
Mac's Pizza Pub
on Wooster Pike many times and thought it would be a good stop for my occasional Friday night dinner at U-Haul.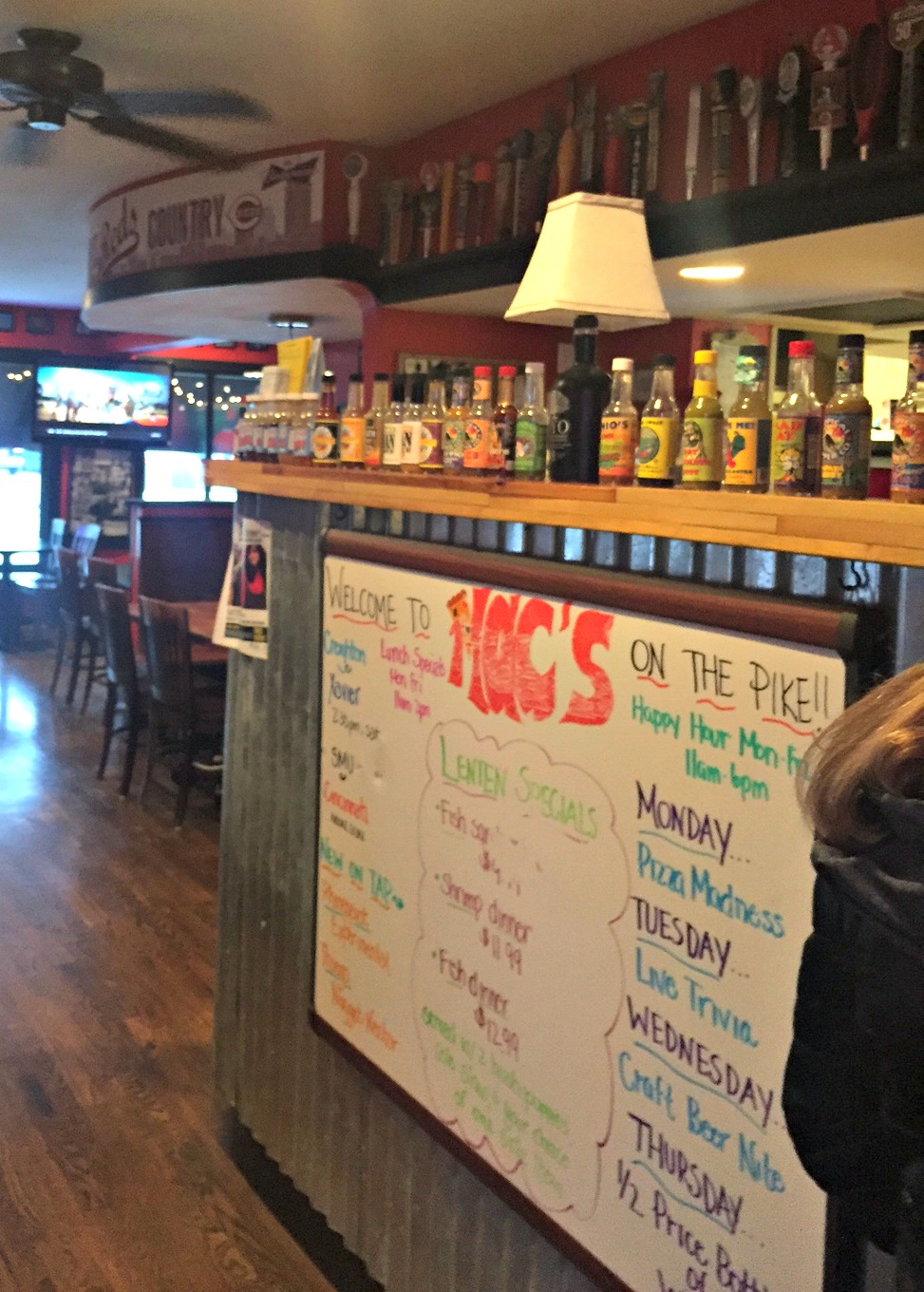 I placed a to-go order on my way out of work and stopped to pick it up. They have a couple of parking spots right in front and a larger lot in the back. Once inside, they have quite a few seating areas and a row of hot sauces above their weekly specials.
The backroom is more of a sports bar feel with neon signs along the ceiling and tvs across from the bar.
If you're a regular reader, you might know I love soft pretzels!!! Macs has 3 soft pretzels served with Mt Carmel Beer Cheese ($7.99). This might have been my favorite of the recent cheese & pretzels we have tasted (
Dilly Cafe
,
Butterbees
and
Axis Alley
). Axis Alley was delicious and it was queso – but this beer cheese had a very deep flavor and you could definitely taste the beer but it wasn't overwhelming to the cheese. Gooooooood stuff!
Then I got the Big Kahuna Chicken Sandwich ($9.49) – you can get your choice of waffle fries, onion rings, saratoga chips or tater tots. The sandwich itself has a lemon-pepper marinated chicken breast and is topped with sauteed red onion and pineapple, doused with teriyaki sauce and then topped with cheddar cheese.
We split the sandwich and it was really great! The chicken was super juicy and the lemon was really in there – along with the pineapple made it a citrusy bite of enjoyment. The onion rings were awesome too – I like battered over breaded so they win every time. They had some extra teriyaki on the side and I dipped my half of the sandwich in it.
Why Should You Go?
While I haven't had their pizza – what we did get was delicious and I would definitely go back. They have vegan and vegetarian pizzas as well – I think I'm most interested in the French Fry Pie – it has the beer cheese base and then is topped with waffle fries, red onions, tomatoes, provolone, mozzarella and cheddar cheese then finished with a sour cream drizzle. It's like Loaded Cheese Fries ON A PIZZA!!