My husband works for a truck rental company that also refills propane tanks – so he's come across a few food trucks over the past few months coming in. One in particular chatted up with him – he mentioned his infamous wife 😉 and the rest is history!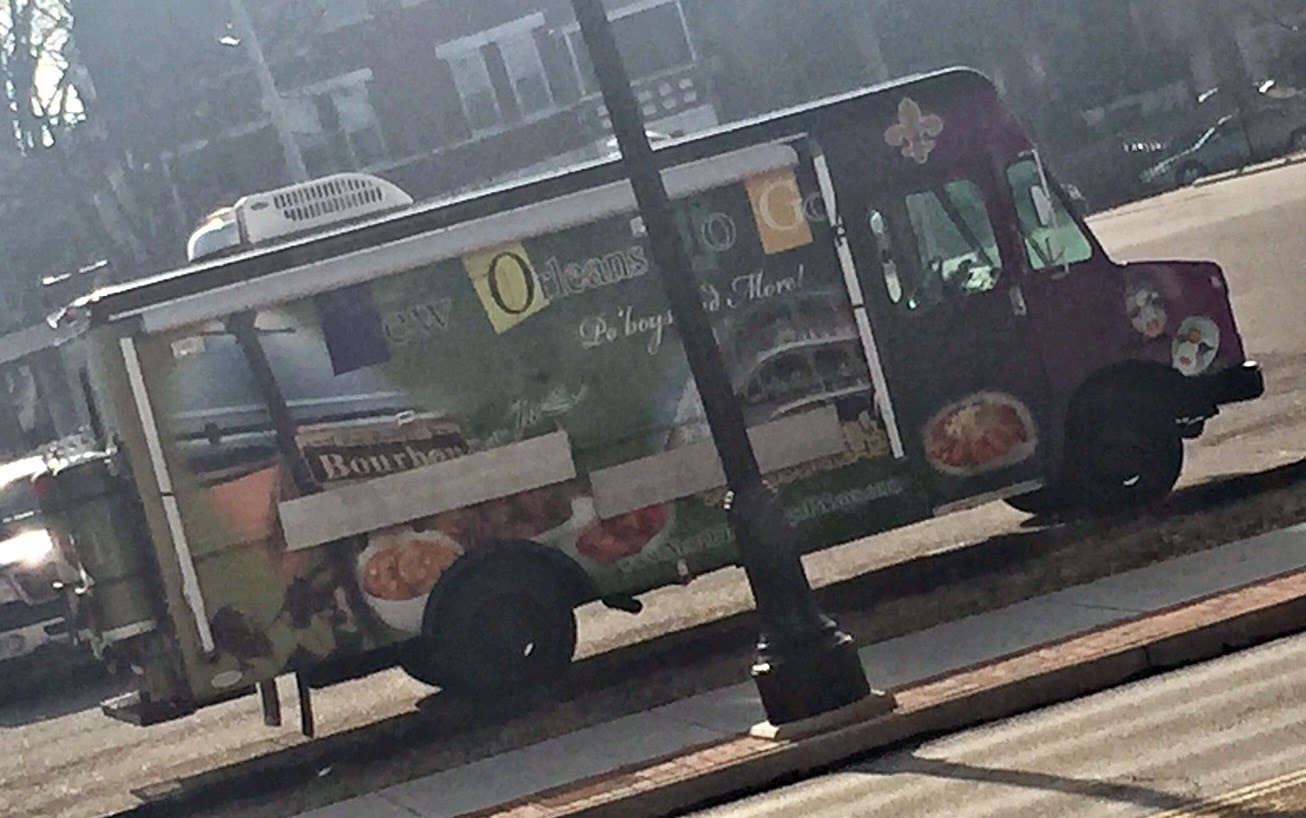 New Orleans to Go is said food truck and on their recent trips they mentioned that their physical location –
Mardi Gras on Madison
was about to open. Well – that's all it took – I was on top of it! Mardi Gras is in East Walnut Hills in the same strip as
Suzie Wong's
.
Just as an fyi – there is a parking lot behind the "mall" area. We parked there and walked around – you have to walk through in the corner to the sidewalk by Suzie Wong's if you park back there. Or – get lucky and park on the street. 🙂
Sure enough when I walked in – they asked us how we heard about the place – I told them about my husband and the guy was like – Oh yeah – Larry!!!
They have daily specials and that's pretty much the totality of the menu – so if you're going to head over – you probably want to check their Facebook page to see what the menu item for the day is. Luckily when we went – it was Po' Boys and we were all good with that!
They'll seat you – but there are no physical menus – so catch your eye on the chalkboard when you come in.
We all went for a mixture of the special and sides – I was up first with a Shrimp Po' Boy and Ms. Mabel's green beans. Let me tell you – the beans are spicy! They were a bit too spicy for me – but good flavor. The Po' Boy was awesome! Let me tell you – the portions are huge! I'd say 1/3 of the shrimp fell out and were snack food – which is not a bad thing. Large sandwiches can be hard to eat but this was well worth it. It also came with a side of the spicy honey sauce. Amazing. The bun was just right – sometimes they're too hard – which makes it harder to eat – but this was really great. Happy Camper! (It's so huge – you really don't need a side…but you'll want one.)
Susie got the Chicken Po' Boy and Spicy Honey Fries. The chicken – well there was enough for two people! She definitely took some home with her. The fries though – this is the real star. Really really crispy waffle fries are always a good thing – then they're topped with the spicy honey sauce. Oh my. Thankfully the sandwich was so huge that Susie was generous with her fries.
I told someone the other day – the real sign of a great new restaurant is that when I leave – I can't wait to come back for that one special dish. These spicy honey fries are that dish! I'm drooling just thinking about them. (Susie – we're going back!)
Dawn got the shrimp with sweet potato fries – again – delicious. The other nice thing was even though everything was fried – NOTHING was greasy or oily. I'm not sure how they do it – but I'm glad they do!
Matt & Criss chose the catfish po' boy – they were both pleased as punch. Everybody was STUFFED because of the large portions. But we were also happy as can be – because it was delicious!
Why Should You Go?
The food is fantastic! I can't wait to go back and try some of their other specials. Just fyi – service is a bit slow – but they've only been open a couple weeks and a sit down restaurant is different from a food truck – so they're still getting used to everything.