So we're going to do two days of Taquerias – today it's
Mazunte
in Madisonville and tomorrow Redondo in Newport! I'm just obsessed with tacos – so I just keep going to them!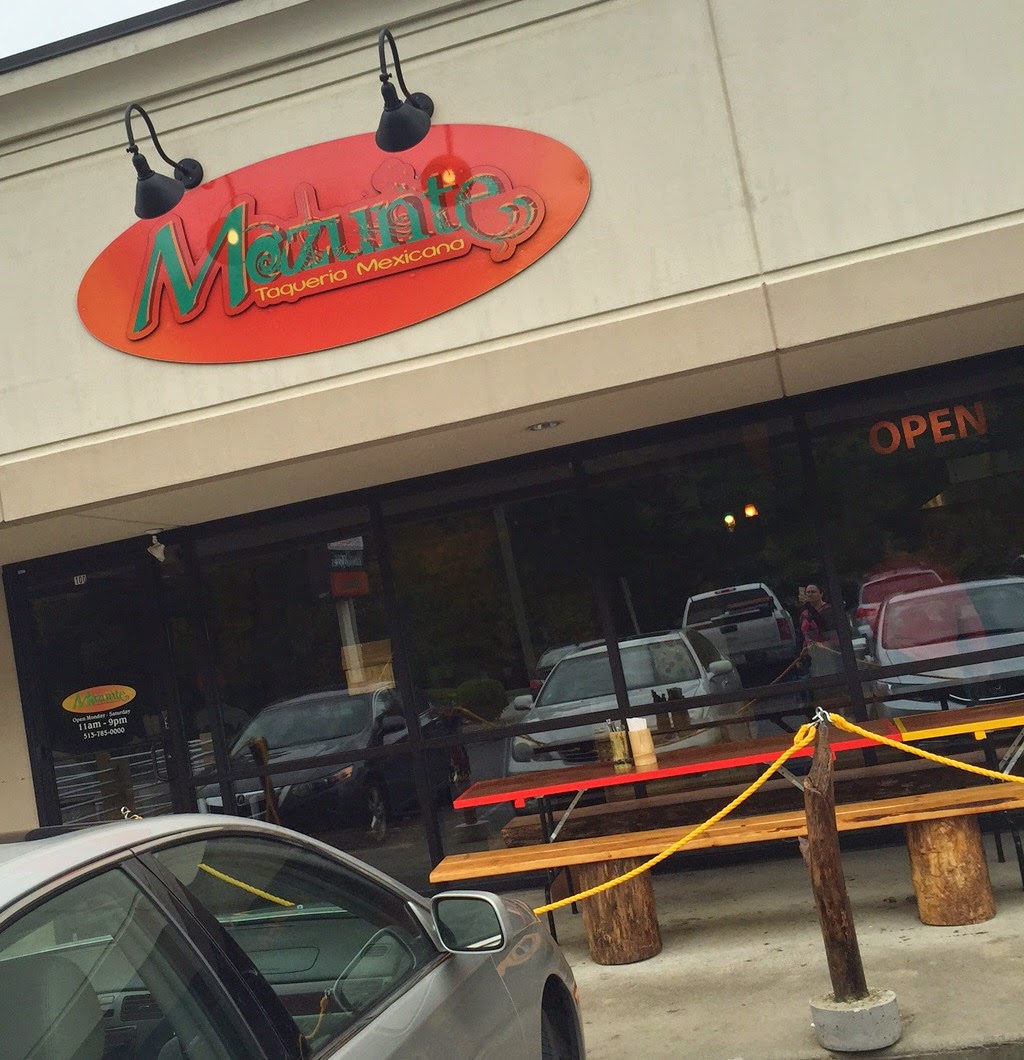 Many people wonder – where the heck is Mazunte??? It's at Red Bank & Madison next to the Rainbow Car Wash. Just be forewarned – it's closed on Sundays – I found out the hard way – drool coming down my cheek on a Sunday – then I pulled in and REJECTED!
The first thing you see when you walk in is the tortilla station. This lady has the hookup – graffiti, tortillas, chips, salsa and drinks – all within arms reach. You order at the counter and then find a seat (if you can) – then head over to this little lady with your bowl & cup in hand to get your fresh chips, salsa and a drink!
There are a range of seats – from picnic tables outside to stoops inside. The stoops are BY FAR the least comfortable things in the joint. Its like I'm at a spin class that won't end. Thankfully for us – two seats opened up at the bar!
Ahhhhh – chairs! Plus you get to watch them cook!!!
We grabbed our chips and salsa – they have 4 different choices and with the $1.50 salsa bar you can have as much as you want.
Oh the drinks!!! They have sodas but you can also get more authentic drinks. They have horchata and I tried the hibiscus flower water and…
It was delicious! It's like grape juice without the tang and tart. It's just nice, sweet and fruity! I loved it – I definitely will get this every time I go back. I had a Hibiscus Lemonade at a restaurant in Chicago and this reminded me of it – yum! I'm not sure if you get free refills – I wanted more – but I didn't want to seem greedy. So good.
So here are the chips & salsa – you get your bowl when you pay – then take it over and get some hot, fresh, crisp tortillas – sometimes blue – sometimes yellow – sometimes both! I liked the greenish salsa the best – it was a little spicy but not too much. Yum! I also could have devoured about 3 bowls of these but was trying to be good. 🙂
My friend Kelly and I got the same order of 3 mixed tacos ($9) – except she got grilled fish and I got fried. This is her grilled fish taco.
These both come with Mexican slaw, guacamole and mango-habanero salsa. The mango makes it just a little sweet while the habanero adds the kick. I loved the fish – it was nice and crispy.
We both also got the Sangria marinated skirt steak tacos topped with red-onion, pico and goat cheese. They were very heavy handed with the goat cheese – which I LOVE – but even for me – it was heavy. We both liked it and ate it – but it was our least favorite.
Now the shredded pork topped with avocado salsa & salsa rojo was our FAVORITE! I didn't reallize but the menu online says you can sub out chicken or chorizo on this. Now I know my next order – one of each!!! This was delicious and I could have downed two orders of these! So good! I highly recommend 3 of the shredded pork!
They also have sides – one of which is Grilled Corn ($3 – seasonal) with dried chili, aioli, lime and cheese. It looked so good – but I was pretty full and didn't feel like spending $3 for it when I wasn't that hungry.
Why Should You Go?
Cuz it's awesome! But I pretty much say that about any taqueria. I guess at least I can tell you to get the pork tacos for sure. I've also heard good things about the blue enchiladas. I will give you fair warning – if you go at peak dining times – prepare for a wait.
Be sure to check back tomorrow for my review of Redondo!