Recently I was invited to lunch by the staff of the Metropole – the beautiful restaurant in the
21C Museum Hotels
. The hotel also has extremely successful locations in Louisville and Bentonville, AR. The Cincinnati location is also attached to the Contemporary Arts Center.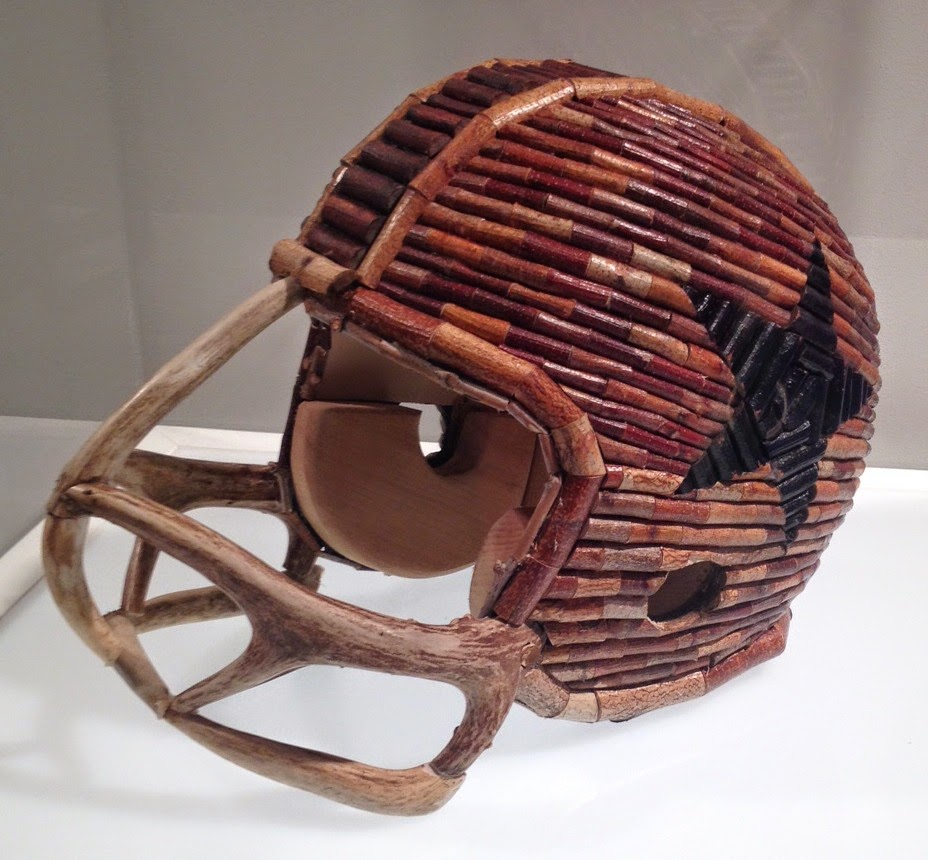 There is a variety of art right next to the Metropole and you can easily wander around for an hour or so before or after dinner. If you go upstairs in the art area – be sure to check out the Healing Tiles! They are really cool.
This piece – called How the West Was Won – is a mixed media piece made of carved linden wood, birch wood branches and antlers.
We started out our lunch with these
shrubs
– I had Clementine ($4.50) – which also had clove and tarragon. I guess the closest thing I could compare it to is the ever-popular Kombucha – it's a vinegar soft drink. I didn't care for it too much – but it was refreshing. If you're open to trying a totally new type of drink – or you like kombucha – you need to try it. They also offer versions with alcohol on their
Cocktail Terrace
.
We ordered a few items from their lunch menu – so I could try a little bit of everything. We started with the Burnt Carrot Salad ($9). Just the name – Burnt. Carrot. Salad. It didn't light my fire by the name and then I tried it.
HOLY MOLY – AMAZING! The salad has wheatberries, avocado, goat cheese, parsley, pepita, pickled onion and garlic chips.
Seriously – I can't even tell you how much I loved this. It's served at room temperature and was just simply delicious. I would NEVER think to put all this stuff together…Chef Michael Paley is a wise wise man! 😉
Next up were these Burrata & Rice Fritters ($9) with caramelized cauliflower puree, salsa verde, lemon & arugula. These were okay – I think the sauce was really good but didn't like the fritters as much.
Next up was the Sweet Potato 'Triccheroni' ($14) – this dish isn't available right now and let me say – too bad for you. The Triccheroni pasta is handmade and mixed with duck pistachio sausage, sage and lioni ricotta. This was DELICIOUS and a little reminiscent of Romy Jung's old dish from The Palace/Aroma/etc…
Last up was the Farm Egg Omelet ($12) which changes seasonally. The one we had was shaved vegetable salad with leek fonduta. I enjoyed the omelet a great deal. My coworker was there on the same day ironically and had this omelet and still says it was the BEST omelet she's had in all of her life. Big praise there!
The kitchen was a piece of art in itself. Chef Paley came out to chat with us and then showed me to the kitchen. He wanted to have a restaurant with a giant fire grill. Everything here was hand-forged and specially made for their needs. The key is to have the embers moved under the grills and that's what actually cooks the food. Pretty damn cool. The kitchen is also very open – so you're able to go back and peek in even without getting behind the scenes like this.
Why Should You Go? Well this is why I like to go to non-chains – if you look at the prices for lunch – they're not much different than a sit-down chain. This was a delicious lunch and I encourage you to go with a couple of friends and share like we did. Although – you might be hogging the Burnt Carrot Salad like I did. 😉 I really hope you'll check it out – and definitely be sure to check out the gallery/hotel as well. I hope the folks at Metropole invite me back soon!

Disclosure: The Metropole provided this lunch for me free of charge but all opinions are my own.