Mitchell's Fish Market
has a great special going on for another couple of weeks that you should check out: Lobsterfest!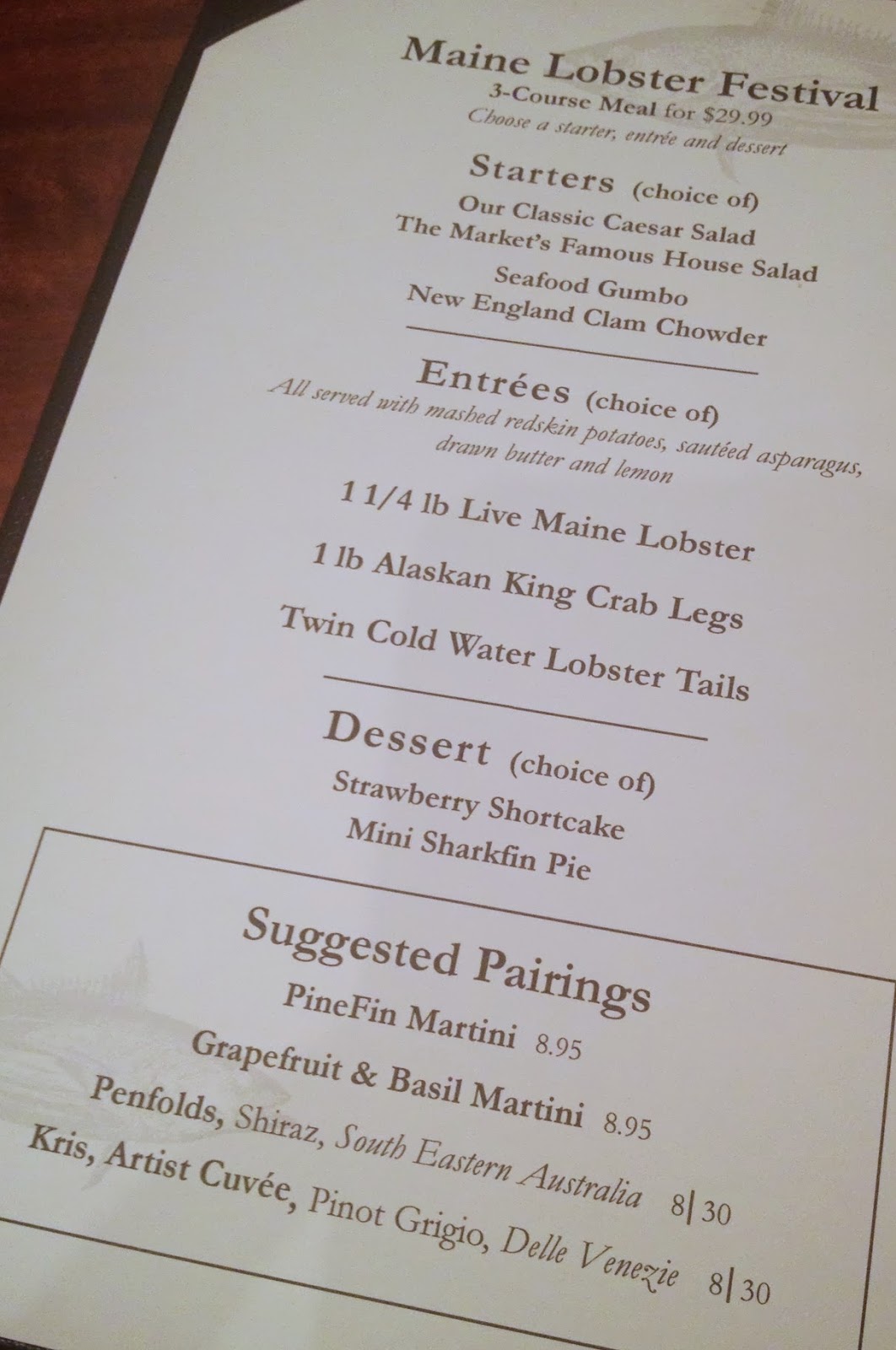 You get a salad, entree and dessert for $29.99! And these aren't just any entree – it's Lobster or King Crab. They're also flexible on the salad you get – which is always nice.
We were also happy to find that they have local brews! Larry was very happy to see
Mt Carmel Amber
on tap…
We started with fresh bread and it was fresh out of the oven. This was delicious – crispy and soft with soft butter – very good start.
Larry went for the Beefsteak Tomato & Mozzarella Salad. We both thought this was AMAZING. The mozzarella was delicious – so light and airy. I love the texture of fresh mozz – it's so different. It's got this springiness but then still has the mellow richness of the more traditional. The balsamic & tomatoes were just as good. Fantastic!
I went in an odd direction for me and chose the Wedge Salad but swapped out ranch. I normally go more adventurous but I just wanted some normal and this was good.
Larry got the Marbled Salmon fresh fish special based on the reco of the server. Apparently this marbled salmon is only available 2-3 weeks a year! (here anyway). It was topped with a balsamic reduction, sun dried tomatoes and goat cheese. Delish.
I went for the whole Maine lobster – but because I was asking about how easy/hard it was to get it out of the shell – they offered to do it for me. This definitely made it easier.
The lobster was okay – I'm not a huge lobster fan – but I liked it. The claws were a bit mushy. That said – last time I came – I had the King Crab and it was delightfully delicious (sweet, light yum!).
And they bring the drawn butter in this little warmer – nice touch.
Next up was dessert – this $29.99 Lobsterfest comes with a mini-dessert but because I was blogging and because of the sheer madness of this – they gave me the full size.
This Shark Fin Pie is ridonk ($7.99). It's butter fudge ice cream, honey roasted peanuts, fudge, peanut butter and Oreo cookie crust. Seriously?????? It was huge! This requires a minimum of four people to even THINK of finishing it.
I'm not kidding – it's as tall as a water glass!!!
It was delicious – I don't always love ice cream cake or pie – but this was good. The ice cream was delicious (and egg-less so Larry got to have some), the peanut butter was a great surprise in the middle but I have to say – the peanuts made the pie! And – if you can't finish it – they'll make a shake out of the leftovers for you to take home!!!!
Why Should You Go?
Lobsterfest is a great deal – at $29.99 for 3 courses and getting a decent portion of Maine or Rock lobster or King Crab – that's just awesome! We went to the West Chester location (off Exit 19 on I-75) but they also have a great location at Newport on the Levee! Lobsterfest runs through September 2 – so get there quick!