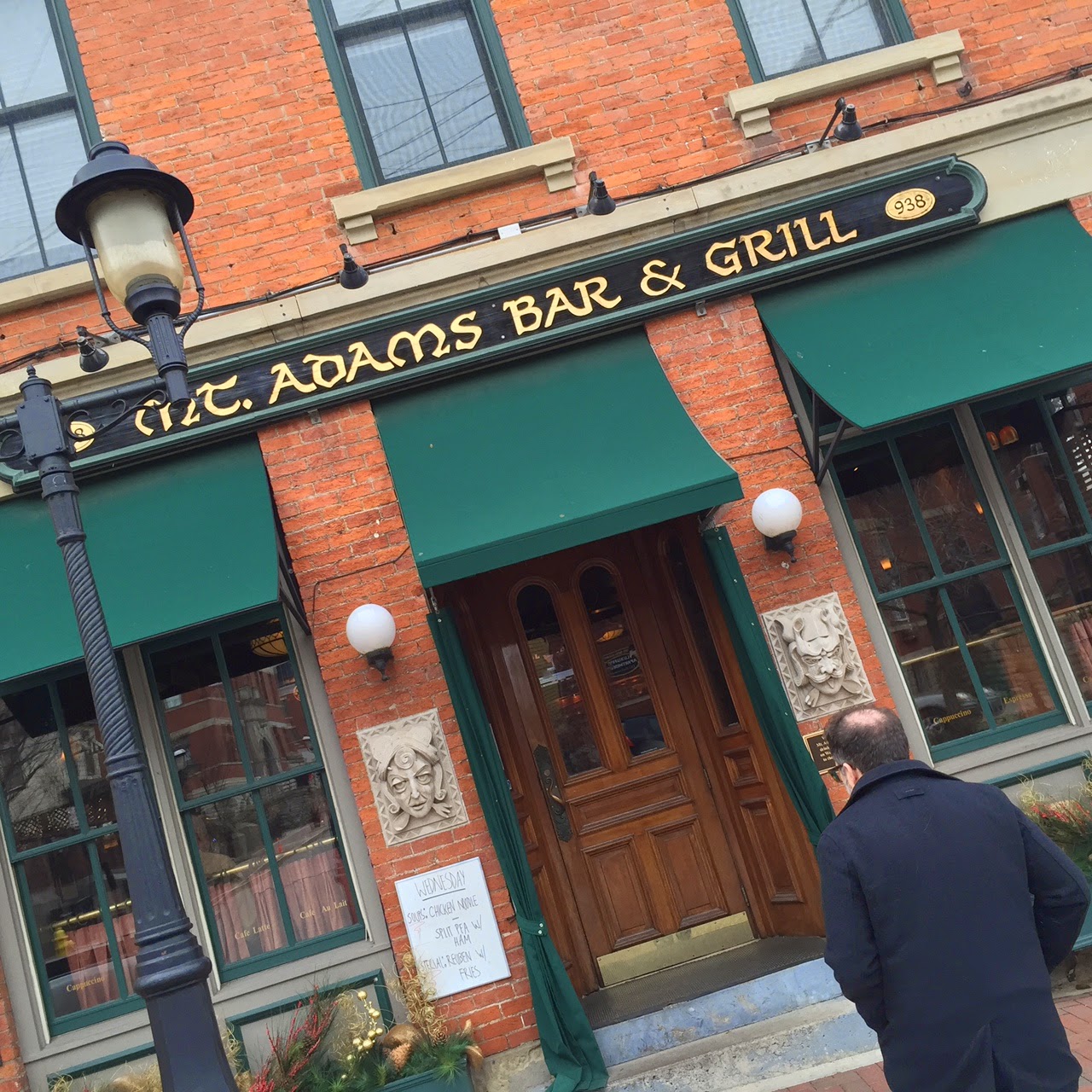 I got introduced to a new restaurant in Cincinnati and man am I glad!!! I owe it to that guy in the pic – we call him Tino (we have too many Matts). He is always trying to impress Food Hussy and take me someplace new that I'll actually like (his last effort was The Elusive Cow – he had some redemption ahead of him).
Once inside – it's quite impressive. There's a jackelope hanging on the bar and intricate woodwork at every turn. It's very dark wood, intricate & beautiful.
The walls are covered with photos of actors that have performed in town – right in the middle is Helen Hunt. The bar also has an interesting history – if you're into grand stories of the Prohibition era.
I even like the menu – it shows the old Mt Adams incline – very cool.
I had such a hard time deciding – the menu has a lot of delicious sounding options – but finally landed on the Southwestern Chicken ($7.25 – comes with chips – fries are extra). The Southwestern is a chicken breast marinated in a special sauce then grilled and topped with sour cream, green taco sauce, pepper jack cheese, tomato, lettuce and mayo on grilled buttercrust bread. It was DELICIOUS.
Also – let me tell you about the RANCH! I got a side for the fries and it was out of this world! It was creamy and thick – not bottled – and so tasty!!!
Tino got the Ham Melt ($7) – which is actually one of the things I was debating over. Juicy ham grilled between two slices of cheddar cheese, tomato & mayo. He got fries and ranch as well – he was not disappointed.
One thing I like about Tino is that when I go out and he has to stay behind – he just hands me his credit card and says to get him whatever I get. He has no fear. He even ate the grilled cheese donut plus bacon that I got him! Gotta appreciate a guy that trusts you. 🙂
Why Should You Go?

Tino definitely made up for Elusive Cow and then some. After one bite of my sandwich I said, "Oh man – we're gonna be coming back here a lot!!!" And once we get back to work – that's a promise!