Recently we moved to the Loveland/Milford/Goshen area – it's sort of an odd spot that appears to be the corner of all 3. With this means lots and lots of new restaurants – I really like trying the locally owned ones first. I was really hoping that I'd find a fantastic diner close to the house…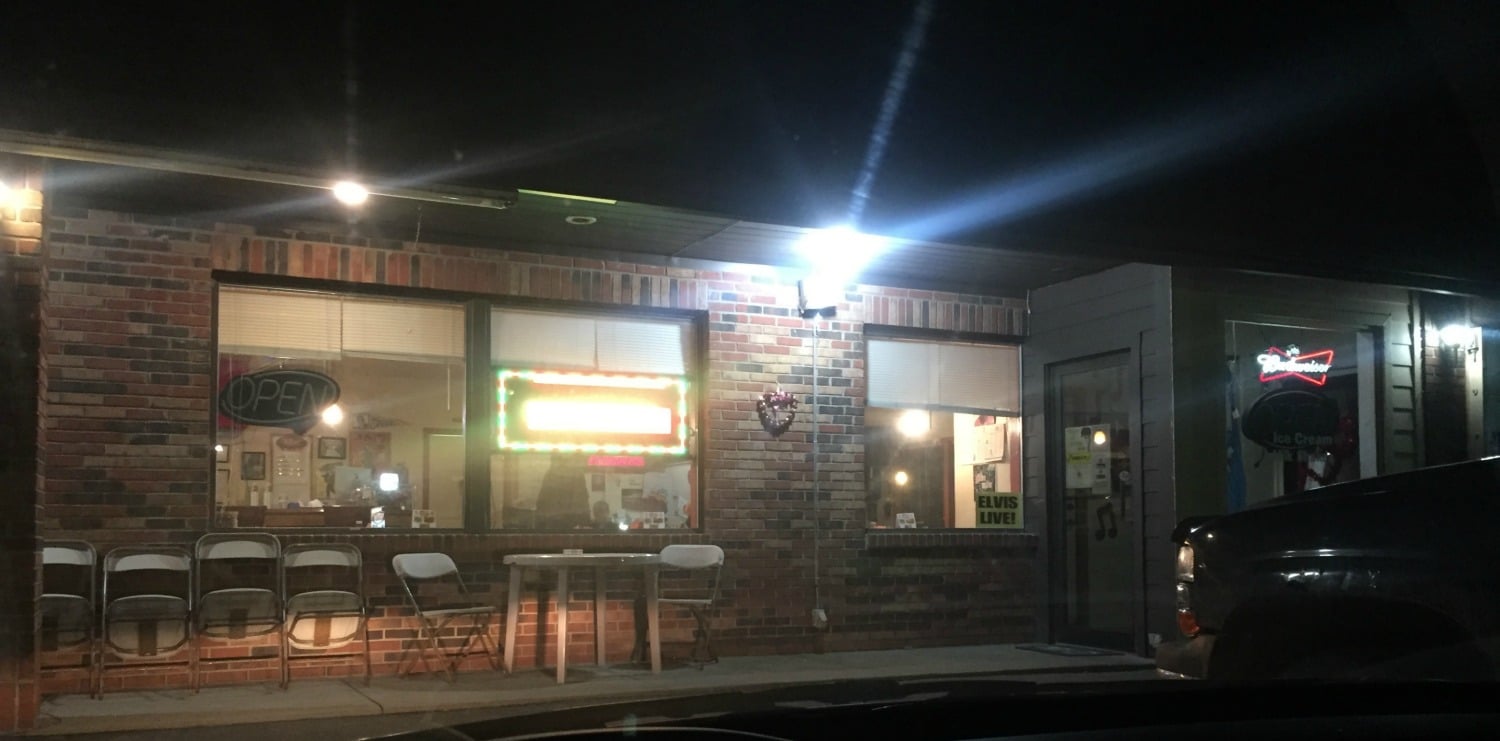 On Rte 28 – every day at least twice a day I drive by the
Music Cafe
. They have a big electronic billboard that you cannot miss. It's a small place but there are always 3-5 pick up trucks in the parking lot – so I figure it's got promise!
Inside – it could use a makeover. They have a stage and have performers on a regular basis – including Elvis impersonators. So there's that. There are a decent number of tables for a small place and a few stools at the counter. They have lots of old 70s records hanging around the place and scented candles (which you don't usually find in a restaurant – competes with the food).
But we've done takeout now
four
times – so here we go!
First – we tried wings – with mild buffalo sauce (12 – $8.99) They're fried and then tossed in sauce and they are DELICIOUS!!! I think the best and most surprising thing is how juicy they are! These were for Larry – but I had to steal a couple and I'm glad I did. They also have fried chicken – which I'm guessing is really good as well since this is so good!
I got the Reuben & fries ($5.99) – first – $6 for a Reuben & fries is pretty great. The fries are the thick crinkle fries and they're pretty good – I live really close by so they were still hot. I did add salt to them but I like that they don't come salted so I can decide for myself.
The Reuben was also delicious! There was a ton of corned beef and it went splendidly with all of the toppings. The sandwich was crispy, hot and juicy – definitely not a dry sandwich. Loved it! I would definitely get this again…
On another visit – Larry again got wings – this time they gave us the sauce separately – which is nice. He's not too fond of spicy things so he could just dip at will. I again stole some. 🙂
Also the sauce is a good mild – it's got a tiny bit of spice but not so much it burns off your tongue and not so little that it's basically ketchup.
I went for the bacon cheeseburger with fries ($6.49) and added a side of macaroni & cheese ($1.99). The bacon cheeseburger – great – very thick – juicy and came topped with onion and tomato. Very solid burger.
The macaroni & cheese I really liked! Most of the time "homemade" has overdone noodles and is gloppy. This tasted more like cooked macaroni that was topped with a cheese sauce and not baked. To me – that's all the right answer! I liked it a lot!
Over the weekend Larry wasn't feeling well so I got takeout for breakfast. He really wanted gravy and that's too much breakfast to undertake on a whim.
I got scrambled eggs, bacon, toast and a 1/2 order of biscuits and gravy…(1/2 order with eggs – $5.99, bacon – $2.49, toast – $1.49). Everything on breakfast was fine – not the best I've had but pretty good. The bacon was probably my favorite – crispy but not fall apart too crispy. The eggs tasted like homemade scrambled eggs – not the fluffy wet-ish kind you get from Frisch's (which I actually like). Toast is toast. Larry liked the gravy but it was too spicy for me – it had a LOT of pepper. I'll stick with the Bluebird in Norwood for b&g.
That said – I'll definitely go back – they have omelets and pancakes and waffles – so there's plenty of other options for me!
Why Should You Go? I don't know that I'd go out of the way but if you're in the area – it's a solid choice. The wings are crispy & juicy and so far I've liked everything I've tried (except the gravy). I got a patty melt on another visit – it was really good (better than the burger, not as good as the reuben). Larry has gotten the wings EVERY TIME – so they're good. I can't wait to try the fried chicken – hoping it's as good as the wings.