I love hearing from Cincinnati restaurants and it was great when Samantha from
Palomino
reached out to see if I would come back down for a visit!
I hadn't been since 2009
! So my coworker and I headed out for a fancy lunch day thanks to Samantha!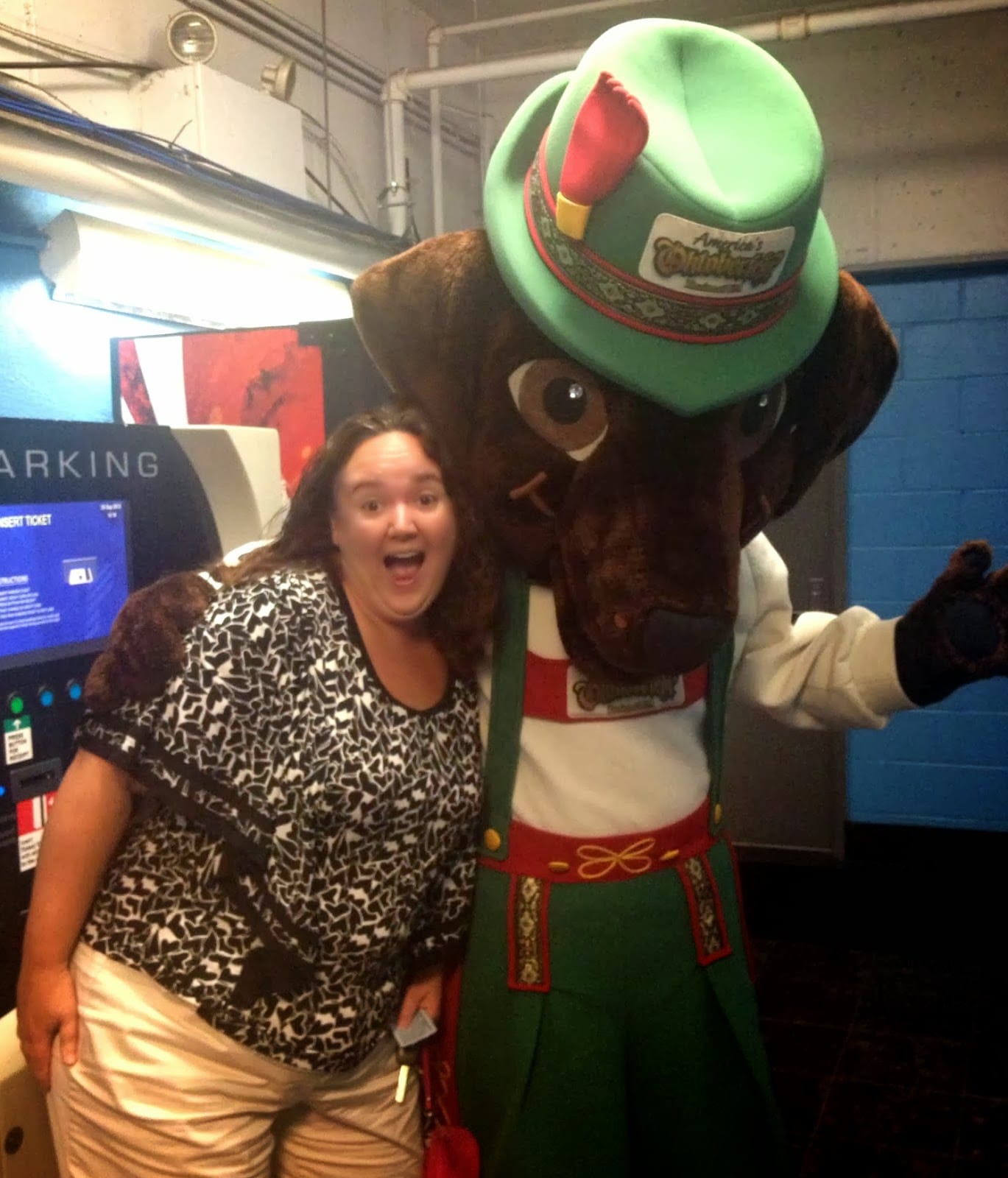 It also happened to be Oktoberfest and was the
Running of the Wieners
on Fountain Square! Now I happen to have a wiener dog of my own – and had thought about running him – but I found out late. I already have the calendar marked for 2014! But on our way to Palomino we ran into this guy and had to snap a shot!
My coworker told me how great their mushroom soup was so we each started off with that. The Portabella Mushroom Soup ($8) is a big bowl of cream-based mushroom soup and it was definitely just as good as Lauren mentioned. That is one of my favorite kinds of soup so I would definitely get that again!
We ate on the restaurant side and had a view of the square. It's an open kitchen and is quite a sight! They really utilized their space well so that most everybody has a view of the square.
Palomino has 7 locations in cities around the country like Indianapolis and Dallas.
They brought out some fresh bread with a dish of marinara. This was okay – the bread and marinara were cold – I would have liked it a lot more if it were warm. The marinara had a nice flavor though.
Lauren chose the crab cakes ($16) because she had heard great things about them and it's her go-to at a new restaurant. She indulged me with a bite and they were really good – the outside had a nice crisp breading but the inside was FULL of crab! The asparagus was really large as well.
I went for the Grilled Seafood Pasta ($18) which was full of scallops and prawns. It had a light creamy butter sauce as well as spinach, artichokes and mushrooms over fresh local pasta. I really enjoyed this and would definitely get this again! I was already pretty full from the hearty soup so I had half for lunch and then saved half for the next day! The pasta was perfectly cooked and all of the seafood was great as well. It was just the right balance of vegetables and sauce as well. Good job Palomino!
We weren't going to have dessert and then our awesome server convinced us – I mean he literally stood us up and twisted our arms!! 😉
Lauren and I tried to say no – but then he said Creme Brulee and seriously – who DOESN'T have room for creme brulee?!
This was really good. I had recently had creme brulee somewhere else and it's such a delicate balance for that crusty sugar top. The last time it was far too thick – but Palomino had it just right! The crust was just thick enough to break it with a spoon and the custard was just a little warmed from the heat. It was delicious!
You even get a little card when you leave and this one is oh-so-true!
Why Should You Go? Palomino is well known around downtown Cincinnati for their phenomenal Happy Hour menu. They also have lunch combos for $13-15 – which is pretty great for the quality of food and service. It may just make the list for an upcoming Fancy Lunch Day. Lauren and I both loved our entree choices and I would love to come back. Maybe I'll make Larry take me for dinner some night!
FTC Disclosure: I received this item for free but the opinion expressed is all my own.