With my urge to always go someplace new sometimes I forget about places I've been that I love. We had clients in town and decided to take them to
Seasons 52
in Rookwood and it was such a pleasant surprise to revisit!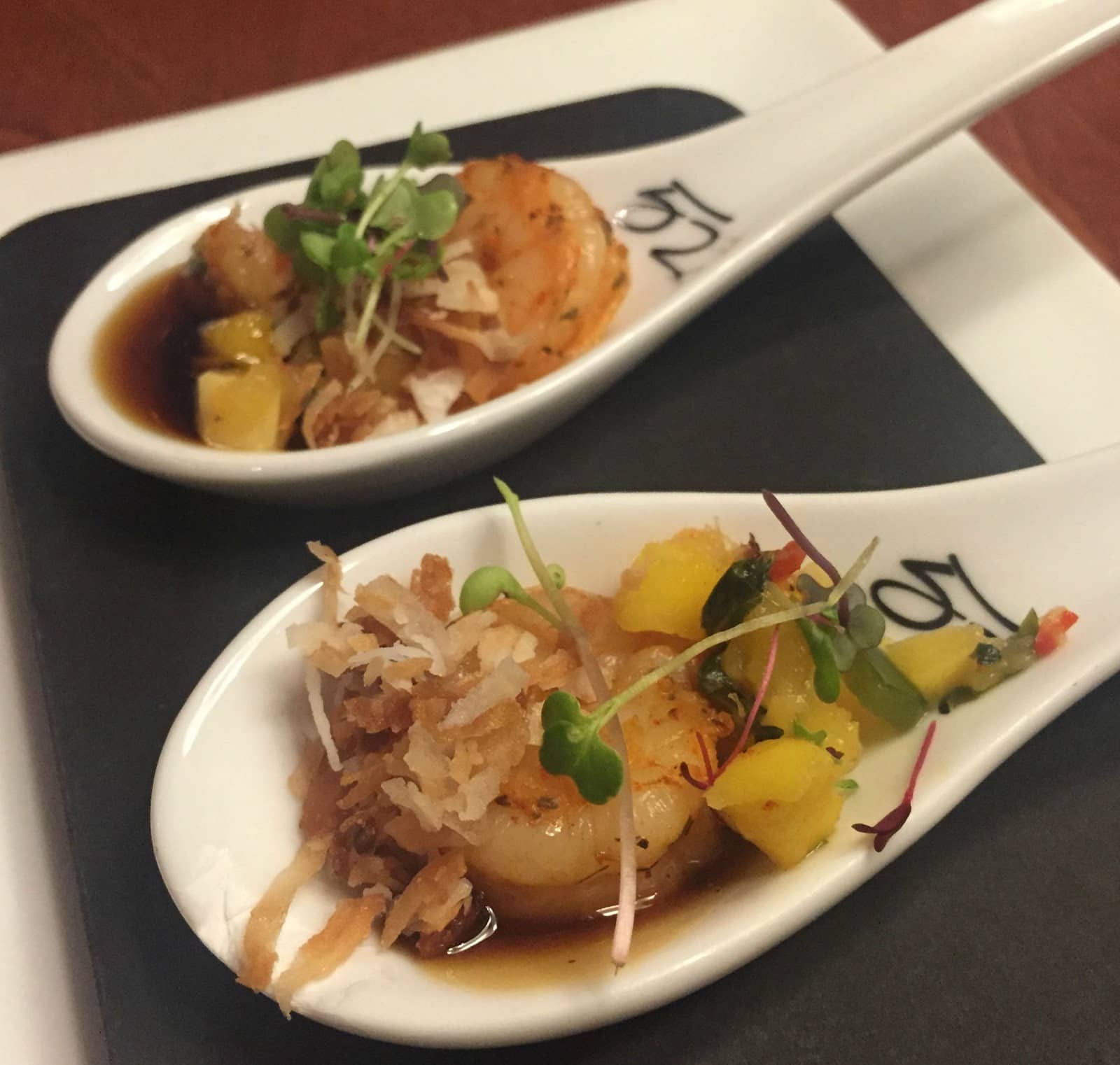 We started out with an amuse bouche – I don't remember exactly what it was – but it tasted as good as it looked. Seasons 52 has a commitment to in-season food by having quarterly menus based on seasonality. There is a
main menu and also a "What's Good Now"
with the seasonal specials.
We started out with a couple of flatbreads – always delicious at Seasons 52. First up was a Blackened Steak & Blue Cheese Flatbread ($10). The steak was a little dry but I really like their flatbreads – they're so thin & crispy – always good.
We also went for the Artichoke & Laura Chenel Goat
Cheese ($9.80). Not much of a surprise that this was my favorite – we gobbled it up very quickly. Goat cheese never lasts long if I'm around!
A couple of folks were spicy lovers and went for the Blistered Shishito Peppers ($7). I had just had these once before at Salazar. I think the ones at Salazar were better but I'm just not much of a pepper fan – so they were fine but not something I'd choose. The rest of the table inhaled them though – so I think they're worth a try.
I tried to grab a couple of pics of my coworkers & clients meals:
Caramelized Grilled Sea Scallop ($23.50) – butternut squash risotto, broccolini, lemon butter
(450 calories). Many of the menu items are under 500 calories – it used to be the entire menu but they have a few items outside of that range now. It's nice that they're considering calories as well as freshness.
Asian-Glazed Chilean Sea Bass ($31.80) – organic black rice, snow peas, shiitake
mushrooms, micro wasabi (580 cal). This is one of the specials for the fall menu.
Lobster Pappardelle ($26) – fresh pasta, Maine
lobster, fresh vegetables, sherry-lobster sauce
(770 cal). I chose this – and man was I happy!!! This was spot-on deliciously amazing. I can't say enough good things about this – and I would get it again and again. The pasta was super fresh and the sauce was so creamy but not too rich. Then – just throw lobster on top – I MEAN SERIOUSLY?!? So delicioush!
And then for dessert – they have these mini shot glass desserts and a few of us indulged. Oddly enough – bossman and I both went for the Pecan Pie. Great minds think alike!
Why Should You Go? I forget about Seasons 52 but this was a great reminder. If you've never been – check it out for sure. If you have been – go back!