Now that I work in Blue Ash – the restaurants are plentiful and one is basically across the street from me-
Slatts Pub.
Slatts is owned by the folks that own Wags Park, 50 West, etc. but is one of their older establishments. It's pretty much the only "sports bar" on the square so it's got a pretty built in clientele.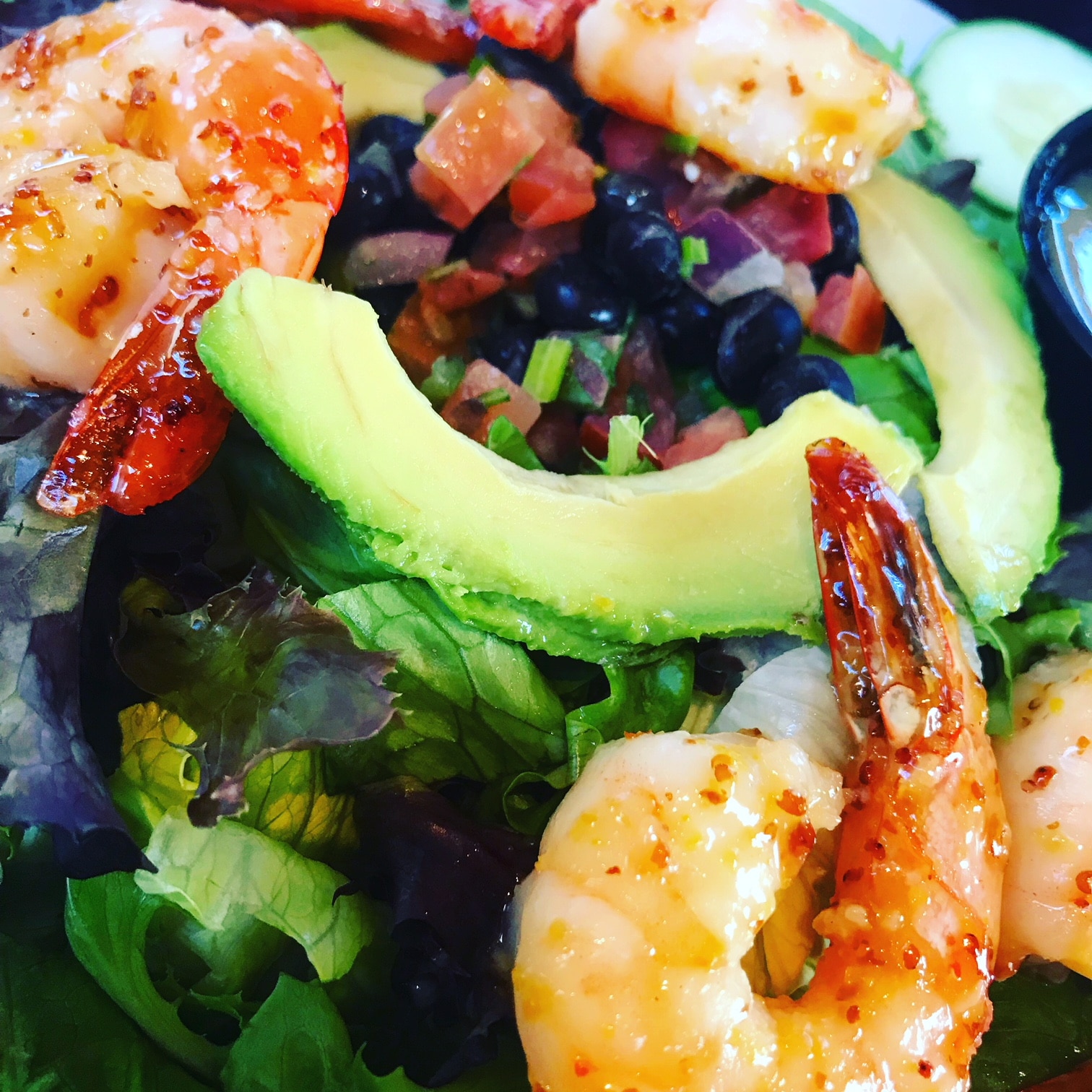 Citrus Rum Grilled Shrimp Salad ($14) – garden fresh greens, sliced cucumber, fresh avocado, corn & black bean salsa and honey lime dressing
I have had lunch there a couple of times – once I got the Citrus Shrimp salad and it looks very pretty. Unfortunately – it looked better than it tasted. I had a few issues with the salad:
* I didn't taste any citrus or rum
* Why leave the tail on? It just means I have to get my fingers sticky when I pull it off. Pop it off for me dammit.
* The honey lime vinaigrette was off – it was too much honey and not enough lime and bland
Really the whole salad was bland – cucumber doesn't really have flavor – neither does avocado – it was all bland bland bland. Nothing was "bad" it just had no flavor – well that dressing was bad.
Carnitas Tacos (3 for $11) – on another occasion I got tacos for takeout and brought them back to work. I was dying for tacos and this is walkable from my work. Again – bland. All of it. Blah.
The only thing I really liked both times was the biscuit. I have no idea why I got a biscuit with my tacos – but I was glad I did – it was tasty! It was a little sweet and the butter was soft (woohoo). I got it again with my salad – it wasn't as good – but it was still the best part of the meal.
Why Should You Go?
Well – I didn't really love it – but I'm sure there's some things on the menu that are fine. Given the proximity – I'll probably end up there again – but if you know of something great – let me know.