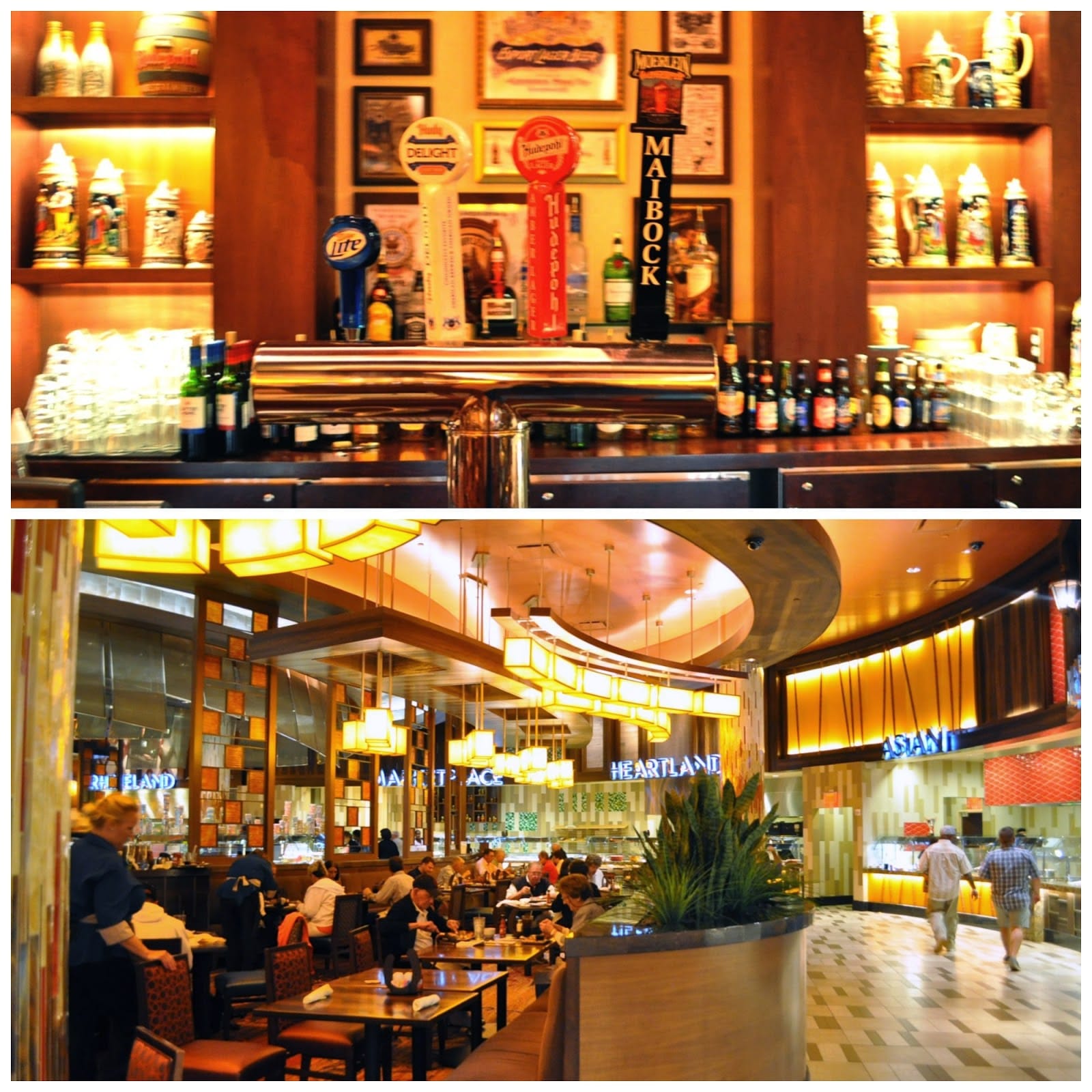 This is not the casino buffet of old. There was everything imaginable! It's very pretty as well. A server takes care of your drinks and dish clearing. They do have a bar but I think you have to go up to the bar for alcohol – otherwise the soft drinks are included.
There are seven different cuisines at the Spread Buffet: Rhineland, Asian, Italian, Heartland, Mexican, Marketplace and Dessert. I was sure to sample them ALL (for journalistic purposes of course)! The pizza is the same as is served at Cafe Italia – and I like it for sure – very thin crust. There is peel & eat shrimp for days. Our friend Dan said the fish tacos were his favorite thing on the whole buffet. We were starting off on a good foot for sure.
Then – the meat! there was fried chicken, bbq chicken, popcorn shrimp and the churrasco meat like you see at that expensive Brazilian steakhouse. I only tried the shrimp – but I think I ate half that pan. I had actually gone through once and then found the Rhineland area – and was so excited SHRIMP!!!! I love that stuff.
There's also a lot of "home cooking" selections. The pot roast was DELICIOUS! I wish I could get their recipe – it fell apart – so good. And the sauce was just as good as the beef. I'm seriously jonesing for it! I also tried a couple of meatballs – delicious! They were moist and not too heavy. Yum! They had a wide variety of fresh breads and rolls – once I told Larry there were pretzel sticks – he was on it! Then if you want something simple – you can get a fish sandwich or cheeseburger as well – something for everyone for sure!
And then – my happy place – dessert world. There is Graeter's ice cream, made-to-order crepes and every little happy dessert you can think of. My favorites by a landslide were the chocolate mousse (top) and the creme brulee – it was perfect creme brulee. I might have eaten three of them. Maybe.
All in all – I loved our dinner at Spread Buffet – we definitely left full (so so full!!!!) and I would go definitely go again – although it's hard to turn down Bobby's Burger 🙂 The prices at the buffet range from $15.99 (Total Rewards members get a small discount) – $27.99 (weekend night, no TR card).
But our night wasn't over…
We then got to go see The Fray at the Shoe (the front lawn)! We were lucky enough to get to watch the show from the patio at Margaritaville that overlooks The Shoe. This is the way to watch a concert! You're up above everybody and the patio has free drinks and free food. Yeah – pretty awesome. I'm not sure what the charge is for this – but for a good show – it's worth it! No standing, no fighting to see, loved it.
Why Should You Go?
I liked it and definitely found plenty of good options that were REALLY tasty. For the price, I'm not sure how often I'll be back. If I was doing a mid-afternoon lunch/dinner – it's definitely worth it. The concert was also a blast! The Fray was the last show of the summer but they'll be back next summer with a whole new concert series.
Disclosure: This post was sponsored by Horseshoe Casino. All opinions are my own.