I love when clients & contractors are in town! Why? Fancy dinner on someone else's tab! Woohoo!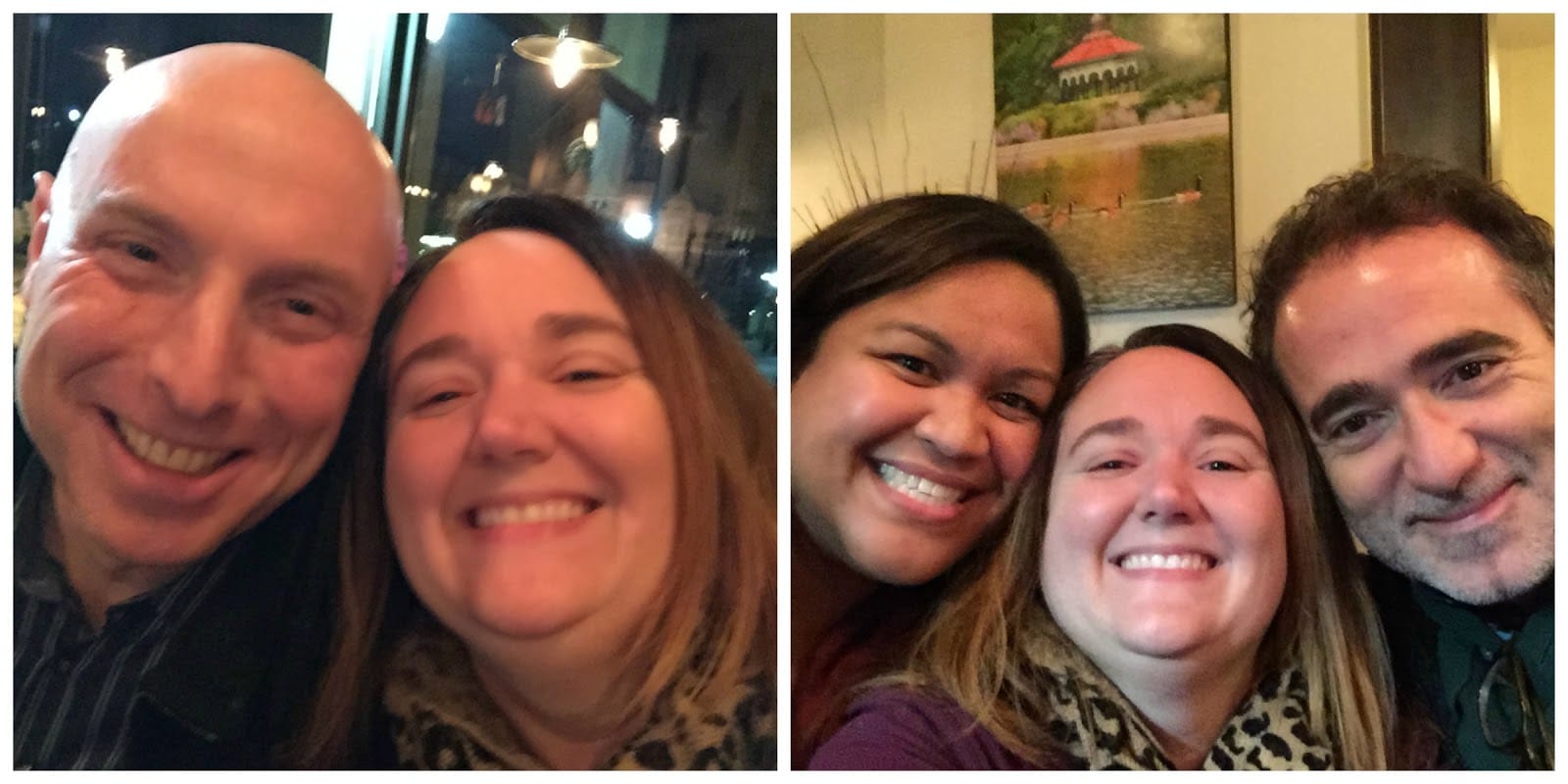 Plus – it's super fun to hang with these folks I don't see all that often in a fun, social setting – gittin' our drink on!
We headed to Zula Restaurant & Wine Bar – it's in OTR and directly across from Music Hall. Street parking can be found but the Washington Park Garage is right there as well.
It's a cozy atmosphere – I really like this table overlooking where the chefs work – I would have liked to sit there but we were a raucous group and they tucked us away in a back room.
We started with flatbreads – this is the Thyme Roasted Tomato Flatbread with fresh mozzarella, basil essence and a balsamic reduction ($14.50). It was good – the crust was cripsy and the roasted tomatoes were very rich.
We also got the Goat Cheese Flatbread ($15.75) with Fontina, Fresh Mozzarella, Tallegio and Chives. This was good but not as good as the tomato & balsamic – that just had a lot more flavor.
Zula is a tapas style Mediterranean restaurant – so they have a lot of small and large plates – hot and cold. So we just kept ordering until we were full – that is so much fun!
Next up was the Yellow Fin Tuna Crudo ($12.50) – raw Yellowfin, tomatoes, avocado, citrus and serrano peppers. It reminded me of a Poke dish I had years ago at a now-closed place in Mt Lookout. I have to say though – the Poke was better – this was missing some acidity – it was a bit one note in texture and flavor.
The server recommended the Arancini ($10.50) risotto balls filled with braised pork, taleggio & mozzarella on charred greens and topped with romesco. We liked these but they weren't anybody's favorite. It was an interesting combo but when there was one left – nobody staked claim.
A couple of us hadn't had Beef Carpaccio ($11.50) before – so we tried it. It was pretty good – the salad was a little silly – that frise drives me crazy – it's just weird and hard to eat – the branches are so long. The beef was fine – it's super thin – but doesn't really taste like beef. I liked when you could taste a tiny bit of salt and balsamic – that really set the dish off.
Oleg (yes – out of towner named Oleg) was set on the Charred Calimari ($11.75) served with cherry tomatoes, watercress, preserved lemons and tahini. I do NOT do tentacles so I avoided those pieces – but it was fine. Again – good – but not HOLY CRAP I NEED TO EAT THAT AGAIN.
I saw Moussaka on the menu – or their version of it in a Lamb "Moussaka" Timbale ($9.50) and had to try it. I – of course – basking in my love and remembrance of My Big Fat Greek Wedding said (loudly) – Moose Caca???? Nobody got it. #losers
This was served with thyme roasted tomatoes and a morroccan tomato coulis – again – good but not great.
We had a couple of last additions before the big finish (just wait for it) – on was the Plancha Mushrooms ($9.50) – they're served with bacon, scallions, lime and cilantro. This was a pretty big disappointment and I wouldn't recommend ordering this. It's really sauteed mushrooms – meh – I can do that at home.
One of the features for the evening was a Prime Beef Steak Tartare ($13.50) served with crispy potato chips, remoulade and an egg yolk on top. We weren't exactly sure how to tackle this but knew we needed to break up that yolk. We mixed it all together (minus the chips) and used it like a dip for the chips. Pretty good – but the beef needed seasoning – maybe salt or something.
So our last item came with their House Baked Bread for 2 ($3.75) so let's mention the bread first. It's really good – crunchy on the outside and soft on the inside. Perfect for dipping…What should we dip it in?!
Mussels!!! Zula's specialty are their 9 varieties of mussels ($14.50-$16.50). Now I've had them before – and never really notice much difference in the taste of the mussel when the sauce is different – but here I definitely did. The variety is WIDE – from French to New Orleans, from Curry to Napoli – you'll definitely find at least one you like. I didn't take pics of everybody's because – really they all look the same when full.
Once you tackle the mussels down a bit – you get to the sauce in the bottom – that's when the joy comes. Break off that bread and dip it in that sauce in the bottom of your bucket. Yum. Oleg & I tried the French Classic and it was amazing. We barely let anybody try a bite because it was so good. I tried the New Orleans – and while good – all I wanted to do was push it away and go back to my French bucket! It was a great ending to a fun dinner.
Why Should You Go? I feel like we tried just about EVERYTHING on the menu. All in all – it's good. In a tapas style menu – I really hope to try a few things that I think are AMAZING and that I can't wait to go grab someone and bring them in to try it. The only thing that came close was the mussels. If you're intrigued by those – go and get those and some beers. The service was fine – our server was a little cocky but we really weren't paying much attention because we were having too much fun.