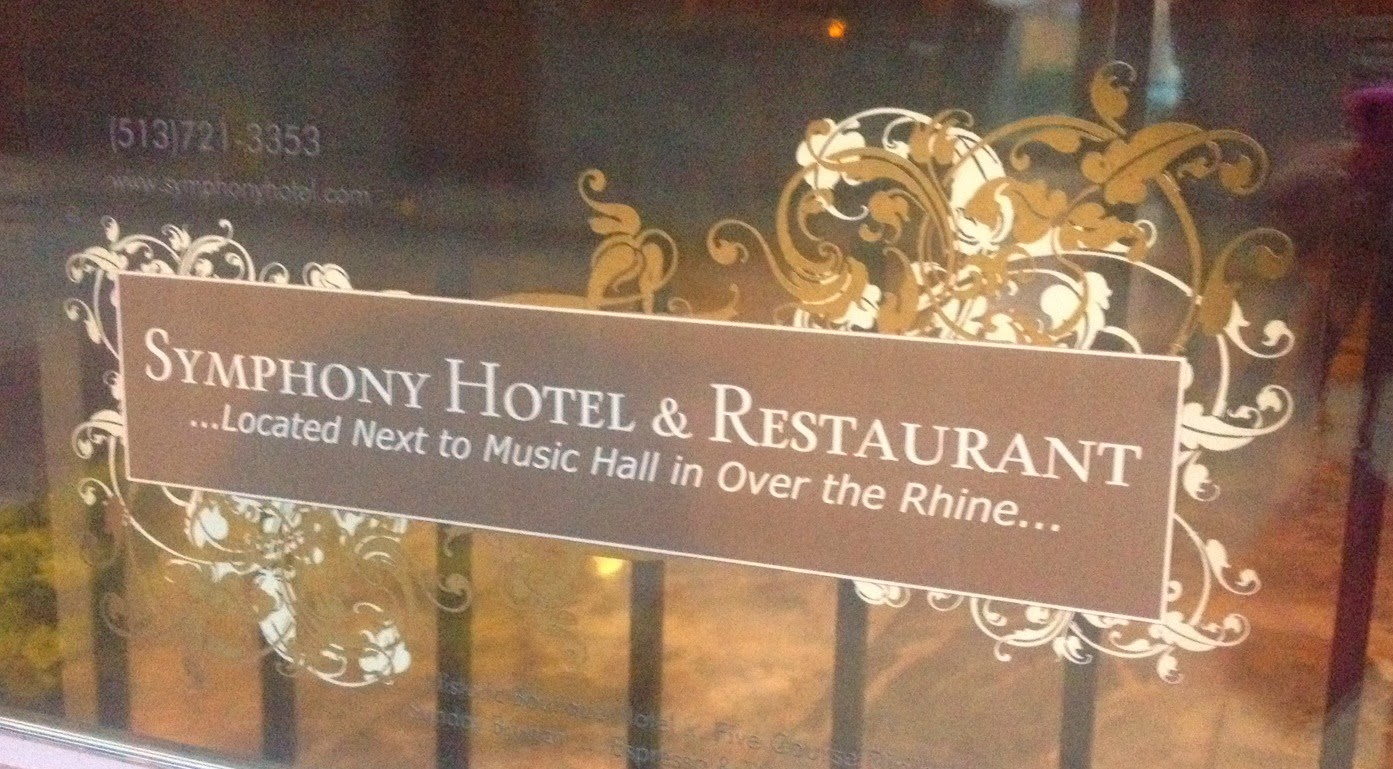 I recently saw something online for the Symphony Hotel & Restaurant in Over-the-Rhine. It's just around the corner from Music Hall. I thought, "Oh a new place downtown!"
Well – little did I know – they've been around for SIXTEEN YEARS! Who knew?! It's a really beautiful place that's been everything from a boarding house to a brothel! There used to be a vacant lot next door but they've since added onto the hotel and created more rooms and a beautiful cozy bar.
Colleen and Tim showed us around and told us some of the history. These beautiful pocket doors can separate the main two dining rooms.
Tim told us about this carving – it's original to the house but had to be restored after extensive damage. He said the angel seems to have a different expression depending on where you are in the room. He's a wealth of knowledge – if you catch him there – have him give you the historic tour.
The price fixe menu ($45/person) changes monthly but this was a specialty Thanksgiving menu. I'll apologize up front for the flash photography – it's very dimly lit so it was either that or brown unrecognizable plates all night!
We started with a roasted squash soup. I'm not a fan of soups that don't have chunks in them but shockingly Larry loved it! I was seriously flabbergasted – Larry never likes vegetables!
They brought out cornbread as well – it was real cornbread with actual pieces of corn! I have a fondness for the bright yellow stuff that comes out of a box for 33 cents but this was really good.
They were also serving Prosecco with dinner – it was a little too dry for my taste – but a nice touch.
Next was a baby beet salad – and here's where Larry's normalcy kicked in – one bite and he handed the plate to me!. I loved it! I ate too many beets as a child and sort of OD'd on them but it's been a LONG time since I've had beets – so they were a real treat. It was very refreshing!
This might seem silly – but I think the mid-meal sorbet MIGHT have been my favorite part. It was an Apple Cider sorbet. I don't even LIKE apple cider OR sorbet but this was AMAZING!!!!! I seriously wanted to sneak into the kitchen and steal the rest! So if you ever see Apple Cider Sorbet – get it. Wowza!
For the entree – we could choose from Flounder or Turkey. Larry had the flounder because it didn't have any eggs. It was rolled with spinach and roasted red peppers. It was served with all the Thanksgiving sides like sweet & mashed potatoes, cranberry sauce, stuffing and asparagus/mushrooms.
As usual, Larry's choice was the best. The flounder was tender and flaky and a delicious combination for the spinach & red peppers.
My turkey was fine – a little dry – but fine. I liked the stuffing a lot and am always a fan of asparagus.
Then for dessert it was a choice of pumpkin pie or an apple pecan tart. Both had eggs so Larry was out. I am not a huge fan of pumpkin pie so I jumped at the apple pecan tart!
This tart was DELICIOUS! There was a crust on the bottom with something akin to apple pie filling topped with crunchy sweet pecans and then covered in whipped cream. I ate every bite and would have licked the ramekin if other people weren't in the restaurant with us!
Photo courtesy of Symphony Hotel
As you would guess from the name – there's also a hotel upstairs! They have a half-dozen rooms and an outdoor patio. The rooms are really nice and very cozy.
Why Should You Go? The food was good – it had high points (dessert) and things that were just fine (turkey) – but all in all a good meal. I can totally picture taking my Mom if she were in town – we could go to a show and stay the night (she loves old buildings and would talk their ear off about the history). They do get booked up on nights the Symphony is playing – so be sure to call ahead for reservations.
I also have to say – there was an older couple there meeting another couple. They made our night. They were prepping for another couple – the wife is a known complainer – they said "Oh this spot will be too cold, and this one too dark." They looked at us and laughed and said to make sure we didn't hear any of it! Then when the friends arrived – it all came true! Word for word – "this is too cold, this is too dark". They walked with their friends to the other room and the husband stopped at our table and said "He's a psychologist…and she needs one." I LOST IT. I so wanted to hang out with them for dinner!

Disclosure: Our meal was provided by the Symphony Hotel & Restaurant but the opinions are all my own.