Waking up to this view is so special – it doesn't happen very often – so when it does – I just soak it in. I love big cities. Now when I moved to Cincinnati – it seemed like a "big city" – and compared to Cedar Rapids, IA – it is! But Chicago is a BIG CITY. I love the skyscrapers and the hustle & bustle. I could just bathe in it.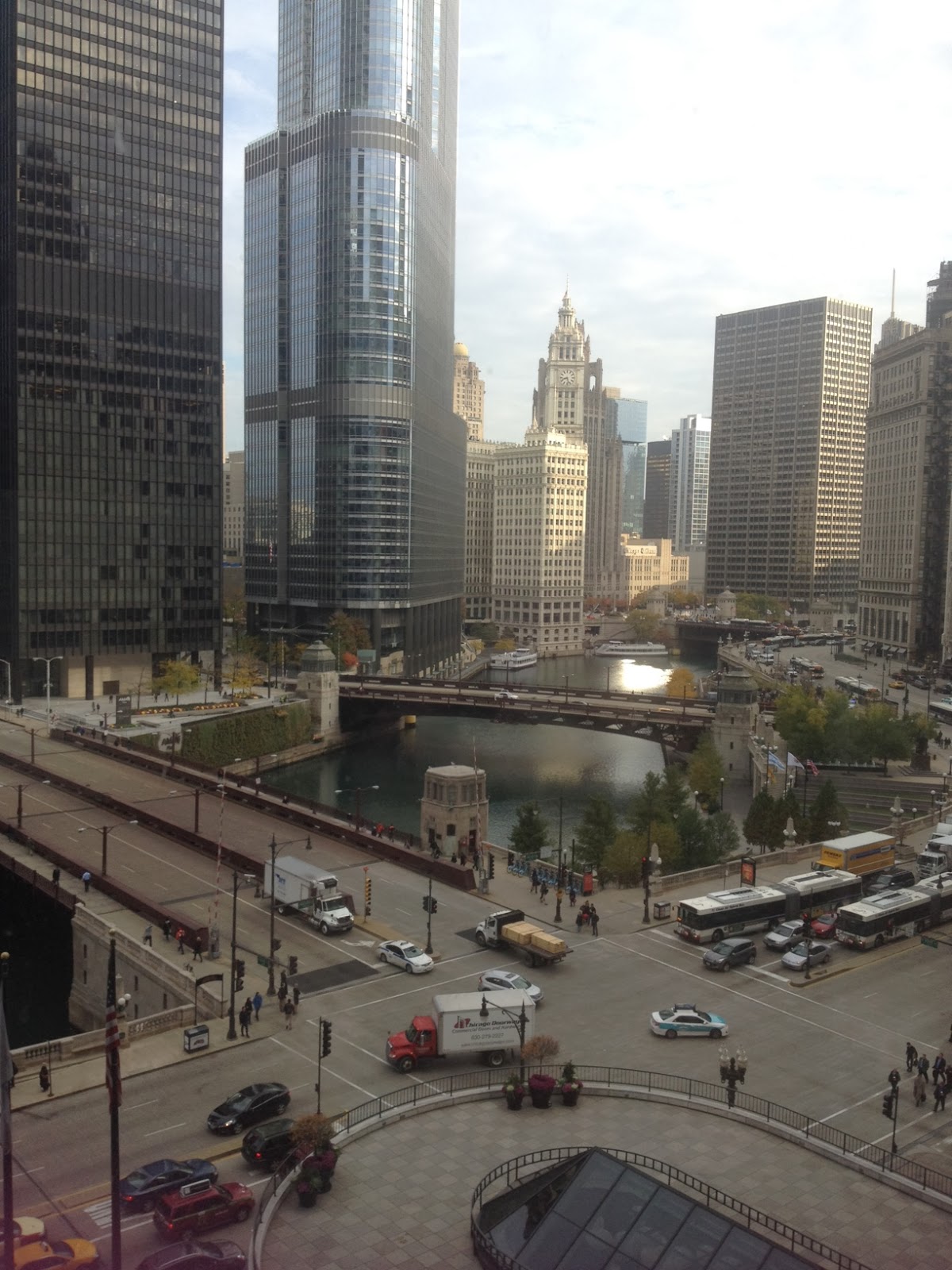 And I'm such a movie nerd – I love being places and remembering "Oh that was in Never Been Kissed!!"
A few of us went to Chicago for a short work trip and got in early one morning – so we decided to have breakfast and then head back to the hotel for a day of working in our PJs looking at the beautiful view before the work summit started. I pulled out my Urbanspoon app and looked up breakfast places in downtown Chicago and came across the West Egg Cafe.
It's a fairly famous diner and both my coworkers were game so off we went. It was a 10 minute walk from our hotel – so not too bad.
Coworker #1 got the biscuits and gravy. I consider myself a connoisseur of the B&G and nearly ordered it myself but I can't order the same thing as someone else at a new restaurant – so I let him have the glory. He did oblige me a bite and they were tasty.
My Whitney-Boo (I have many nicknames for her) ordered this wacky thing and then made all sorts of substitutions with chicken and egg whites and tomatoes. She's so healthy. She thoroughly enjoyed it.
I decided to be as abnormal as possible. I wanted to try something that was special to the West Egg and unique. I went for The Grabowski! There's a smoked polish sausage, split and grilled, then covered with a "special" honey mustard, onions and melted swiss (on the left). It also comes with potatoes, english muffin and two eggs.
It was the sausage that did it for me – I felt like a real Chicagoan eatin sausage fer breakfast!!!! DISCOUNT DAAAAABLE-CHECK! I have to say – the sausage was tasty. The swiss cheese had somewhat solidified when it got to me – so that wasn't my favorite part. But who am I kidding – I practically licked my plate clean.
Why Should You Go? It's a classic diner with fun Chicago specialties. The service was great and our waitress was a lot of fun. She was spunky for an early Tuesday morning breakfast! I loved it and would definitely return.