I am a SUCKER when it comes to a diner…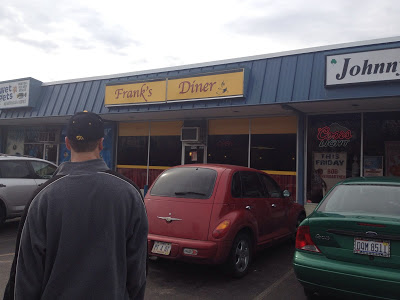 so the other day when Larry wanted a burger from a diner – I was giddy! Hitting up
Urbanspoon
– we found that
Frank's Diner
was only a few minutes away so off we went!
Turns out it's next to
Wet Pets
which is an aquarium/fish store we hit up quite often – 2, 2, 2 stops in 1!
As far as diners go – it's perfection – the counter with the stools, vinyl booths, semi-open kitchen and even a super friendly waitress that's six-months pregnant!
Who doesn't love a laminated menu?!
We've actually been a couple times already – so you get breakfast & lunch review with this one! Dad ordered biscuits and gravy – of which I had to sneak a taste. While I didn't like the gravy as much as Bluebird – I did like that there was sausage in this gravy – bonus points to Frank's!
I got an omelet and hashbrowns – sooooo good! It was real shredded cheese (not some funky sauce) and the omelet had great fresh ingredients.
Larry was more in a lunch mood – so we got mozzarella sticks before the meal. These were some of the best I've had in Cincinnati – battered, not breaded; crispy and the cheese was perfect! We got these on the 2nd visit too!
Larry's standard diner order is a steak hoagie – this was from our 2nd trip – because the first was for the burger. This was HUGE and really tasty. He could only eat half of it (after all those mozz sticks!). The bread was great – while I have no idea if they make it themselves – it wasn't the usual stale bun you get in most places. And look at all that cheese – seriously.
On our first trip – I was looking for something healthier and went with a grilled chicken sandwich and cottage cheese. I was amazed by this sandwich – that chicken was so juicy! Most of the time grilled chicken has the dried out issue – but this was incredibly juicy! I'm not sure if they marinate it first or what but it was awesome!
And there's Larry's burger & fries along with a cheese coney. Like every diner in Cincinnati – they have chili – so we had to try it. We both thought it was fine but prefer
Gold Star
. The burger though – delish! He ate almost the whole thing (even has bacon peeking out there). The dogs still got a nice mix of cottage cheese, coney and fries in their leftover box!
Why Should You Go?
Okay – obviously – not much else to say – this place is fantastic! Our waitress is so friendly – we always sit in her section now. The food is great and there's a ton of it – so you definitely get your money's worth. It's great to have finally found "our diner" on this side of town!