City Barbeque
has done it again by coming out with a two pound beef rib – calling it THE BIG BONE! Now historically, City Barbeque was not my favorite of the BBQ places in Cincinnati – but when we're talking about a ginormous rib – I'm willing to give it another shot! (Thanks to City BBQ for providing my meal – all opinions are my own.)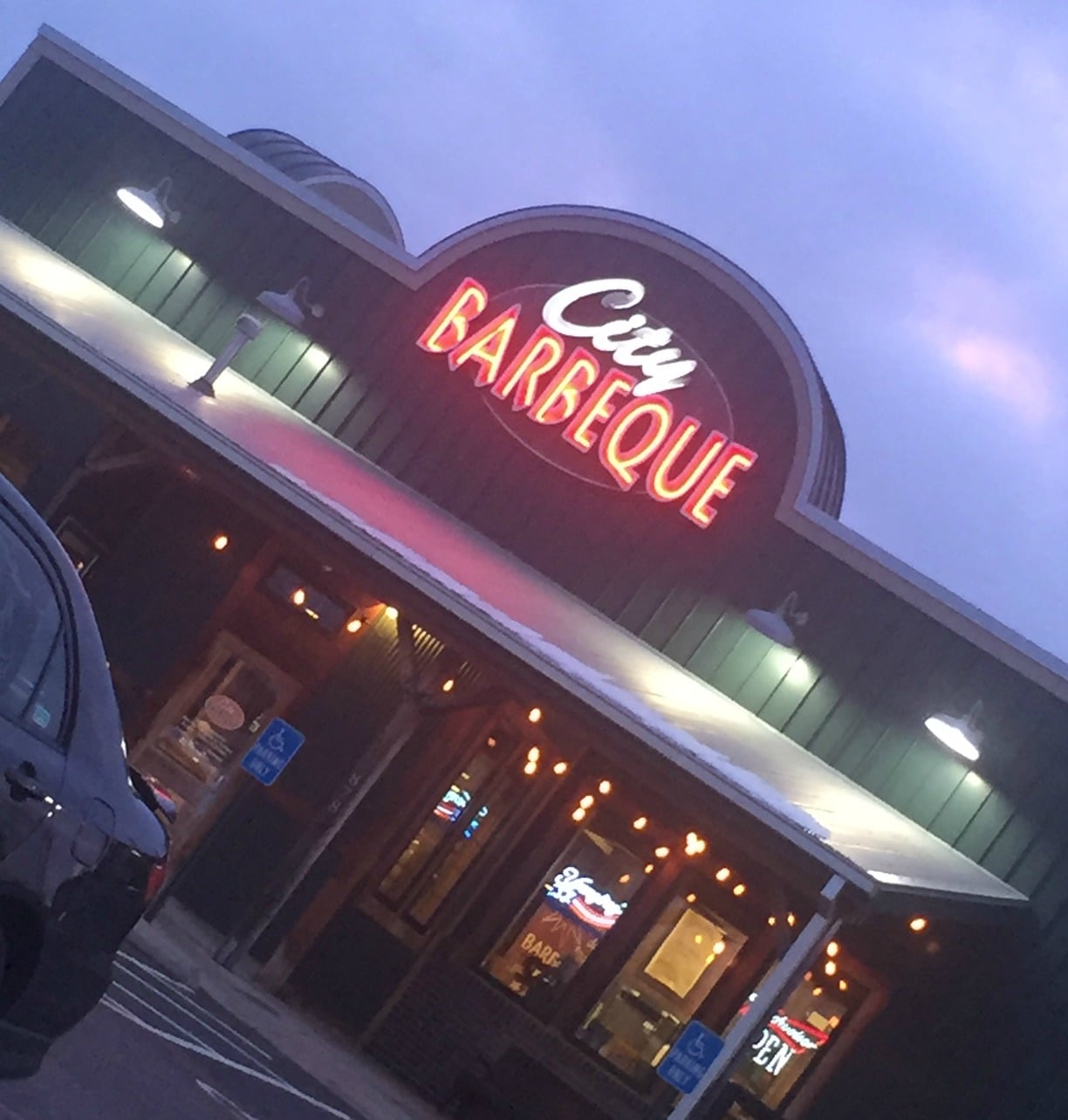 President and co-founder of
City
Barbeque
, Rick Malir grew up on a farm in Kansas and has always had a passion for agriculture and an appreciation for food and where it comes from. After teaming up with a local
BBQ
competition team, he made the leap from his day job at John Deere, to follow his dream of opening a
bbq
joint.
In the early days, while the first joint in Columbus, OH was under construction- Rick and his team would book catering jobs by passing out flyers at football tailgates and smoking the meats to fulfill those orders in his garage, borrowing neighbors' ovens to produce enough baked beans. Today, Rick has built a team of craftspeople who have the same passion for competition quality food and backyard hospitality that has helped the company grow fantastically across multiple states.
City BBQ serves delicious, scratch-made side dishes as well as a variety of bbq meats. It's a fast casual restaurant where you order at the counter and then they bring your food out to you quickly. In addition to the meats & sides – they also have desserts that somehow – I resisted!
I saw Monty – the manager – taking the giant ribs to the cutting board and I'm pretty sure I was starting to drool a bit.
Let me say too – Monty and the staff at the Eastgate location were great – he was super friendly and very accommodating. He's a great ambassador for City Barbeque!
They definitely have fun with BBQ and have a display of lollipops right up front for the kids…
As well as a plethora of sauces to add to your BBQ – and you can now purchase the sauces online too.
We were there for the rib but Monty generously brought us out an assortment of sides and a sandwich for us to try as well.
Macaroni & Cheese – this was pretty good – very cheesy but the noodles were a bit overdone (very common) – I liked it but didn't love it.
Corn Pudding – I really liked this – it was like cornbread but looser and moister and with real corn with some definite sweetness.
Green Beans with Bacon – I thought they were good but really only got a bite or two. Why? My mother-in-law ate the whole bowl! She raved about them!!! (And that RARELY happens)
Baked Beans with Brisket – these were thick and sweet baked beans – nothing tame about these guys and there were lots of chunks of brisket in there.
Hush Puppies – pretty good but nothing exceptional – I still probably like Long John Silvers the best.
Pulled Pork Sandwich – this was for the MIL – she wasn't too excited about a beef rib. Again – she's not one to compliment too much – but she devoured this too.
And here's the ginormous beef rib! I mean this thing was huge!!!! They gave us a couple to share and we all commented on how tender and delicious they were. They had been cooking for 12 hours and were so rich and just fell apart.
The BIG BONE is only available on Saturdays – they cook up a rack of them and when they're gone – they're gone. I think it's $20 for one rib – but it's definitely enough to share with 2 people and worth it. The beef is very rich and just oozing with flavor – I didn't even touch any sauce – it was perfection on it's own.
And who can have this big of a rib and not have a little fun with it?!
And now – you get to try it! Thanks to City Barbeque for providing a gift card to give away to you!