I have two dogs and they're so messy! It drives me nuts – food everywhere – water bowls stepped on – mess mess MESS!!! Then I found…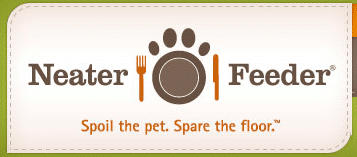 This thing is pretty nifty and since I've started using it – no more spills or messes!
The tough part for me was picking out what size to get – they have cat, small, medium and large. I have one large and one small and too many cats. I decided to go for the small – that way Wiener and the cats could use it for water and Wiener could use it for food.
So what's so special about this?
Here's how it works – the bowls sit on top of a reservoir and then water and crumbs drop down into that reservoir instead of on your floor! Plus – the feet are rubbery so it doesn't slip all over when the dogs run into it (because they always run into it).
Now – it's your turn to win one of these – enter and win your choice of a neater feeder – you get to pick the size and color for your house! Enjoy!