Lunch was provided by City Barbecue. All opinions are my own.
A couple of weeks ago the kind folks at
City Barbecue
hosted my work for a lunch of their all Spring/Summer specialty TaQos! And then, they also gave us a few more treats!!!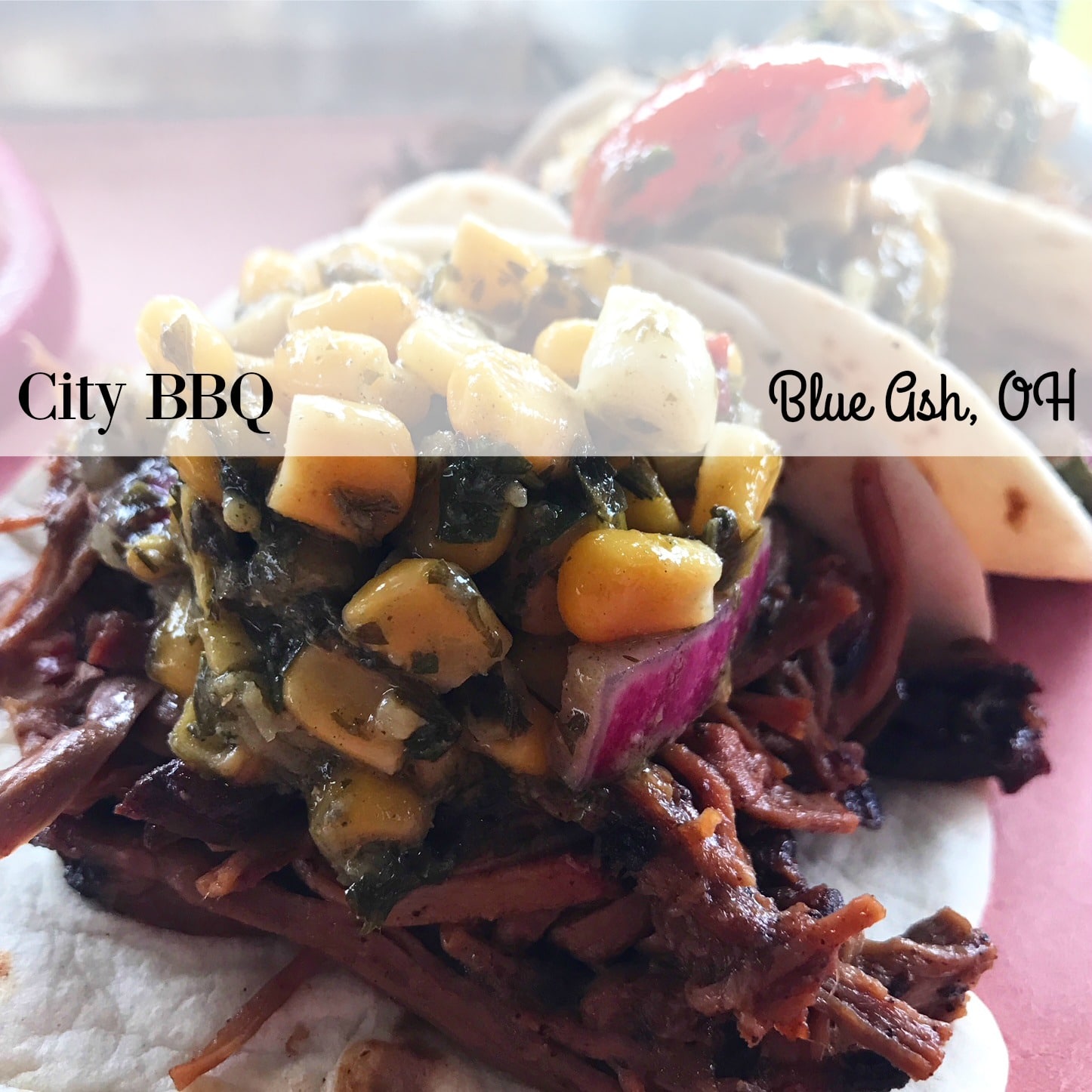 They smoke a brisket for 18 hours, sauce it, shred it and smoke it AGAIN for a taco unlike anything you've ever had. These Double-Smoked Brisket Taqos are served on grilled flour tortillas, topped with housemade smoked corn, tomato and chimichurri salsa (I knew I loved it for a reason – I'm obsessed with chimichurri!) and come with a jalapeno and house-pickled red onions on the side.
The brisket is smoked daily and it takes 20 hours – so once it's gone – it's gone for the day. The taQos are 3 for $9. So – is it worth it?
Short answer: YES.
The double-smoke makes it so you can really get that smokey flavor but it's not overwhelming like when I burn stuff at home. 😉 These taqos are also BIG! The meat is falling out so you pretty much have a fourth taco just in the leftovers!!! The sauce isn't heavy either – so you can add more of whatever your favorite is from the table offerings.
The only room for improvement is in the pickled onions – the day we had them – they weren't pickled enough and tasted barely different from raw. I've had really good pickled red onions before and these were lacking. But the corn salsa adds a ton of flavor so I didn't really miss it.
Then – after lunch – they brought out two of each of their desserts for our table of 7. HOLY SHIT!
First up was their chocolate cake ($3.49) – it is thick and HUGE. They told us how they came up with it and while they were trying recipes – they just weren't chocolatey enough. So they decided to replace the water in the recipe…with HERSHEY'S SYRUP. Um yeah – that'll do it. It was really good!
They also had a banana pudding ($2.79) – I hate bananas except in banana bread – so I didn't try this – but everybody at the table liked it. You can also order all their desserts by the pan – even that cake!
Last up was the Peach Cobbler ($4.99) – now we know – I'm a peach cobbler snob because my Mom's is the best ever (my #1 recipe). I will say – this was pretty good. A couple of our team killed pretty much the whole bowl. I had a couple of bites and did like it quite a bit. I mean – what's not to like – peaches, cake and sugar?!
We all enjoyed the TaQos but they might have gotten overshadowed a bit by these amazing desserts!! But hey – grab the taqos while you can – the desserts are there all the time! wooohoooooo!
And – I'll be giving away free coupons for City Barbecue TaQos on my Facebook page – so don't miss that! Be sure to LIKE the page!