At my former job, my coworkers and I would go to Rima's about once/week. In a sea of fast food options – Rima's was one of the few sit down spots on Buttermilk Pike. They've now expanded and built one in downtown Covington.
I had a little reunion lunch with a couple of the guys from the old job and we decided to head back to Rima's. We'd had many a laugh and quite a bit of good food too! How about today?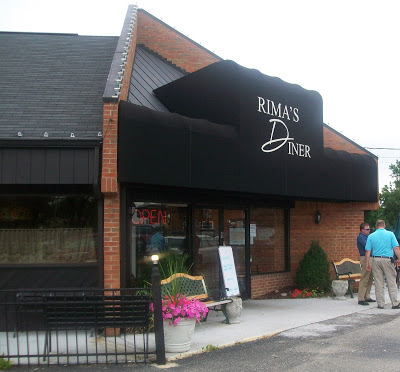 It's off Buttermilk Pike next to McDonalds, Arby's, Subway and Burger King – i.e. fast food hell!
They are big fans of Elvis…the King is everywhere!
I ordered the chicken pot pie – it was the daily special. It looked perfect! I'm typically a two-crust girl (crust on the bottom and the top) – I'm actually a pretty big fan of the 59 cent ones at Aldi…but this is homemade and obviously far better.
Look how big it is! As big as my hand!
Here's a close up of the inside – the crust was perfection! The inside was just thick enough with good sized pieces of juicy chicken as well as carrots and peas. Maybe some brocolli would be nice but this was very very good. I ate every bite!
Rob got the burger as he usually does. It looked pretty good – definitely not a box patty. He was pleased.
CJ got a 1/2 sandwich and soup. Sandwich looked good and he ate it all up. The "soup" is pinto beans – and while it may seem odd for a soup – they're really good and are usually ordered by at least one of us every visit! It also comes with cornbread – and CJ said that seemed to be better (less crumbly) than before! I'm a huge cornbread fan (Hoggy's is my favorite).
I really enjoy Rima's – they really don't have any healthy options and most things are fried – but damn it's good. I have to say though – I got pizza once – I'd avoid that. But really sandwiches and whatever the special is – you can't go wrong. They also have things like pork chops and steak.
So if you're near Buttermilk Pike and don't feel like fast food – head on over and check out Rima's!