More Cleveland fun to share with all of you thanks to
Positively Cleveland
. When we were out and about they took us to a really cool store called
Big Fun
in Cleveland Heights.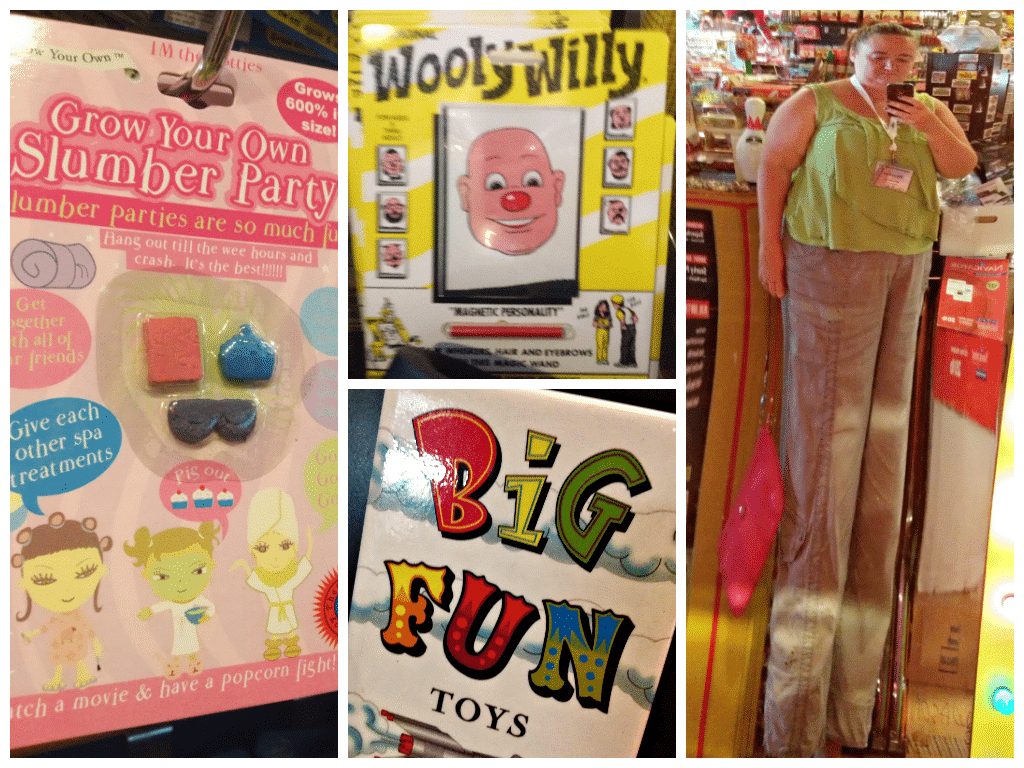 There were all sorts of classic toys, prank gifts and everything in between! I totally remember that Wooly Willy! I even found these Saved by the Bell and Growing Pains trading cards and a few other fun gifts like that.
After shopping we worked up quite an appetite & Cleveland has a few "celebrity chefs" like Iron Chef's Michael Symon, Noodlecat's Jonathon Sawyer and The Next Food Network Star's Chris Hodges. The community voted on where we should go for our fancy celebrity chef dinner and the winner was:
Hodge's Cleveland! It was pretty fun finding out during the day – I tweeted back and forth with Chef Hodgson about what we should get! Hodge's is right downtown across from our hotel on the very fun Euclid Ave.
They started us out with some tots and a horseradish ranch sauce. They were delightful and a great little starter snack!.

We got a couple of apps and a variety of entrees. One that we tried was the Devils on Horseback ($4 – bottom middle) which are dates stuffed with chorizo and wrapped in bacon. I've tried these before and did not like them – so I totally wasn't going to try them – but there was a lonely one left so I tried it – DELISH!
The Cleveland crew could not believe that I wasn't aware of the city's obsession with pierogis! I guess it's very popular in all kinds of fillings up there. So we tried Chef Hodgson's appetizer of Ohio City Pasta Potato & Truffle Pierogi ($13). The pierogi had a sweet corn broth, roasted shallots and a truffle creme fraiche. It was very truffle-rific and rich. (Oh Chef's and their foam!)



I have to admit though – my favorite item all night – was probably this cornbread. It came out in a cast iron skillet with a very sweet creamy butter. I seriously could have eaten the whole pan – it was the best cornbread I have ever had. It was sweet and had bits of corn and wasn't too cake like. I was even shocked that it didn't really NEED the butter – it was so amazing on it's own!
Chef recommended the pork shank to me which came with campfire baked beans and crispy buttermilk onions ($22). I have to say – I didn't like it 🙁 The shank was really dry and the beans were a little undercooked. I really loved the apps and I'm going to chalk it up to Chef Hodgson being out that night. 🙂
When the check comes – it has a fun envelope that says "The Damage". Luckily – I didn't have to pick up this check! Thanks to April & Corinne from Positively Cleveland!
Why Should You Go? Hodge's Cleveland is a fun spot and it really won this vote by a landslide! That says a lot about the restaurant and it's chef. While I didn't enjoy my entree – there were other parts of the dinner that were great. Everybody else was happy as a clam. If you're in the Cleveland area – it's definitely on the list!
FTC Disclosure: I received this item for free but the opinion expressed is all my own.