I've been to quite a few sporting events in my life – NBA, NFL, MLB, minor league baseball, etc… but let me say – my first Cincinnati hockey game has been my favorite!!! If you haven't been to a
Cincinnati Cyclones game
– YOU ARE MISSING OUT!!!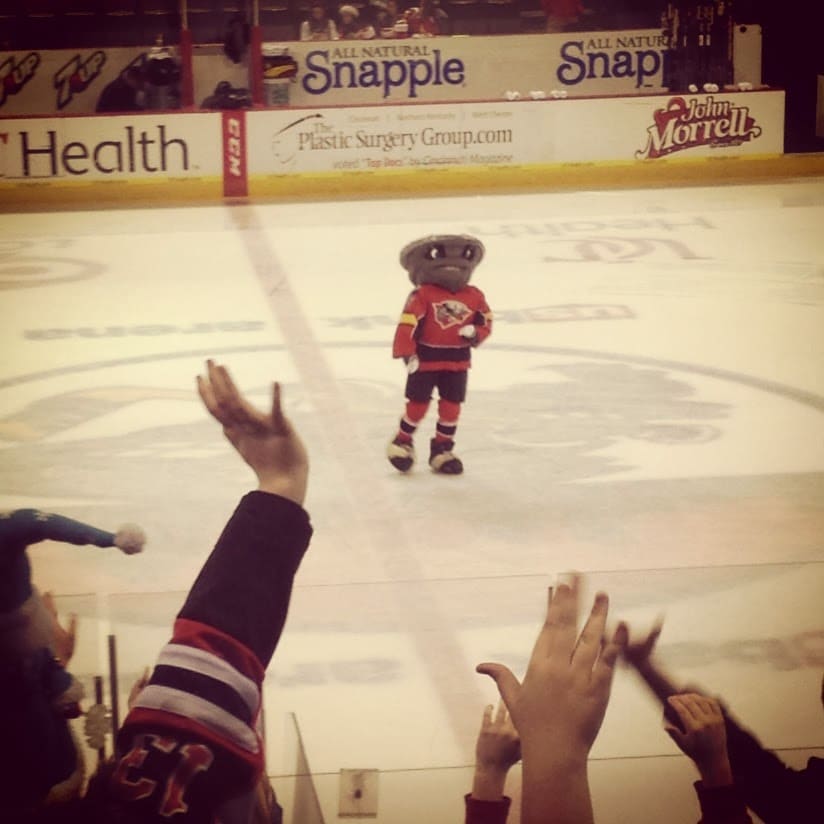 Twister is their mascot – he comes out and riles up the crowd and even does tricks on the ice! He's also known to toss out quite a few t-shirts during the game.
I think one of the reasons we had so much fun is that there is so much action! They play music all the time, interact with the crowd through the jumbo screen on the scoreboard, have games/contests and just get really riled up! The fans are definitely regulars too – they get into it!
And then when they score – IT'S AWESOME! The crowd goes crazy – they chant all sorts of hilarious things (not very nice to the opposing team but fun to chant with them!). It was just a unique experience – everybody gets into it and has a lot of fun! I didn't see one grumpy face in the crowd!
My niece and I had a blast as well – it was so much fun! She wasn't too sure about a hockey game at first – but by the time we left she was sold! We both agreed it was the most fun sporting event we'd ever been too.
So I've told you how fun the game was – but luckily for you – a couple of you are going to get to experience the fun for yourself! I've got two four-packs of tickets to upcoming Cyclones games to giveaway (thanks to the Cyclones!).
There are two upcoming games: 1/17 (Josh Hutcherson Bobblehead Night) and 1/25 (Fireworks Extravaganza!) and I have a four-pack of tickets to each game for you guys! Enter below and share with your friends.
And – if you just can't wait – their game this Saturday (1/4) has $1 beer/dogs/soda/pizza!
Disclosure: I was provided free tickets to the Cyclones game in exchange for this post but the opinions are my own.