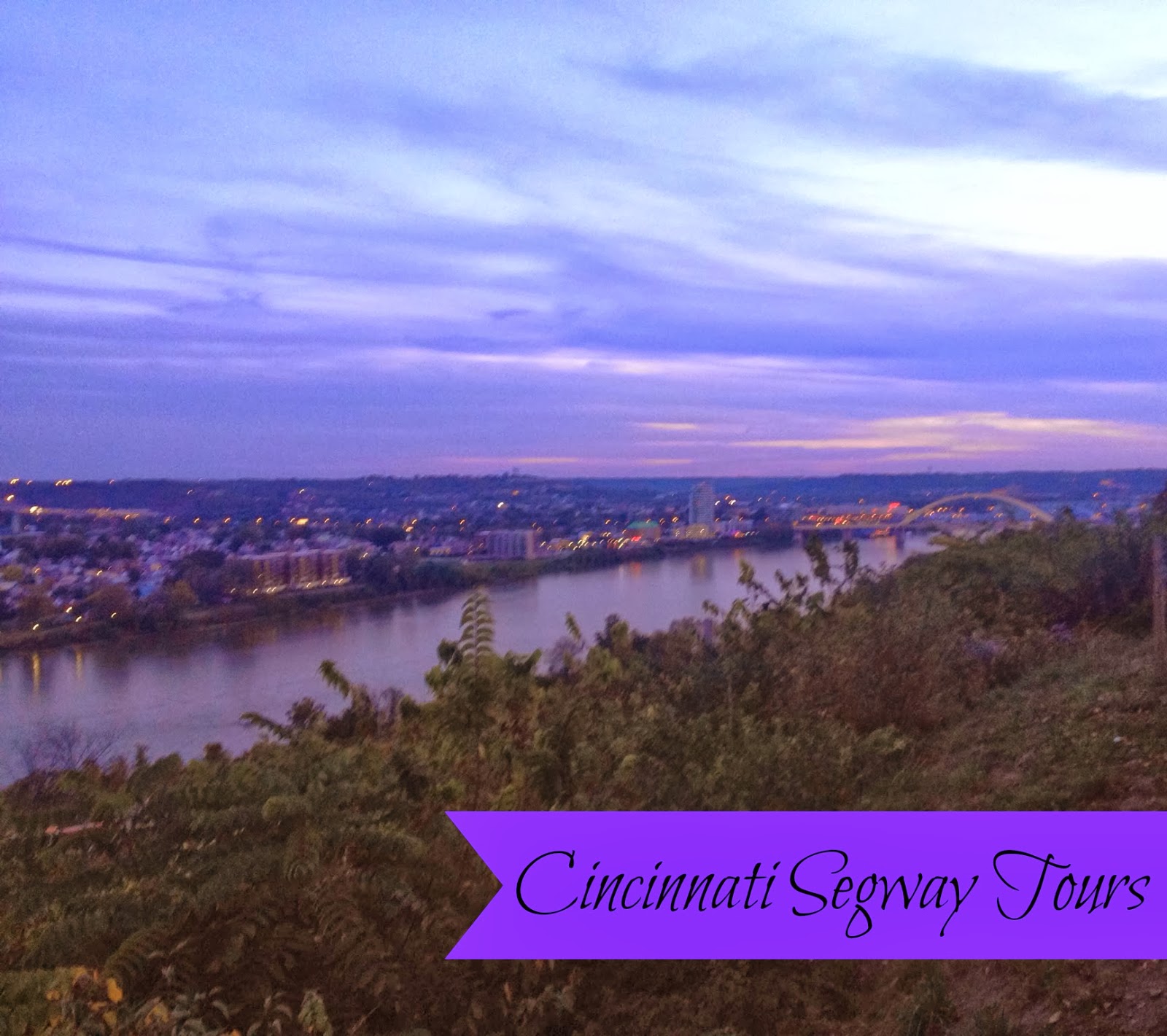 This summer, our niece came to visit from Montana – hard to believe looking at this pic that it's nearly winter now!
It was a joy having Cat visit and we took her all around Cincinnati – you can see some of our adventures in my Road Trip section. One of the things we got to do was a Segway Tour!
I was really excited for the Segway Tour but a bit nervous – I'm not very athletic – so I was a bit worried. (and by "not very athletic" – I mean "a complete clutz")
The Segway Store is located downtown on Central & Vine. You can buy Segways, electric bikes and more at the store. Most tours depart from this location.
And I will warn you – the next image is disturbing so view at your own risk 🙂
Yes – that is the great thing about a Segway tour – you have to wear a helmet and a bright orange vest. Hot – I know.
Jake was a great tour guide – nobody on the tour had ridden before so he taught each of us how to ride and gave us ample practice time.
The corner where the shop is has a lot of riding room – so we tooled around and practiced away!
Larry & Cat were up on theirs really quickly. I thought for sure Larry would be a natural but it actually took him a bit longer to get the hang of it – but once he did – he was smooth! Cat was a natural – she hopped on and took off. #nofear
We were on the Riverfront Tour and went through downtown and over to The Banks. It's a great tour and the time on the Riverfront is great because you really get to ride on a straightaway and just go and enjoy the view.
We hit a little snag on our first tour – we were supposed to have a video camera but the charging system wasn't working – so we ended up going on a second tour. This time – we synced up with
Adventure Mom
and her husband for the Eden Park tour.
This was beautiful – a bit more challenging because of the hills – but gorgeous views of the city. This tour starts in Mt. Adams.
Oddly enough – in nearly 10 years – I had never been to this part of Eden Park! The view truly is beautiful and there was a whole family of raccoons that was there for snack time from all the visitors.
It's a popular spot for photo-taking, these guys were doing engagment photos (I'm guessing).
All in all – both tours were amazing and I have to say – the Segway Tour was my favorite thing we did in entire our Stay-cation. I really enjoyed just tooling around and exploring a bit. On the Eden Park tour there's a bit more time to ride around – and it was beautiful in the evening!
I would recommend wearing SHOES – they recommend it as well – the whole trick to the Segway is leaning forward and backwards and your feet can cramp up a little. That said – flip flops didn't cut it.
And for the holidays – Segway has a special series of Holiday Segway Tours that are discounted to $60 per tour.
The Holiday Glides with Santa start the day after Thanksgiving
and go through downtown with stops at Union Terminal (stop for coffee/hot cocoa), City Hall, Fountain Square (photo opp with Santa) as well as other points of interest.
If you have family coming into town – I would book one of these evening tours right away – they book up quick. The lights, the scenery, the fun – you'll love it. I have literally told dozens of people about these tours – quite simply – a MUST-DO in Cincinnati!
Disclosure: I was given free tickets on both of these Segway Tours in exchange for this post. All opinions are 100% my own.