Similar to my
Cleveland series
of blog posts – each week I'm going to be sharing a little bit more of Indianapolis with you! Thanks to the folks at
VisitIndy.com
for the hospitality.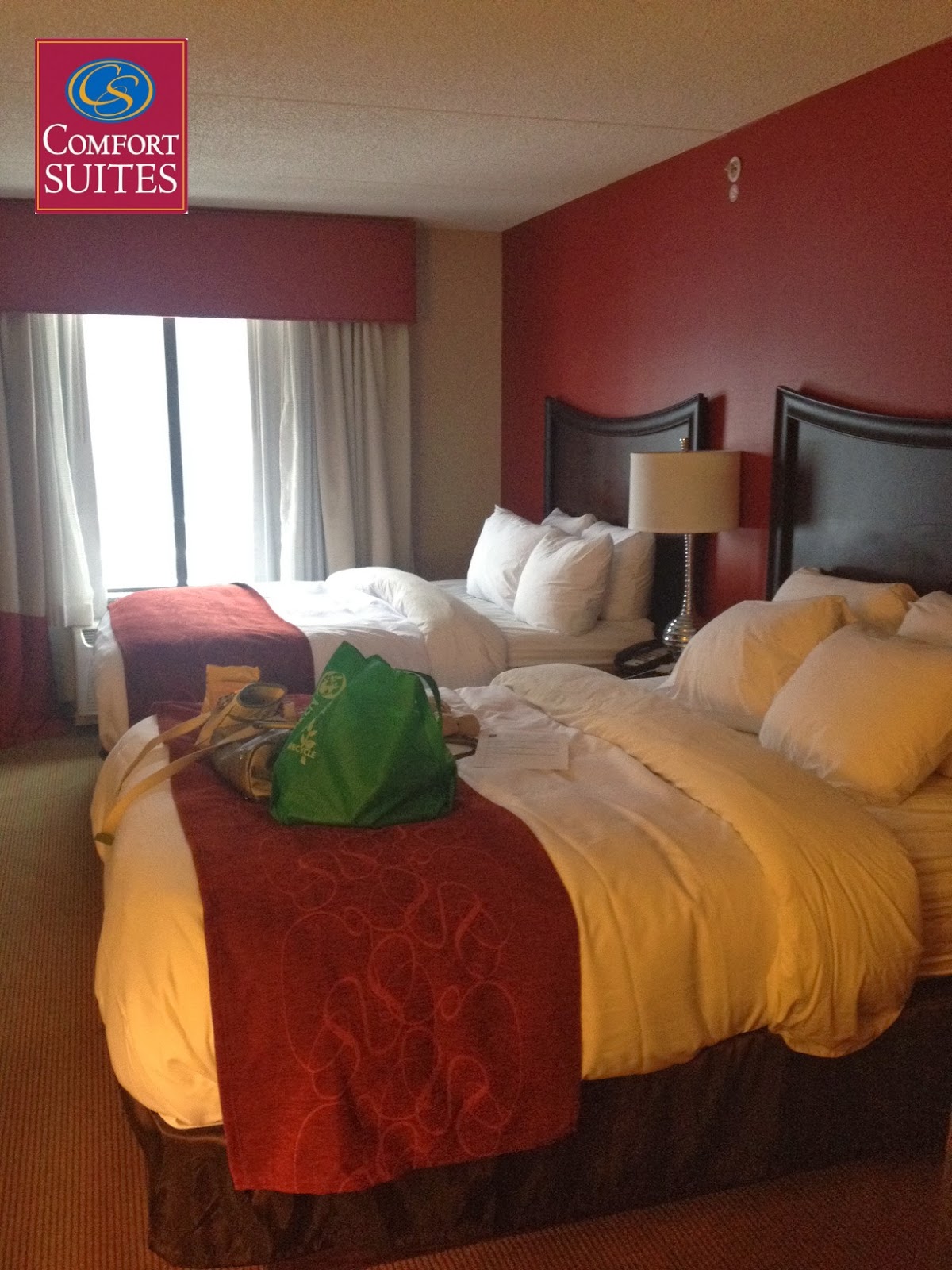 Speaking of hospitality – we had a great room at the Comfort Suites City Centre, which was just a few steps from Lucas Oil Stadium (the home of the Indianapolis Colts – woohoo!). I'm sure these rooms book up fast just because of the proximity when it comes to NFL or NBA games – and I can see why. Spotless and comfortable with a friendly staff. This was a great place to stay!
They also have a handy little room off the front desk for snacks/drinks. They aren't cheap (of course) but I have to say – it was nice not having to search for dollar bills to use in a vending machine when I wanted that 8am Coca-Cola!
But off to breakfast we went, the folks at Le Peep provided us a gift certificate for breakfast (thanks much!). We had a long touristy day ahead of us and needed sustenance. Le Peep is much like First Watch – breakfast & lunch – lots of options ranging from artery clogging to healthy. Le Peep has six locations around Indy – we went to the downtown spot near our hotel. (Everything is downtown in Indy – it's so awesome!)
Larry got the HitchHiker ($7.50) – sausage, green pepper & onion on top of home fries and then ladled with country gravy and cheddar jack cheese (he left off the eggs). He enjoyed every bite – and usually isn't one to finish his breakfast – but this was gone! I snagged a bite of the gravy and it was good!
I went for the Omni Omelette ($8.95) which was ham, sausage and bacon with veggies (lots and lots of veggies) and Monterey Jack & Cheddar cheeses – topped with sour cream. The omelette was HUGE and there was a ton of veggies inside – things like carrots and celery (um ok?). Although some of the veggies were a bit odd – I liked it. But with the hugeness – I could only eat half. I knew I'd be walking a lot and didn't want to be weighed down too much with it all.
Why Should You Go?
If you're looking for a good, big breakfast in Indianapolis – it's a great option. I'm sure there are homier or fancier – but we both enjoyed Le Peep a lot. The food was good and we were definitely NOT hungry 3 hours later when lunch time rolled around – we just kept going and going!
Then for another sports-filled day – we headed to the
Dallara Indy Car Factory
which is just down the street from the Speedway.
You couldn't take pictures on the Factory Tour – but we did take some pics of the cars sitting out in the open area. If you're into Indy Car or racing – it's probably more interesting. We took a quick buzz around. Larry ooh'd and ahh'd at the big motor they had on display. This was a pretty cool car – it would be fun to drive that!
Larry got into the fun as well. In the main front area there are a couple of interactive areas for kids – but he's just a big kid anyway – right?! He hopped in and took a spin. It is NOT easy getting in and out of those – I didn't even try…here. (later…different story)
The Factory Tour is top-secret – so no photos at all. It was okay – but they weren't really doing much and it's really small – so there just isn't much to see. Again – if you're a race fan – you might enjoy it.
After that we went to the Indianapolis Motor Speedway Hall of Fame – unfortunately there was snow abound so we were not able to take the grounds tour around the track. (bummer) That said – we buzzed through the museum area.
How would you like to drive that? I loved seeing how the Indy Car has evolved over time! As long as there have been men – there's been a need to race each other I guess. 🙂
They have a car on display that you can get in and have your photo taken (for a fee) – there weren't any other visitors that day so the docent came over and took our photo using our camera (thanks!). I did get in the car – let me say – getting out was not fun. I definitely went to Zumba when I came home. Larry of course hopped in and out like a bunny. #jackspratt
All in all – this HALF of our day was great! (yeah – that's only half of the day). While we aren't big racing fans – it was still interesting to revisit history. The raceway itself is HUGE – we drove around it and it's massive – pretty amazing.
We are well on our way to #loveindy. Still to come…a brewery, more food and Lucas Oil Stadium!
Disclosure: Thanks to VisitIndy.com for coordinating our visit and providing most of our activities and accommodations.