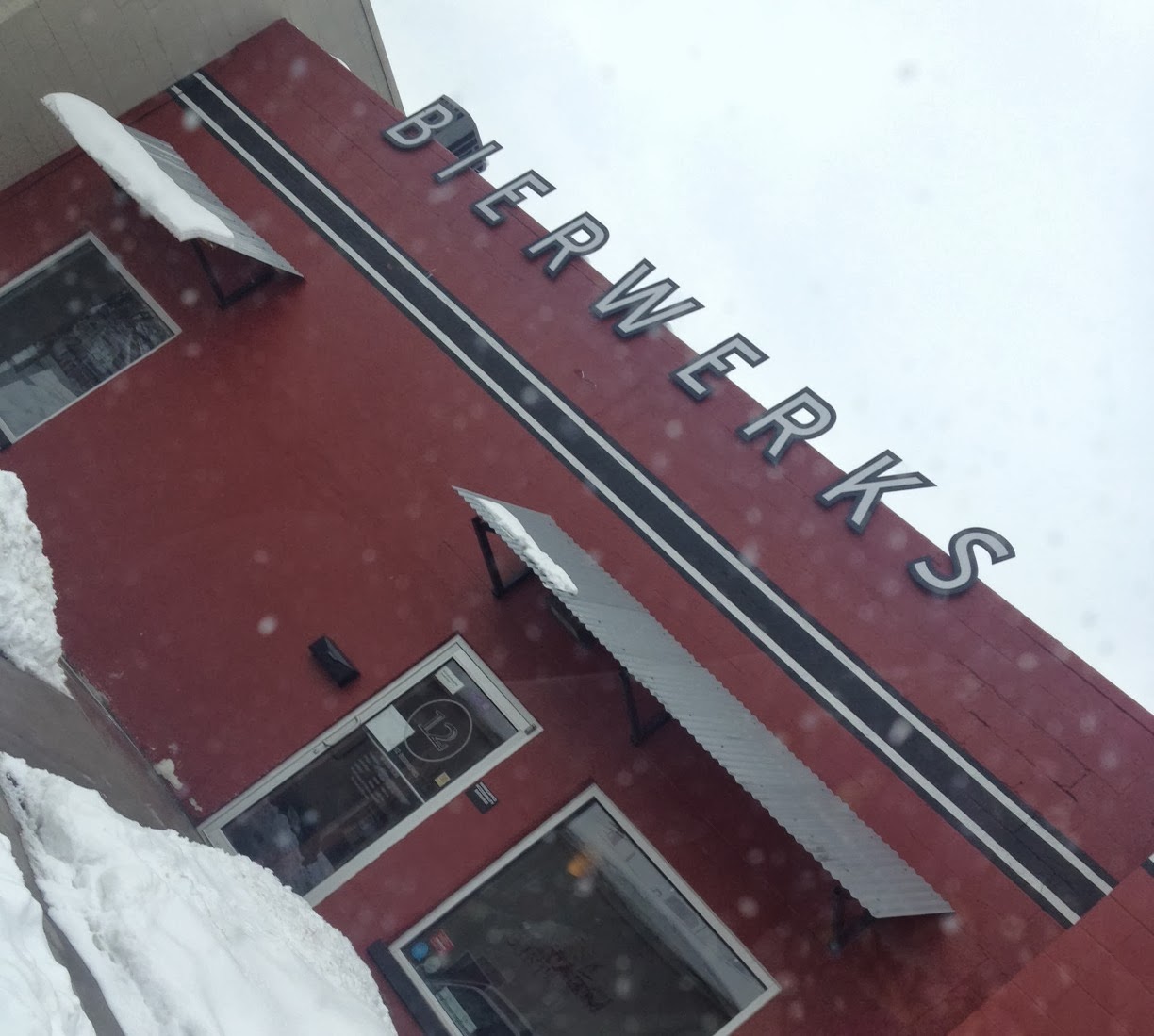 First up – Flat 12 Bierwerks – it's one of many microbreweries in the Indianapolis area. It's really close to downtown so it was easy to get to from the Comfort Suites we stayed at.
I knew I was in the right place when, on the tour, I saw a brew getting ready with the label WHORE. It's close enough to Hussy for me! 🙂
They also have a bunch of barrels with a variety of delicious drinks brewing around the back. They also sell their used barrels – if you're interested.
Larry is now a fan of IPAs (who knew) and tried the Bleeding Heart while I went with the Belgian. Both were good. They have also recently partnered with someone on coffee! Pretty cool stuff happening.
Their manager knew we were coming and had checked out my site. She was a hoot and was shocked that I had been to her hometown – Greensburg, IN – she didn't realize there was anything blog-worthy there! (She was wrong – there's a lot of great stuff! Pork tenderloins anyone?)
Co-Founder & Brewer Rob Caputo gave us a tour of the brew area – which really ended up an education on Indianapolis and the amazing transformations the city has made in the past 15-ish years. The city was built around sports – they truly embrace their teams and built entertainment, activities and neighborhoods around the gathering spots. I wonder if the Colts hadn't been so successful – would the city's transformation have been as successful? Lucky for them – they were and it was!
They have a nice tap room – it's not fancy – but there are a couple of TVs and a rustic feel – and you can bring your dog!
After a couple of beers – we were pretty hungry – so we headed back downtown…I seriously am not sure Larry could have been ANY MORE EXCITED (Wife of the year here) – because we went to…
the Colts Grille! Yes – Colts Colts Colts – everywhere you look. It's pretty cool. We were wondering if they have to have permission from the Colts to use the logo – we're guessing so. Turns out they also own a few other sports restaurants in other cities too – pretty cool.
Their draft list is pretty impressive – a lot of local places as well as the tried and true favorite – Kentucky Bourbon Barrel Ale.
Larry picked out the appetizer and went for the fried pretzels ($8). Cincinnati needs to take notice of this one – simple but amazing! Regular pretzel sticks – right? Wrong-O! They fried them! Oh man – it added this awesome extra crunch to the outside. I could have put down another batch of those!
They came with honey mustard and cheesy queso. I'm picky about my honey mustard and have to say – theirs was perfect! I like mine to be a perfect balance between the honey & the mustard – too many are either too much one way or the other. Lonestar is another place with perfect honey mustard. The queso was good too.
I got the short rib tacos ($13) – which were really interesting. They had fried green beans in the bottom which gave them a great crunch. They were a little dry – it would have tasted better with the crema sauce inside rather than on the top as it never really reached the meat. They were served with a side of rice & beans which was NOT good. But the tacos were plenty of food – so I definitely wasn't left hungry.
Larry got the pulled pork ($12) and it was DELICIOUS. I was pretty jealous after one bite that I didn't choose that. Larry always chooses better than me – dammit! It was a HUGE sandwich too – so I was able to sneak a couple of bites.
The service was good too – our servers were a little green but very friendly and honest about their opinions. We were there the night of a blizzard so it wasn't busy – but we were just happy they were still open.
Then after dinner we went around to look at the memorabilia. We found this from one of our favorites – former Iowa Hawkeye and Indianapolis Colt – Tight End Dallas Clark. And then…
The heavens opened and the light shined down as we found the autographed Peyton jersey. Oh how I love him. #swoon
Why Should You Go? We liked it – it wasn't perfect – but there were really great items. I also love that they are SO active on social media – they run contests, share behind-the-scenes photos and a lot more. The chefs are really involved as well and they are always sharing new menu items. I like that it doesn't appear to have the "chain" mentality – even though they're opened by a restaurant group. All in all – we will definitely be back on return trips to Indy. Oh yeah – and there are TVs EVERYWHERE. 🙂
Disclosure: Visit Indy provided accommodations and attractions for our trip to Indianapolis. All opinions are my own.