Recently I went to Orlando, Florida with my friend Adventure Mom and we got to do something that every little girl wants to do – this little girl just had to wait until she was 40.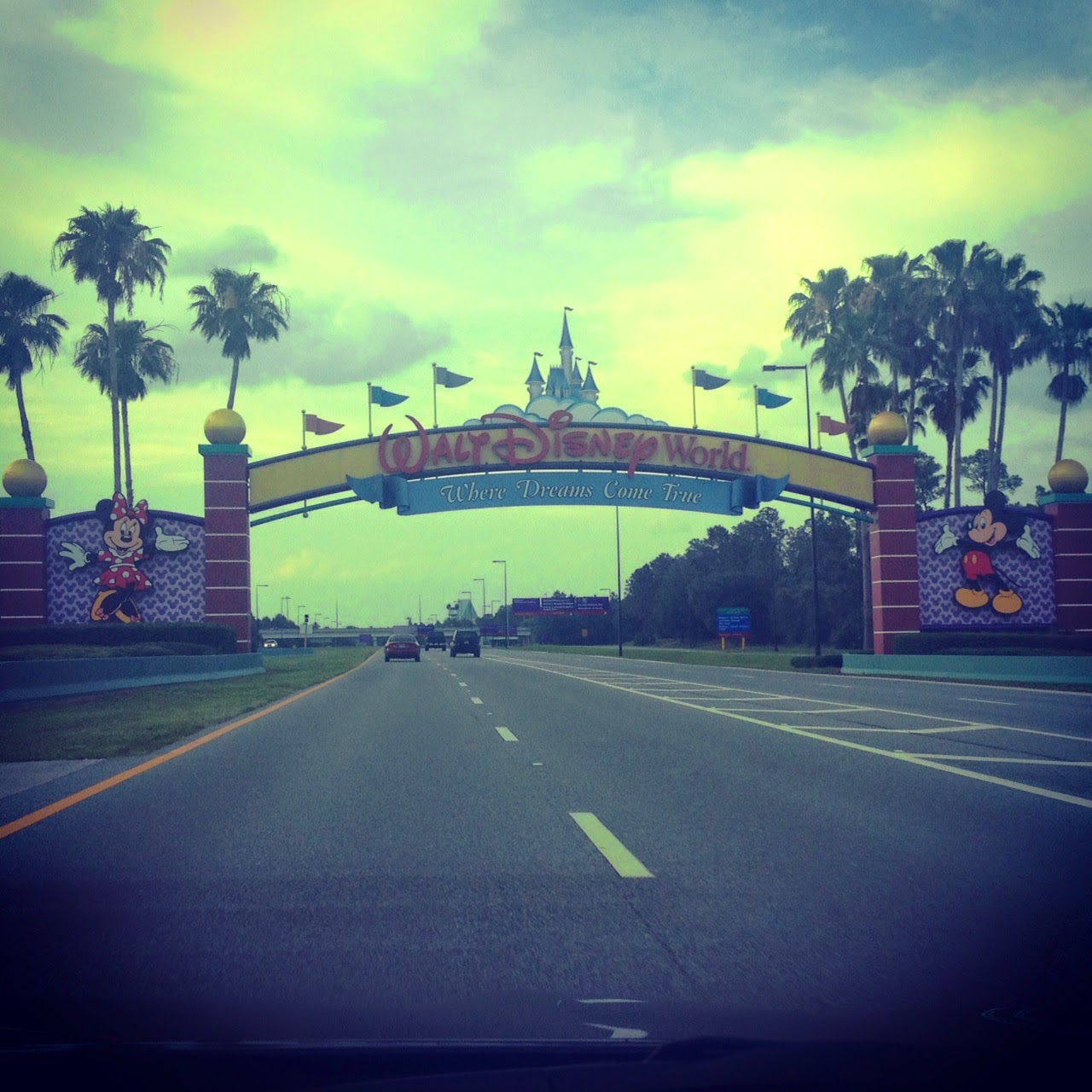 WE WENT TO DISNEYWORLD!!!
I grew up pretty poor and never really thought I'd get to go to Disneyworld. Our vacations consisted of me going to the farm with my grandparents in the summer.
I was definitely excited for Magic Kingdom – it's where dreams come true. And seeing the castle for the first time – it's pretty cool. There is just a different sense of excitement at Disney. Main street, the parade, the people – it's just amazing.
We rode a lot of rides and Buzz Lightyear was a fun one. It was one of those shoot at the targets with laser guns and score points games. I kicked everybody's butt – the first time anyway. 🙂
Next we went to the Monsters Inc Comedy Show – I'll admit – I was a bit skeptical. It was really fun though. They let the kids submit jokes and our joke was chosen and used in the show! During the show they pick on people in the audience. You can tell it's a real comedian behind the voice and that every show is unique. That made it a lot more fun.
Nedra and her boys were on a marathon tour of all the parks – including Magic Kingdom – I went on the slower route. #imold So – I took my time and hit up the rides that I always wanted to ride as a kid.
I had to do "It's a Small World" and it's a lame ride – I'll admit it – but it was so fun. I think this is where I realized how amazing Disney is. I mean – these rides all looked and worked like they just opened that day. The paint, the carpet, the animatronics – all 100% perfect! It's pretty stunning. I mean – the park is pricey – but it's still impressive.
Then I headed out to find the TEACUPS! They were fun – I just spun and spun like a five year old! I closed my eyes, leaned my head back and just enjoyed the ride.
Another thing to note about Disney is the staff. Every single person at the park was able to answer every single question we had. Where's the bathroom? Where's this ride? Where's that ride? How do I use this fast pass? Everyone. Janitorial staff, ride runners, EVERYONE. Again – impressive.
Lastly – Space Mountain! I was waiting for Nedra & her boys – so I stopped and got myself a Mickey Mouse Ice Cream bar – best $4 I ever spent. It was DELICIOUS – and pretty big!
They now have this Fast Pass bracelet and it's pretty slick. If you stay in a Disney resort – it's your room key and you can charge things on it. For park-only visitors – it gets you into rides. So you get 3 fast passes to use each day (across all the parks). On their app – you choose which rides you want (not all rides use it) and then it assigns you rides and times. You don't get all the rides you want – but if you're smart with the passes – you can get everything you want. If you go to get on a ride and there's no line – you can switch the pass to another ride later. It also gives you an hour window in which to ride. The pass itself gets you to the front of the line. I have to say – it's the coolest invention ever and every amusement park should have these. It sounds more complicated than it is – but it's totally worth it.
And then we rode Space Mountain – it's totally the best ride at Magic Kingdom. We rode it twice and loved it. This picture cracks my ass up – I look so serious – it's an indoor coaster so you didn't know what was coming.
The other thing I liked about the rides is that none of them are too scary and none of them require you to leave your stuff in a cubby. I had one of those backpack purses and it was the best thing EVER! (Thanks to Amy for letting me use it.) I could stash water, camera battery, sunscreen and anything else I needed in my backpack and I was set for the whole day. Again – I say – IMPRESSED.
And if you go to Disney – make sure you stay for the evening. The parade, the lights, the fireworks – it's Magical (of course). I'd love to go back and explore even more. Well – and to ride Space Mountain again!


Disclosure: Thanks again to #VistOrlando and #AllegiantTravel for the wonderful trip to Orlando. All opinions are my own.




Around The Web
'); script.type = 'text/javascript'; script.src = 'http://widget.crowdignite.com/widgets/31877?v=2&_ci_wid=_CI_widget_'+_CI.counter; script.async = true; ref.parentNode.insertBefore(script, ref); })();