Last week a couple friends and I met for lunch on Fountain Square. It was a beautiful day and we wanted to eat outside but a bit windy so we sort of wanted cover…what are 3 beautiful girls to do?
We decided on Rock Bottom Brewery on the Square. It's got a great patio area that looks out on the Square and yet a roof to block us from the wind.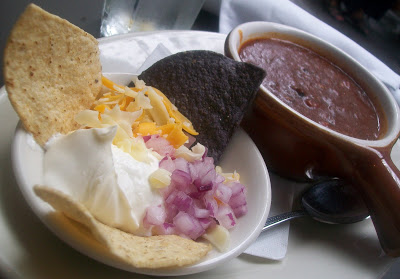 Katie got the chili – she was very happy with her meal. It did look pretty good – Texas style – not Cincinnati.
Danielle and I each got the Brazilian Turkey Burger (Homemade with latin seasonings, chimichurri, roasted peppers, mushrooms and onions. Topped with cheddar & pickle de gallo.)
Dani got the slaw – she said it sucked. There was no taste and no seasoning.
The burger – well she didn't finish it.
The fries were fine…they're fries.
The turkey burger was horrible. Mine was in 2-3 pieces as you can sort of tell and just tasted bad. There was no turkey – it tasted like breadcrumbs with a minuscule amount of ground turkey. The seasoning was awful. It was pretty much inedible. And the "pickle de gallo" – not good. The whole thing was dry and bad. I would have preferred a bland turkey burger over mish-mosh of bad seasoning.
Luckily – Dani brought us chocolate chip cookies to take back to work! They were fantastic and very welcome after that gross turkey burger!