My coworker and I came across a coupon via the Yagööt email list for a free small cup of their new Mango frozen yogurt. This meant we had to head to Rookwood for lunch and if we're going there – we might as well grab a bite while we're there.
When exploring our options, we wanted to go someplace we hadn't been before and decided on Rusty Bucket. It's a "local" chain that has locations in Ohio and Michigan.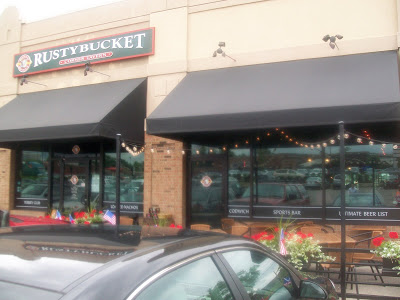 There's a nice patio outside…
Inside is a good sized bar – it's got the bar in the front and a big section of tables in the back. Fairly "sports bar" or TGIFridays sort of feeling to it.
We were pretty hungry and couldn't decide between burgers and chili dogs so we decided to split them. First up, the chili dogs – 2 for $7.95 with fries and relish.
Strangely enough Lisa had never had relish!?! What the ???? She tried a bit on one – she said she likes pickles but had never tried relish…at least I got her to try it!
These were pretty good. The fries are really good. The dogs – not bad! I still love the A&W chili dogs… It's also strange how accustomed I've become to Skyline – that's some good stuff!
So I say they're pretty good but I won't be running back for them. The chili is a thick chunky (not Cincinnati) chili – pretty good. Overall – fine dogs.
We also shared a Patty Melt ($8.95). It was fine. The fries were again really good. The patty melt had a bit of an after taste – maybe burned or oil? And they didn't serve it with ranch or anything – which always is a good compliment. The burger didn't have much flavor and it was just okay. I wouldn't order it again.
With the Pilot Inn so close – for lunch – I wouldn't go back.
Then it was on to Yagööt for our free mango frozen yogurt!
If you haven't been – you need to go. Yagööt is owned by Busken so it's a Cincinnati original. There's a new one opening at Kenwood later this year. The look is so fresh and clean – definitely a hint of what's to come!
It's bright and cheerful – such a fun decor!
Yes – I'd like these in my house please!
Yagööt has fresh fruit that they chop daily and serve as toppings for the frozen goodness. It's soooo fresh and delicious!
They also have a wide range of other toppings from coconut to Cap'n Crunch to this wierd tofu stuff that we tried (yuck!). I typically get the fruit but these would be a great addition too.
And here we go – the new mango flavor with fresh raspberries.
The thing about Yagööt – it doesn't taste like any other frozen yogurt I've had before. Frankly – I hate yogurt. It's gross. Sour and funky. I love TCBY – oye – it was my college favorite! This is neither.
Yagööt is tangy and tart and fresh and just damn good! It's odd how it doesn't taste like anything I've had before. The first bite I wasn't sure…I didn't like it. But then…another bite and another…and I loved it!
Until now they just had the plain flavor but now they have the mango. I don't actually like mango much but I liked this flavor a lot! I have to say – I kinda liked it more than the plain.
The nutritional info:



99% fat free
Only 120 calories
per half-cup serving
Live active cultures
for good digestive health
Gluten free
So – if you haven't been yet – get your butt over to Yagööt in Rookwood and try it out!