I've driven around Blue Ash but hadn't explored it foodwise until recently. I was doing some part-time work there and finally got the chance to hit up Slatts Pub. It's right near the "square" and in the midst of all the beautiful flowers.
Seriously Blue Ash – I never see people watering the flowers and yet they are constantly exploding all summer long?! Is it fertilizer? Do you water them with crack? What is the deal????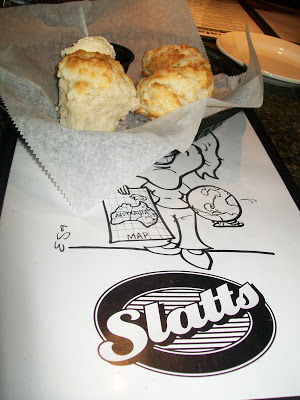 The art work in the restaurant is all fun photos/illustrations of the owner and his family. And you start out with some biscuits. They're pretty good – a little crunchy but the butter is either honey or apple butter – definitely sweet and soft.
I've gone a couple of times recently – so there will be a few different dishes shown. My part-time job boss got the pulled pork ($8) – said it was really good. I didn't feel it appropriate to taste his – so you'll have to let the photo be your judge. 🙂
I got the Honey Ranch Chicken Salad ($10) and it was okay. I think the dressing lacked flavor but the chicken was tasty.
On this trip, my friend got the Steak Mediterranean Salad ($13). She seemed pleased and the steak did look good.
On a second visit I got the Reuben ($8). The corned beef was good and plentiful. Overall the sandwich was a little oily and could have used more sauce.
My vegetarian friend got the Express Lunch and had 1/2 salad and a cup of soup ($8). She raved about their tomato basil soup and the salad definitely looked great with feta, cranberries and walnuts!
Why Should You Go? If you're in the Blue Ash area – it's a nice sports bar with decent food. I don't that I'd make a special trip for it – but overall I had a pleasant experience.