As you all know – I'm trying to cook more. Sometimes though – cooking = semi-homemade ala Sandra Lee. Around Christmas I went to one of those shows at the Duke Energy Center with holiday crap and it kinda sucked. The only thing I left with were these mixes from CaJohns Fiery Foods.CaJohns is based out of Westerville, OH (near Columbus) and mostly sells hot sauces but if you find their "mixes" page you'll see the selection!
They had samples at the show which were delicious so I bought 2 of the etouffee and one jambalaya. It's great because there's not much to add – chicken, chicken broth and butter is about it – at a minimum but you can always add more if you like.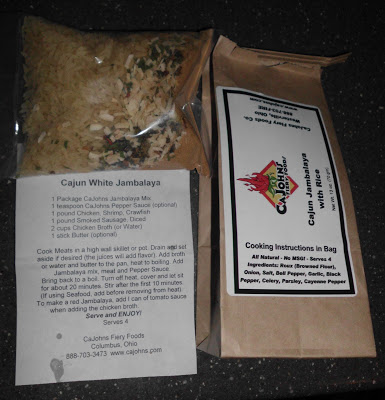 The recipe lists a white jambalaya but mentions you can throw in tomato sauce as well if you like for a red version.
TIP: Something I've been doing lately is once every couple of weeks I boil 5-6 chicken breasts (typically the frozen ones) and then shred them up and put them in a big ziploc. Then whenever I have something like this come up – I have the meat all ready to go.
This also called for smoked sausage/kielbasa – we didn't have any of that but had italian sausage so I used that instead. I cooked that up, then threw in the chicken to heat it up.
After that I added the chicken broth, butter and the seasoning/rice mix. I also decided to go for the red and threw in a can of tomato sauce and a can of Rotel tomatoes.
Once it all comes to a boil – you then turn the heat off, cover it and let it sit for 20+ minutes or so. Then – voila – Jambalaya!
These are really delicious and they make a lot so I had lunch for a few days after as well. The etouffee is really my favorite but I did like the jambalaya mix a lot. We didn't add any hot sauce – the Rotel tomatoes added kick on their own. I did need to leave it for about 30 minutes so the rice was done.
As with many dishes, this is almost better the next day – the rice had more time to soak up the juices. Most of these recipes call for an entire stick of butter – so healthy? Well maybe not. But there's no cheese!
I look forward to stumbling across CaJohns again so I can get more of these mixes. And hey – next time you're at one of those shows – make sure and stop and taste the food – quick dinner mixes are a good thing!