Stopped into Habits recently and realized I hadn't reviewed it! It's a great little spot on the main drag in Oakley. We actually meant to go to OPG but they weren't open yet so we popped across the street for sustenance!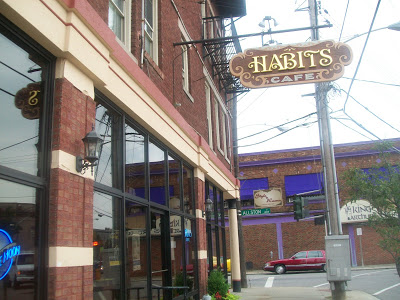 Very cute spot – right on the corner across from 20th Century!
The BF got a cheeseburger – I tried to talk him into the Ostrich burger – but he just wouldn't branch out that far! Yes – they have Ostrich on the menu. Dude – I'm so trying it next time!
He was happy with the cheeseburger – it's nothing out of the ordinary – but it was solid.
Chicken Taco Salad
Grilled white meat chicken with refried beans, tomatoes, black olives, onions, sour cream and cheddar cheese on a bed of crisp lettuce.
Try it with our homemade ranch or taco dressing. 7.50
I decided to be "healthy" (not really) and get the chicken taco salad. The chicken is a bit dry… The taco dressing is sour cream and salsa mixed together – that's good! Other than that – it was just okay. I think I'll ditch "healthy" for ostrich next time…