I got a great new cook book from Cooking Light called
Good Mood Food
– how can you not love that? As I was scanning the cook book – one recipe caught my eye: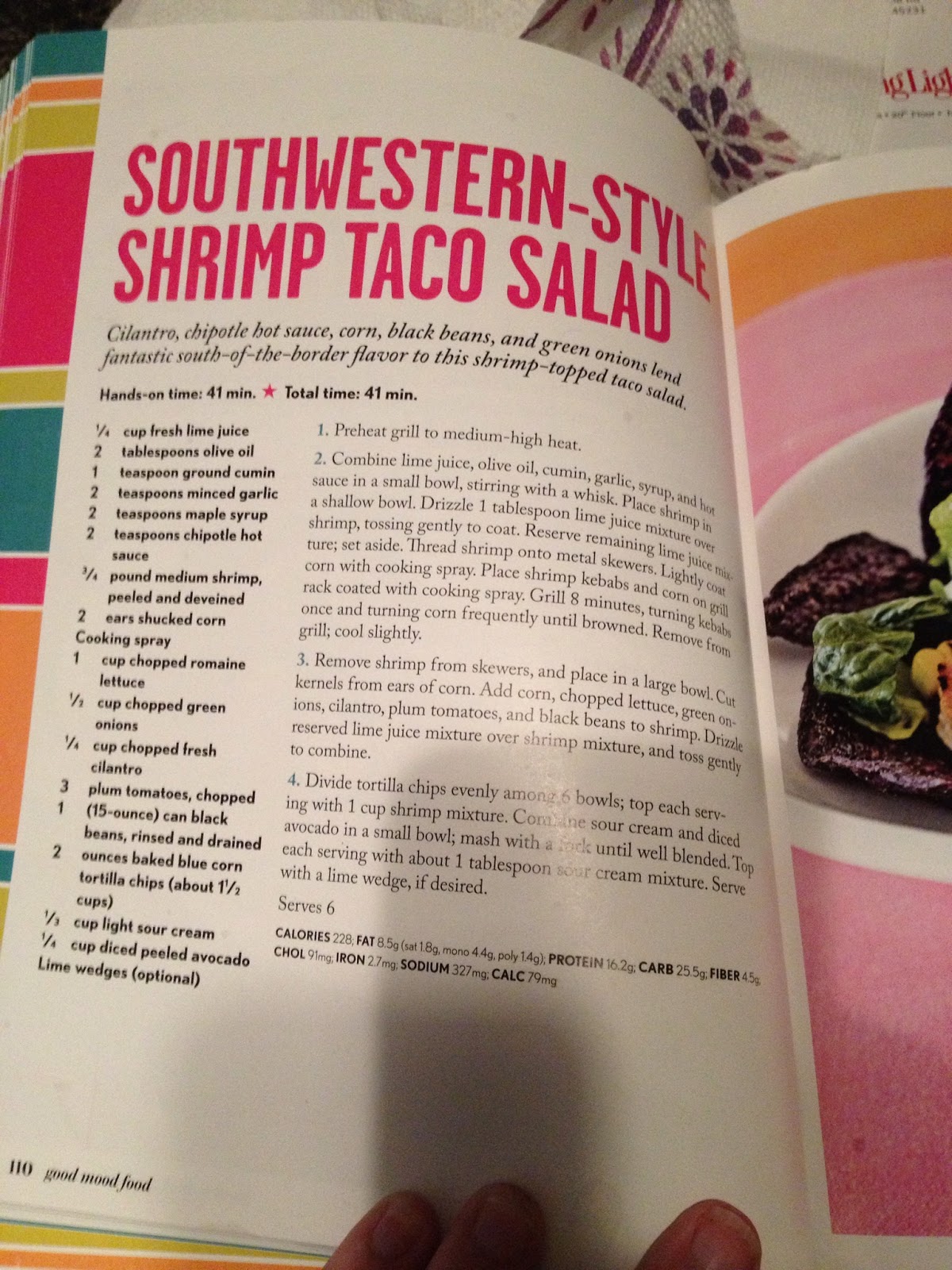 Southwest-Style Shrimp Taco Salad – It was basically a shrimp version of Chipotle.
I mixed up a marinade, dipped my shrimp and then grilled them on the grill pan. I have just recently started buying raw shrimp (peeled & deveined) and it's so much better than the cooked. I'll never turn back.
Then it was putting together all the Chipotle add-ons – some came from the recipe and others were just things I like. I had tomatoes, avocado, crumbled bacon, black beans, corn and sour cream.
What next? Pile it all on lettuce and drizzle with the marinade/dressing.
It was delicious!!! I seriously wish I could eat this salad every day – but the down side – it's a heckuva lot of work! I really enjoyed this salad – but the marinade, the grilling, the chopping, oh my! It made me appreciate all the little bins at Chipotle a lot more.
This recipe is also very flexible – I could easily use chicken or grilled portabella instead of shrimp or swap out toppings that I like more than these.
Southwestern-Style Shrimp Taco Salad
Ingredients

1/4 cup

fresh lime juice

2 tablespoons

olive oil

1 teaspoon

ground cumin

2 teaspoons

minced garlic

2 teaspoons

maple syrup

2 teaspoons

chipotle hot sauce

$

3/4 pound

medium shrimp, peeled and deveined

2

ears shucked corn

Cooking spray

1 cup

chopped romaine lettuce

$

1/2 cup

chopped green onions

1/4 cup

chopped fresh cilantro

1

(15-ounce) can black beans, rinsed and drained

$

3

plum tomatoes, chopped

2 ounces

baked blue corn tortilla chips (about 1 1/2 cups)

$

1/3 cup

light sour cream

1/4 cup

diced peeled avocado

$

Lime wedges (optional)
Preparation
1. Prepare grill to medium-high heat.
2. Combine lime juice, olive oil, cumin, garlic, syrup, and hot sauce in a small bowl, stirring with a whisk. Place the shrimp in a shallow bowl. Drizzle 1 tablespoon of the lime juice mixture over shrimp, tossing gently to coat. Reserve the remaining lime juice mixture; set aside. Thread shrimp onto metal skewers. Lightly coat corn with cooking spray. Place shrimp kebabs and corn on a grill rack coated with cooking spray. Grill 8 minutes, turning kebabs once and turning corn frequently until browned. Remove from grill; cool slightly.
3. Remove shrimp from skewers, and place in a large bowl. Cut kernels from ears of corn. Add corn, chopped lettuce, green onions, cilantro, black beans, and plum tomatoes to shrimp. Drizzle reserved lime juice mixture over the shrimp mixture, and toss gently to combine.
4. Divide tortilla chips evenly among 6 shallow bowls; top each serving with 1 cup shrimp mixture. Combine sour cream and diced avocado in a small bowl; mash with a fork until well blended. Top each serving with about 1 tablespoon sour cream mixture. Serve with a lime wedge, if desired.