I used to work in downtown Covington and it was always fun and there a lot of interesting restaurants in just a few block radius. One of our very favorites was AmerAsia – otherwise known as "stinky chinese".
Why "stinky"? Well – the smell of Chinese food wafting onto the street was a start…then inside – smoke smoke smoke! So it was "stinky" and it was "Chinese".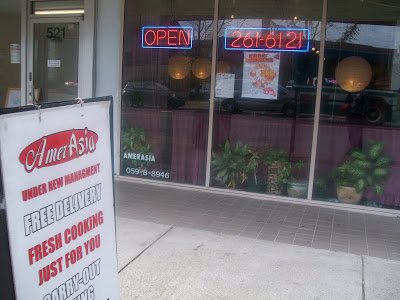 Ahh…AmerAsia!
Here the Lar-dog poses in the nicely madeover interior! They painted and spiffed up the joint! It's much more pleasant inside – I mean – doesn't he look happy?!
I got the General's chicken with fried rice…as always they're low on vegetables. Or should I say void of vegetables. Is there a word for someone that only eats meat? Well anyway – it was good. Sticky, sweet and spicy – pretty darn spicy. The fried rice is a little different than most but it's still good.
Lar got the sweet & sour chicken – I had a bite – it's pretty good! Batter dipped…moist and juicy.
Also – saw a sign for Who Arted? – haha. It's an upcoming art sale. Click on the image to see all the details.
Overall – spiffed up and non-stinky interior plus CHEAP Chinese food = great lunch! It wasn't even $12 for 2 lunches and 2 drinks.