I've only driven down Montgomery Rd through Pleasant Ridge into Norwood about 10,000 times. And about 9,999 of those times I've said, "I should go to that BBQ truck!". I finally did.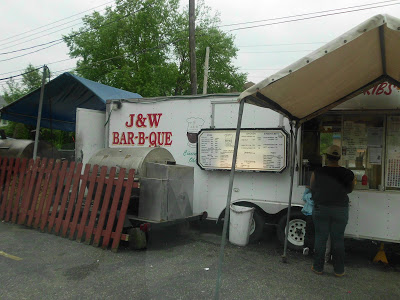 Typically I've hesitated for two reasons:
1. The store across the street is SHADY – I can't help it – it creeps me out. It's just a convenience store but from what I can tell they aren't just selling sodas.
2. I never have cash on me. I just kinda figured with a food truck like this – you'd need cash. So this day – I went and got cash. Guess what? They take credit cards!
The menu has quite a few things on it – I had a hard time deciding! I decided to try some rib tips. The rib tip dinner with two sides – $8. (I selected the SMALL.)
THAT is the small portion?! Wowza! I never really knew what rib tips were – but the guy in the truck grabbed ribs out of the pan and took a meat cleaver to them. They definitely did NOT skimp on sauce and it had a nice kick to it.
The sides were a mixed bag – I didn't love the coleslaw but the mac & cheese was really great.
Why Should You Go?
I think it's definitely worth a try. The rib tips are a little annoying to eat for my tastes – there isn't a lot of meat on each piece. I think next time I would try a pulled pork and there will be a next time! It's definitely a good deal – we were pleasantly surprised by amount of food for $8!