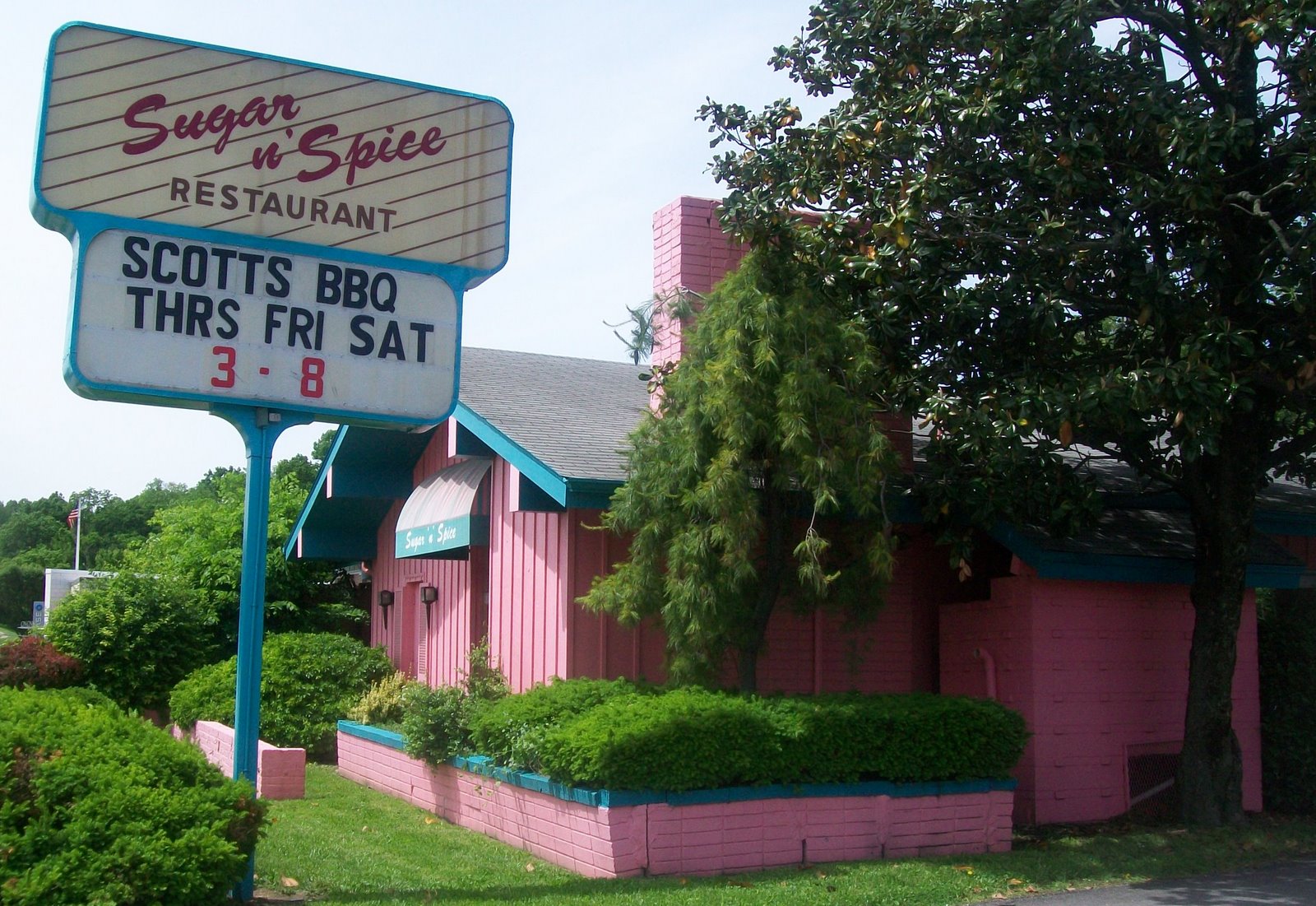 Recognize this building? I've driven by it for 5 years and had no idea what was inside. Honestly – I thought it was a strip club! Well it isn't!!! It's Sugar 'n' Spice – a surprisingly cute diner!
Cute? Yeah – look at the stack of pancakes on the wall (note to my sister – learn to paint pancakes). It has adorable orange/white booths around the edge and then a diner counter as well.
What's this little guy to the left? It's a kid slipping on a frying pan with an egg in it!
Whoever the artist is – it's great!
Make sure to click on the image to see it full size – it's very well done!
They really add to the ambiance of the place. The outside is so pink (which I love) and then the inside is so sunny and fun!
Scott got the BLTE – and man – I was kinda jealous. I can make this at home but it looked good. He said it was fine…nothing spectacular but again – it's a BLT (oh the E = Egg in case you couldn't tell).

I got the quesadilla – it had chorizo, peppers, onions, cheese, salsa and eggs and came with a side of sour cream and salsa. I liked it! The salsa was very flavorful – I'm sure it was just jarred…but I liked it.
The quirkiness abounds – look at this half-booth! It cracked me up once I saw it!
Overall – Sugar 'n' Spice wasn't shockingly great – but it was good. It's very cute and I'd definitely go back. I think it's the kind of place that is consistent and probably has something that you'll think is awesome – just wasn't either of these items. Like I said – they were both good – just not great.
I definitely will take my sister there when she gets home – it's a fun, cute place.
Also – the owners also own Red, Tinks and the Vineyard! Good crowd to be in!
They're open Every Day From 7 am – 3 pm Except on Thanksgiving, Christmas and New Year's Day…
Sugar 'n' Spice4381 Reading Road
Cincinnati, OH
Phone (513)242-3521
Fax (513)242-1796