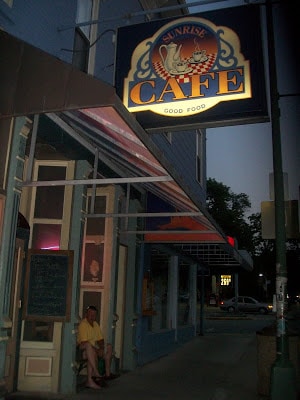 My good friend Wendy had a surprise birthday party thrown for her by her husband a few weeks back. The party was at the Sunrise Cafe in Yellow Springs. If you haven't been to Yellow Springs – go tomorrow. Seriously – it's a beautiful little town with lots of shops and restaurants. Perfect for a leisurely Labor Day holiday!
Wendy got an AMAZING gift from her husband! Look at this thing! A motorcycle with a side car and she will be the driver! Not sure if the dogs or her husband will be in the side car – but I know I'm hoping for a ride very soon. It is definitely a sweet ride.
Dinner started out with a delightful homemade biscuit. Sunrise is very high on local and organic foods. So you know the food is going to be fresh and unique. It was a heavy biscuit but very flavorful.
We were also treated to music (and a gift cd) from Wendy's friend. Of course – I can't remember his name! I think it was Keith May – but I'll change this for sure once I hear back from the birthday girl. Yes! Keith May!
First up was a salad – it was very delightful! A nice variety of lettuces, pea shoots and vegetables as well as some very fresh and unique organic ranch.
Thai Peanut Tofu –
A classic Sunrise stir-fry with organic tofu, broccoli, red
onion, peanuts, and our flavor-layered spicy thai peanut sauce over rice.
$14.00
Sunrise also have a great deal of vegan and vegetarian options. Jen tried the Thai Peanut Tofu. I tried a bite and enjoyed it. I'm not usually a fan of peanut sauce but it was good. It was a little spicy and maybe a little onion heavy – but good overall.
Grilled Portabella with Herbed Olivada and Fontinella Cheese –

A whole portabella cap chargrilled until it releases its juices then topped with our heavenly herbed olivada and the creamy tanginess of fontinella cheese. Served on an organic multi-grain bun with lettuce and roasted red pepper slices

$

10.00
If provided with unique options – I'll often choose vegetarian as well. Today I was in the mood and there were so many delightful options. This sandwich was delicious. The olivada was a little strong but I really enjoyed all of it. I was definitely a member of the clean plate club at this party!
NY-Style Reuben –

Sliced corn beef, sauerkraut, organic sour cream, and organic swiss cheese on grilled all-natural deli rye bread

. $9.00
BF chose the Reuben and it was good. It was a bit different because there wasn't any thousand island but that was great because he's allergic to eggs. It was a messy sandwich but it was tasty.
Here's a shot of the birthday girl donning her new pink motorcycle jacket and crown – how could I not include that?
For dessert – Jen and I shared a couple desserts. I chose the Key Lime Pie and it was delish! This might have been the best piece of Key Lime Pie I've ever had. It wasn't too sweet or sour or heavy. Wow!
Jen chose the Flourless Chocolate Hazelnut Cake. Most flourless cakes are kind of heavy but this was very light and almost like mousse. It was so delicious…but my key lime was better! We were both very pleased.
Overall – it was such a wonderful occassion to celebrate and the food was definitely a nice compliment. I really recommend going to Yellow Springs as early as possible and staying late – that way you can fit at least two meals in! (Make sure you also go to HaHa.)