So while my mom was in town – we were all STARVING and came across
TACO LOCO!
!!
Now I'm not sure you can capture the essence of this in text but I have this uncontrollable speech impediment that when I say
TACO LOCO
I must put my hands in the air and speak like a Mexican game show host announcing what's behind door #3.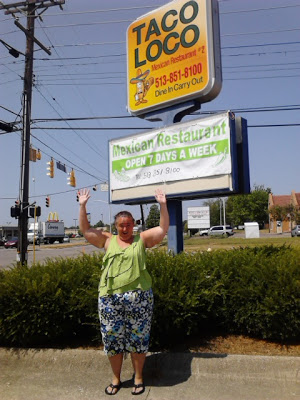 And here I am shouting it in front of the restaurant –
TACO LOCO!!!!
I tried their authentic tacos – loco style of course. I got a couple of chorizo and one mushroom I think (no online presence so I can't recall). I thought these were just okay. The chorizo wasn't my favorite and overall the tacos just weren't as good as Taqueria Mercado or La Mexicana.
Here is another meal – I think it was my mom's. It just had sort of a muted color – those were some gray avocados.
Sis got fajitas – I have to say – these were pretty flavorful and the tomatoes were fresh.
Why Should You Go? Meh – the prices were fine – but I really like Taqueria Mercado much better for authentic Mexican food (or La Mexicana if you're closer to KY).